Director: Marc Collin
Musician, record producer, and filmmaker Marc Collin puts his geekery on full display in Shock of the Future, a quietly immersive period drama that takes pleasure in ogling the classic album covers of Giorgio Moroder and Brian Eno when it isn't eyeing some unwieldy '70s synth equipment or espousing the merits of the first Throbbing Gristle single.
But while some fresh fix of nostalgia is always right around the corner, viewers of Collin's directorial debut needn't know their Kraftwerk from their Cabaret Voltaire to recognise the passion, doubts, and frustration of electronic music producer Ana (Alma Jodorowsky). If there's just one subject that excites Shock of the Future more than the sounds and technology of its chosen period, it's the abstract intricacies of the artistic process, as Colin fervently chronicles the creation of Ana's latest musical opus.
For the majority of its runtime, Shock of the Future keeps us within the womb-like confines of a Parisian studio that supplies Ana with the necessary space, resources, and solitude to nurture her forward-thinking vision. But while Ana herself stays put for the most part, her mind ventures through uncharted territory by way of her music, and it's a testament to Collin's craft that we stay on her wavelength throughout, ensuring that the film always has new ground to cover in its limited space.
The director proves particularly adept at filming Ana's bulky equipment to reflect the character's changing mindset. There are moments when the machinery strikes an intimidating presence, and others when it's a compliant vessel for Ana's expression. To modern eyes, these oversized and expensive instruments are endearingly retro, but to our lead, they are the tools of the future. The first scene of Ana sitting down before the equipment feels almost ceremonial, as the artist readies her gear and tunes into something bigger than herself.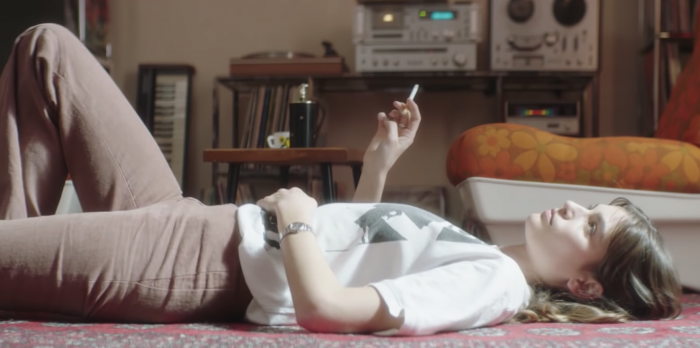 While Ana's creative journey is often a very solitary one, her studio still receives the odd visitor who either helps embolden her vision, or in the case of her exasperated manager (Philippe Rebbot), brings her back down to Earth. An older music nerd (Geoffrey Carey) plays her various excerpts from his vinyl collection that showcase the exciting new sounds coming from England and New York. A singer-songwriter (Clara Luciani) drops by to pen some lyrics and record the vocals for Ana's latest song. All the while, the film unfolds as a continuous discourse, with each visitor providing a new perspective on art, integrity, and the type of music that the public wants to hear.
Though Ana's attempts to break into the industry with her own distinct vision are met with much resistance, it's clear that time will ultimately validate her persistence while proving the cultural relevance of electronic music. Occasionally, the dialogue can get a little heavy-handed in demonstrating the heroine's foresight, but more often, Collin shows a trust in his audience's hindsight to grant a layer of understated optimism to the film.
The closest we get to seeing the future that Ana anticipates is during a party she hosts at the studio. Up to this point, we haven't seen more than two people occupy Ana's room at once, but suddenly, her lonely dwelling is flooded with guests, most of whom are immersed in the groove of Ana's new song. In this moment, we get a fleeting glimpse of a time when the mainstream embraces artificial drum sounds and electronic music has been democratised by cheaper, more compact technology.
Once the song is over, Ana's moment of transcendence is quickly followed by the disheartening suggestion that the rockists and chauvinists of the music industry still aren't ready to give her sound a chance. Nonetheless, though Ana's commitment to her vision remains an act of faith to the end, Shock of the Future observes her ongoing journey with more affection than anxiety, while serving as a resonant reminder that everything which is now popular was once niche.
Shock of the Future is in UK cinemas from September 13th.