This week we bring you an award-winning and controversial drama from Hong Kong, a horror film from Britain and a comedy from Romania.
Ten Years (dir. Kwok Zune/Wong Fei-pang/Jevons Au/Chow Kwun-Wai/Ng Ka-leung, Hong Kong)
Five thought-provoking shorts imagine what Hong Kong will be like ten years from now. In Extras, two genial low-level gangsters are hired to stage an attack, but they're mere sacrificial lambs in a political conspiracy. Rebels strive to preserve destroyed homes and objects as specimens in the mesmerizing Season of the End. In Dialect, a taxi driver struggles to adjust after Putonghua displaces Cantonese as Hong Kong's only official language. Following the death of a leading independence activist, an act of self-immolation outside the British consulate triggers questions and protests in the searing yet moving Self-Immolator. In Local Egg, a grocery shop owner worries about his son's youth guard activities and where to buy eggs after Hong Kong's last chicken farm closes down.
Dark Show (dir. Olivier Parthonnaud, France/UK)
X-Trem Limit is a famous British TV show, whose concept is to take a random person and make him/her surpass their limits through a series of extreme sports tests. The show runner decides to spice things up in the casting selection by bringing in a French actor.
The shooting starts in France, where Kate, the presenter and Tim the cameraman, embark David, a French candidate, for a series of tests. But they are surprised in the mountain by a storm of a rare violence and find refuge in a medieval castle in the middle of nowhere. During the night, strange sounds resound in the immense castle and Kate, David and Tim will have to surpass their limits in order to survive this nightmare.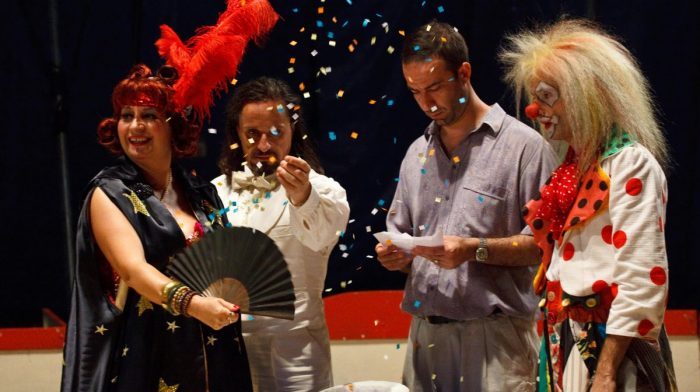 The Bear (dir. Dan Chisu, Romania)
At the Bucharest Circus, the new young manager is trying to solve the major financial issues of the company by selling its only bear (old and about to die soon) to German hunters. But the artists do not want to sacrifice their favorite animal so the manager decides to steal the bear and run to the mountains to meet the Germans. A crazy road movie starts following the bear.