With Proud Mary still on general release, remakes of Cleopatra Jones and Super Fly in the works, a sequel to Shaft in pre-production and Foxy Brown going to the small screen, blaxploitation is back in a big way. So far, so Hollywood remake, but is this yet another farewell to original storytelling, or is there potential to mine something unique from the has-beens?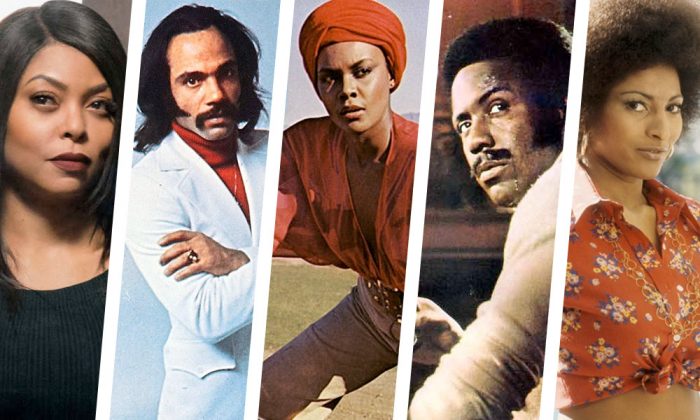 Fresh in the 1970s, blaxploitation's revenge narratives, festooned with leather jackets, quips, pimps and drug pushers, did gangbusters at the North American box office and around the world. It was no surprise, then, that they spawned a host of imitators, sequels and spin-offs. Yet such an easily identifiable category soon became stereotyped, dated and often mocked (then in Darktown Strutters, recently in Black Dynamite and Undercover Brother), signalling its demise before other exploitation sub-genres such as slashers and zombie movies filled the grindhouse screens vacated by Pam Grier, Richard Roundtree and their contemporaries. Yet there were many blaxploitation films that experimented with taking things into refreshing new directions. Here FilmDoo casts an eye over some of the genre's lesser known gems which dared to be different and that deserve resuscitation!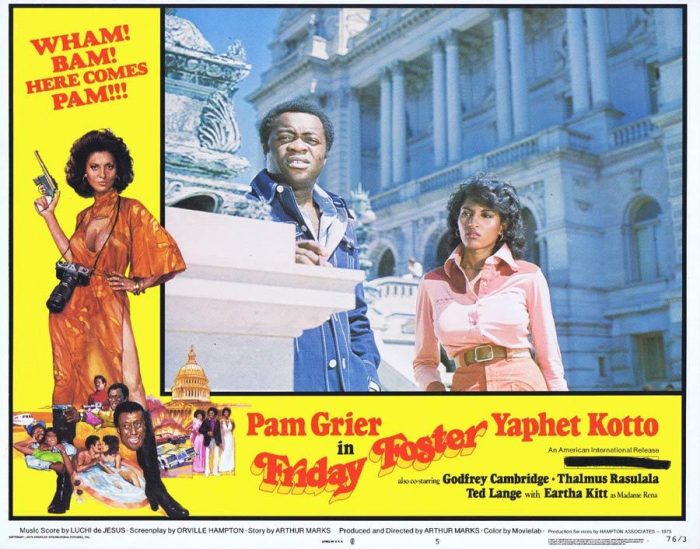 Pam Grier was the first at many things. The first to make a female-headlined action film a box-office hit (Coffy). The first black woman to be on the cover of Ms. Magazine. The first to play a lesbian on Mars (John Carpenter's Ghosts of Mars). Likewise, the character of Friday Foster was the first African-American woman as a title character in a comic strip. So naturally, both actress and character were well suited to each other in the film of the same name.
With less gun toting and bad-assery than Grier's previous films, it nonetheless stands out as one of the more interesting films in the blaxploitation genre for featuring a talented career journalist who in a male-dominated world must use her attractiveness to get the dirt she wants, which is not hard considering she is confronted by sexist goons at every turn. Featuring a novel subplot about a political movement seeking to rally black politicians, the legendary purry-throated songstress Eartha Kitt and topped off with Godfrey Cambridge (Cotton Comes to Harlem, Come Back Charleston Blue, Watermelon Man) as a gay conspirator who was championed in the film's marketing and poster ("his yen was for men"), Friday Foster did enough things differently to truly set it apart from the hundred other movies of the genre.
Honorable mentions: Dolemite, Trouble Man, Sheba, Baby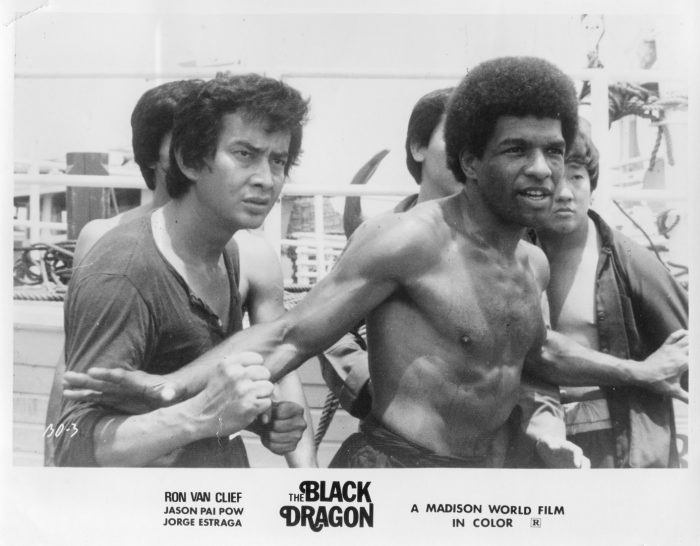 The Philippines was country number one to shoot cheap rip-offs of commercially successful genre films destined for drive-in movie theatres. Whether it featured the Viet Cong, a prison full of warring women or Chuck Norris, chances are it was shot in or around Quezon City. As Carl Douglas famously sang in 1974, "everybody was kung-fu fighting", thanks in no small part to Bruce Lee busting box offices the world over. Thus the blaxploitation and martial arts genres became ripe for trans-Pacific knock-offery. Yet it was The Black Dragon that had the ingenuity to not only fuse the two (which was done by Cleopatra Jones and Black Belt Jones the previous year) but also set the action in the Far East alongside Filipino and Chinese co-stars.
Featuring usual blaxploitation staples such as exploited dockworkers, crime syndicates and opium smuggling, the rest is pure kung-fu gloriousness taking off from Jim Kelly's turn in Enter the Dragon. Reportedly nicknamed The Black Dragon by Bruce Lee himself, legendary martial artist Ron Van Clief was to return only a year later in Black Dragon's Revenge, where the then recent real-life passing of Bruce Lee served as a major plot point. If a remake were to get the green light, we can see seasoned actor/director/martial artist Michael Jai White (Spawn, Exit Wounds) doing wonders with this.
Honorable mentions: Black Samurai, Ebony, Ivory & Jade, Hot Potato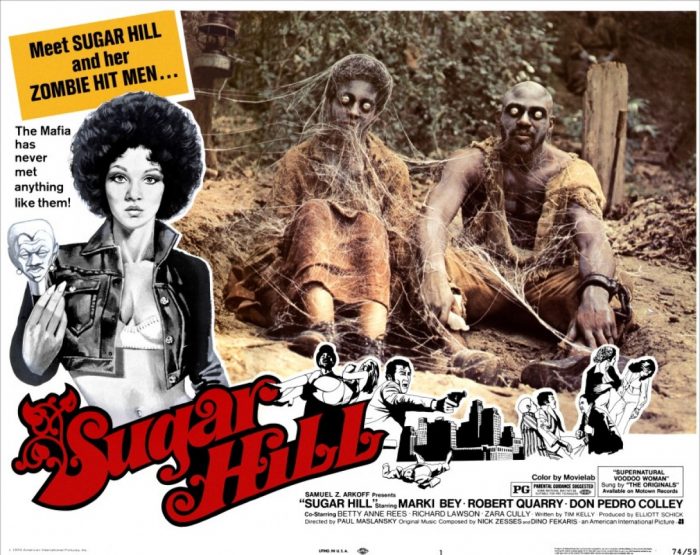 Sugar Hill (1974, dir. Paul Maslansky)
When a successful nightclub owner in New Orleans is beaten to death after refusing to sell his venue to the mob, his wife Sugar decides to take the law into her own hands. So far, so blaxploitation. Yet rather than seek revenge and stick it to the Man as one would expect, Sugar enlists dark arts priestess Mama Maitresse to conjure up Baron Samedi the voodoo revenger, whose hordes of undead quite literally won't take such injustice lying down!
Sugar Hill made quite a name for itself during the mini spurt of blax-horror, however it has since sunk into obscurity, probably due to not having a zany title that referenced still-going-strong Universal monsters Dracula and Frankenstein (Blacula, its sequel Scream Blacula Scream, and Blackenstein) but also perhaps due to its outrageously un-PC and racially charged dialogue. This is a shame, because aside from being jam-packed with familiar faces who are clealy having a riot – Zara Cully of The Jeffersons, Richard Lawson (Poltergeist), Betty Ann Rees (The Unholy Rollers) and Count Yorga himself, Robert Quarry – stacked to the gills with fabulous 70's fashions, and headed by the stunning Marki Bey who could easily give Ms.Grier a run for her money, the film is actually one of the most inventive and entertaining films of the genre.
Other honorable mentions: Ganja & Hess, Abby, Live and Let Die
Everyone's heard of the Academy Award-winning In the Heat of the Night, but few will have heard of let alone had the chance to see the intriguingly titled …tick… tick… tick…, a similarly themed and plotted albeit lesser budgeted thriller about racial tensions in the Deep South. Instead of Sidney Poitier we have blaxploitation regular Jim Brown (Slaughter, The Slams, Black Gunn) as newly appointed small town sheriff Jim Price, who is caught between various forces at play: white locals not prepared to accept a black man in a position of authority, others that are but are too afraid to speak up, radical black citizens who expect special treatment, Ku Klux Klan members across the state line plotting their own kind of justice – it's all here and is fascinating for weaving together such a variety of complex racial tensions to produce a thrilling narrative.
Alas, this sadly overlooked gem never could match Sidney Poitier's finest. Not helped by a stilted soundtrack and budgetary constraints, it fell out of favor with audiences accustomed to more polished and explosive pictures and quickly fell into obscurity. With a catchy title, an all too relevant set-up and themes very much in public discourse, surely now the time is right to bring back Jim Price in a modern-day setting?
Oher honorable mentions: Brother John, The Bus is Coming, Charley One Eye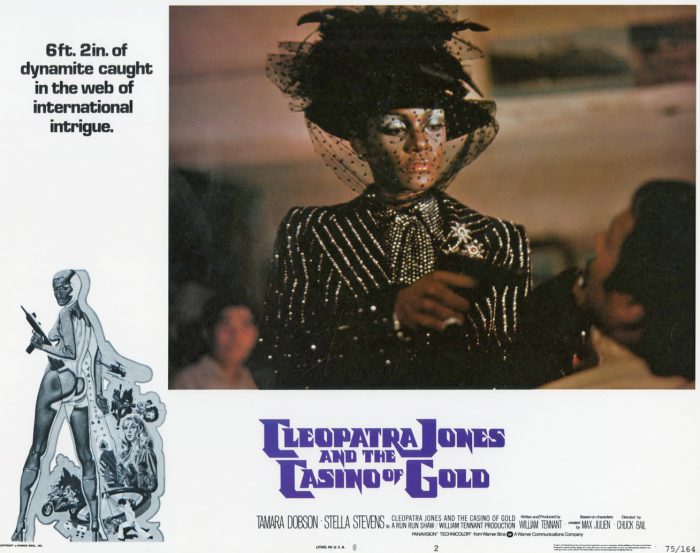 With the blaxploitation genre on the wane by 1975 and Warner Brothers making serious dollar with kung fu import King Boxer aka Five Fingers of Death, the studio decided to team up with Hong Kong behemoth Shaw Brothers to transform their hit character Cleopatra Jones, of the 1973 drugs bust blockbuster of the same name, into the female James Bond. With Shaft having already gone to Ethiopia (Shaft in Africa), and The Man with the Golden Gun sending 007 to Thailand just a year prior, it seemed a logical and financially-savvy next step to pack Cleo (ex-model and leggy leading lady Tamara Dobson) off to the Pearl of the Orient.
Prefiguring the Rush Hour trilogy (the Hong Kong set Rush Hour 2 in particular) with its pairing of a wisecracking black American cop with a kickass Chinese detective by 20 plus years, Cleopatra Jones and the Casino of Gold is a riot of fun. Liberally sprinkled with automobile chases, explosions, exotic locales, a plethora of familiar faces from the Shaw movie catalogue, lashings of Grace Jones-esque eye shadow (Dobson gets her own make-up credit), scene by scene high camp costume changes a la Margarita Pracatan and topped off with a sword-wielding lesbian villain in the shape of Stella Stevens' Dragon Lady – what's not to love?
With Chinese-US coproductions getting heavy investment nowadays (Skyscraper and The Great Wall) we fancy this Cleo adventure could be in with a chance. One could argue that 1974's TNT Jackson ('She's a one mama massacre squad!' ran the poster's blurb), should be more worthy of the remake treatment as the titular Diana Jackson went to Hong Kong before Cleo, however when it comes to production quality, wise-crack quotient and fashion-forwardness, Cleo wins the remake rights hands down. Might a director take a chance on pairing Cleo and soul sister Diana (indeed, the films were retitled as 'Dynamite Jones' and 'Dynamite Jackson' in France) in a future tag team title? We bet Cleo, who proudly asserts in the casino of gold: "All on the black, baby. It's my favorite colour!" would be down with that.
Other honorable mentions: Velvet Smooth, Black Mama White Mama, The Candy Tangerine Man
Explore our database of amazing Black Cinema here!