With Anne Hathaway seemingly conjuring up a real-life Seoul-squishing beast from her imagination in this year's Sundance hot ticket Colossal, a Godzilla remake being confirmed by Kaiju maestros Toho and the dotted line being signed for a big screen remake of monster-mash arcade game Rampage starring Dwayne Johnson, it seems that the movie monster is back in, erm, a big way! No mean feat considering the middling successes of 2013's Pacific Rim and 2014's Godzilla, and the less said about Monsters: Dark Continent, the better.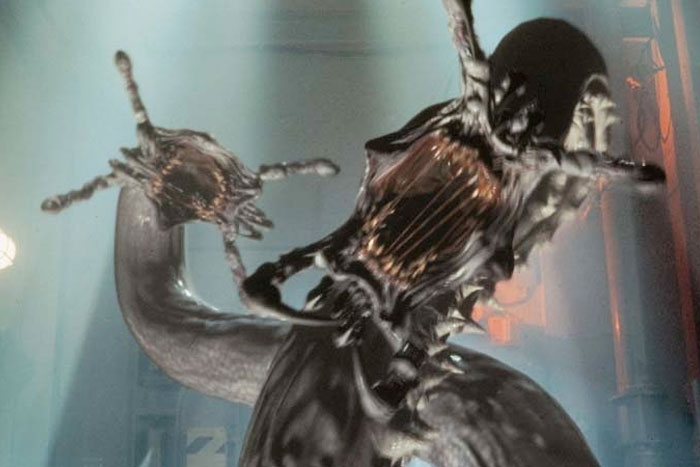 In fact, it could be argued that the last real monster movie heyday was towards the tail end of the 90's in the shape of big city creature features Mimic and The Relic, both in 1997, and waterlogged wonders Deep Rising, Lake Placid and Virus in 1998 and 1999 respectively. Only one truly embraced the monster movie silliness of the ultimate heyday – the 1950's – and that was Luis Llosa's Anaconda in 1997.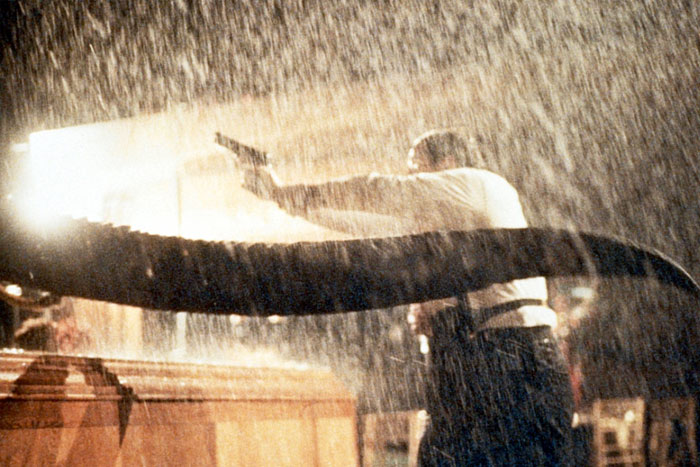 So, aside from a hundred straight-to-DVD Sharktopus and Sharknado rip-offs and a pair of killer crocs in 2007 (Primeval and Rogue), it's been 20 very long and relatively quiet years since Penelope Ann Miller threw off her high-heels to do battle with a hypothalamus-munching half-man half-lizard beast in a museum sub-basement. Colossal, Rampage and this week's Kong: Skull Island, which features not just one monster but a whole bunch, are proof that the beasties are back and mean business. But what about those lesser known giant insects, oversized freaks and beastly behemoths of yore? You know, the ones that featured stop-motion, models, matte backdrops and blokes in rubber costumes stomping on cardboard replicas of Sydney Opera House? In the spirit of all things mammoth, and in anticipation of what's to come, we take a look at some of the lesser-known monster flicks that may have escaped you.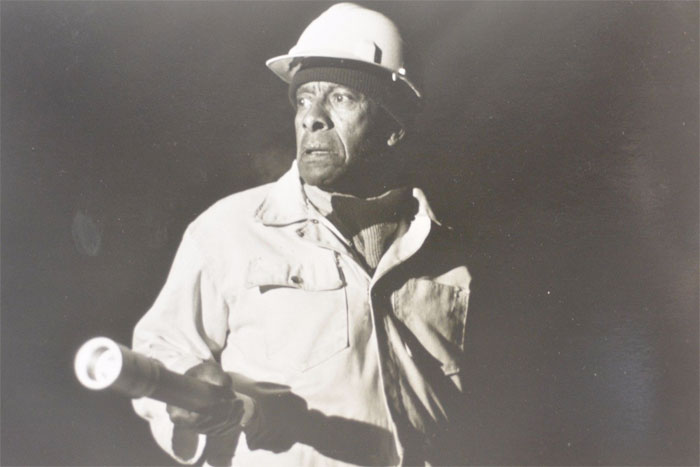 A rare Canuck entry in the genre is something of a love (rodent beast) child of 1980's Alligator and 1978's Piranha. Throw in some steroid-infused corn grain, The Shining's Scatman Crothers (pictured) and a movie theater-set nod to 1958's The Blob (with a Bruce Lee twist) and you have some pretty entertaining hokum.
See also: Rats – Notte di terrore (Italy, 1984), Of Unknown Origin (Canada/USA, 1983), The Killer Shrews (USA, 1959)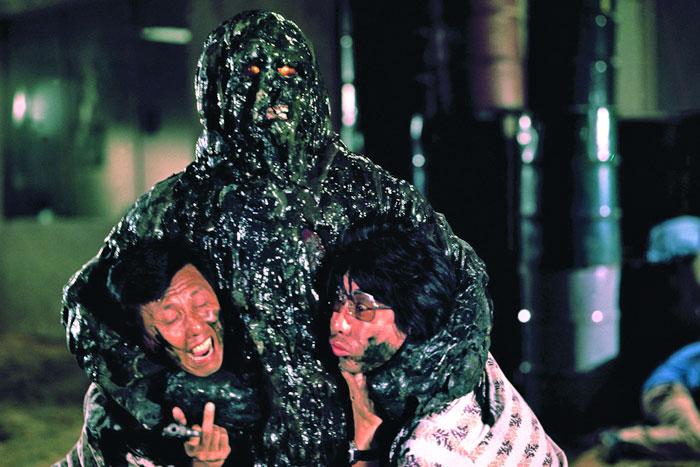 In a fit of jealous rage, a polio victim swears revenge on his cheating wife, so he digs himself a hole in an ancient burial ground, which fills up with oil, and hey presto he becomes the Oily Maniac! An over the top treat from Hong Kong's Shaw Brothers, starring what you will immediately recognise as last month's lettuce at the back of the fridge which you really should have chucked in the bin by now.
See also: The Toxic Avenger (USA, 1984), Swamp Thing (USA, 1982), The Cat (Hong Kong, 1992)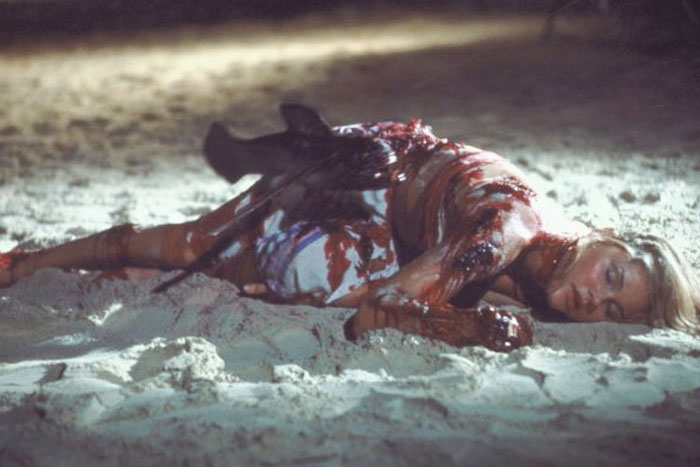 Also known as Flying Killers, this sequel to 1978's hugely successful 'Piranha' was James Cameron's first foray into feature filmdom, and it is in large part thanks to him that what could have been a really really awful film, is only awful. Just. You have to hand it to whoever green-lit this thing – you imagine a room full of movie execs, mulling for hours over how to quickly capitalise on the success of the original, until one bright spark lights up: "We'll put wings on them!"
See also: Zombeavers (USA, 2014), Chorakhe (Thailand, 1979), Devilfish (France/Italy, 1984)
7. PULGASARI, North Korea, 1985
A painfully clunky Godzilla rip-off about a dead blacksmith's doll that is brought to life via a drop of his daughter's blood, which then grows to an abominable size and goes on the rampage. Of course, coming from North Korea the whole thing is buried under a welter of propaganda, but then what do you expect when the South Korean director was kidnapped from Hong Kong by Kim Jong Il's cronies and forced to make it? Oh, this and sixteen other movies. In the space of two years. Nuts. Luckily when the film screened in Vienna, the director and his wife found sanctuary in the American Embassy and fled the grip of communist North Korea forever.
See also: Gorgo (UK, 1961), The Host (South Korea, 2007), The Deadly Mantis (USA, 1957)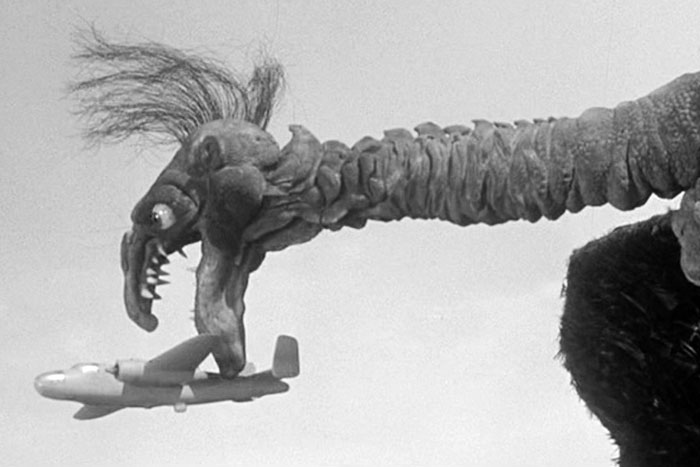 Hitchcock had The Birds. The Giant Claw had the turkey. And a giant flying one at that. But hey, it's got an anti-matter force-field, Hitch didn't think of that. Anyway, what at first seems to be a UFO is discovered to be aforementioned giant turkey, leaving a plucky aeronautical engineer and his girlfriend to stop it destroying Manhattan. One of those very many very silly late 1950's B-Movies made during the Cold War freakout.
See also: Q: The Winged Serpent (USA, 1982), Rodan (Japan, 1956), Pterodactyl (USA, 2005)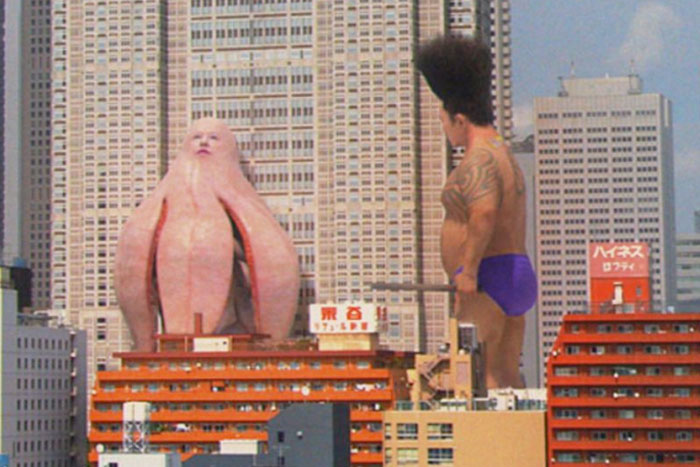 A Japanese mockumentary that gives the Kaiju genre the meta-treatment (which, in some ways, Nacho Vigalondo's Colossal does too), we are introduced to an enormous superhero in purple underwear who, while fighting intergalactic monsters of disrepute, has to put up with an embarrassed family, ad-men looking to brand him and a public who think he is a troublemaker.
See also: The Amazing Colossal Man (USA, 1957), Attack of the 50ft Woman (USA, 1958), Attack on Titan (Japan, 2015)
A film that nobody in the world would thank (except me) for possibly inspiring the character of Sharon Stone's cosmetics villainess Laurel Hedare in 2004's Catwoman (but did indeed inspire 1988's The Rejuvenator), the central character of this Roger Corman guilty pleasure is nevertheless a fascinating one. A woman who will go to any lengths to preserve her own beauty, even murder! Oh, and stinging people because she's turned into a (rather unconvincing) wasp, natch.
See also: Cat People (1942), The She Creature (1956), Pterodactyl Woman from Beverly Hills (1997)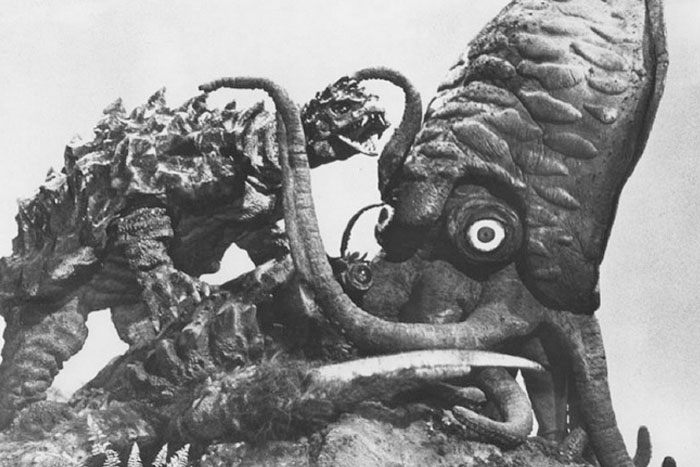 A giant gangly Amoeba from outer space crash lands on a Pacific atoll, where three oversized rubbery critters – a squid, a crab and a turtle – fight to stop it from taking over the world. Add to the mix a positively groovy rock and roll soundtrack, and you have something that very closely resembles Guillermo del Toro's Pacific Rim. Not.
See also: Mars Men (Taiwan/Thailand, 1976), Destroy All Monsters (Japan, 1968), Invasion of Astro Monster (Japan, 1965)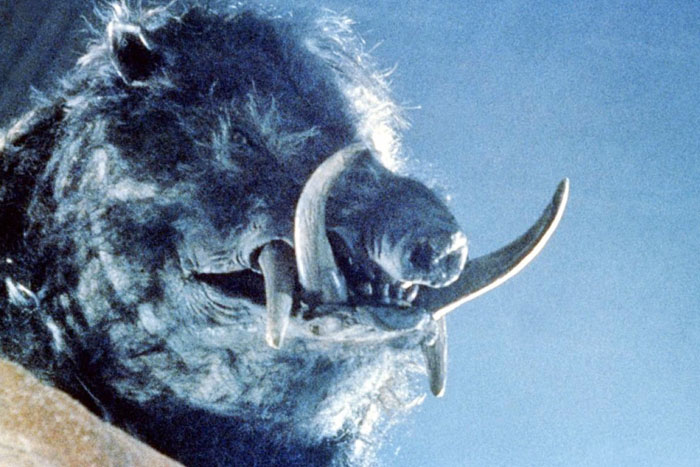 2. RAZORBACK, Australia, 1984
A giant pig roams the Aussie outback, savaging farm folk and tots in their cribs. What could have been standard B-movie fare is given considerable oomph by music video director Russell Mulcahy, whose beautifully lensed Western backdrops combine masterfully with a cool synth soundtrack. Alas, as with music videos, there isn't much in terms of characterisation, but the less-is-more approach to the porcine terror works wonders.
See also: Chaw (2009, South Korea), Bats (USA, 1999), Pig Hunt (USA, 2008)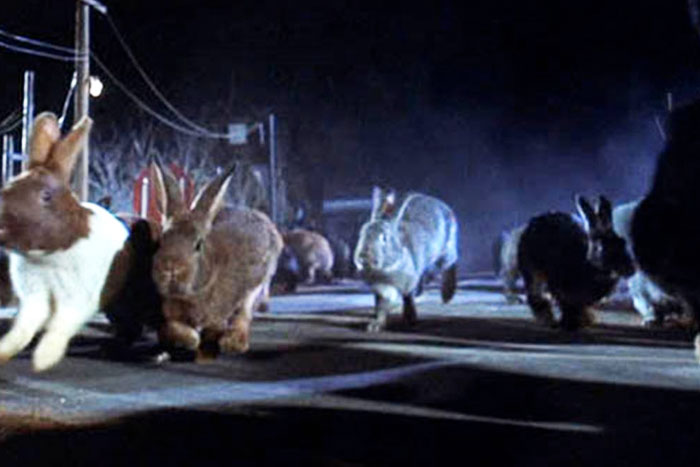 Just in time for Easter, here we have a monster genre classic (which originally had the much better title Rabbits) that sees a pair of researchers (including a peppy Janet Leigh) inject some bunnies with a chemical to prevent their rampant breeding, but instead end up with rampant mutants with a taste for human blood! One of those many monster movies of the period that put life-size animals in miniature sets. Bless!
See also: The Food of the Gods (USA, 1976), The Giant Gila Monster (USA, 1959), Frogs (1972)
Watch Now on FilmDoo: