Director: Gilles Marchand
MyFrenchFilmFestival review
One wouldn't have to see the poster for Into the Forest – which explicitly states the fact – to know that Gilles Marchand's film was heavily influenced by Stanley Kubrick's eternal horror classic The Shining (1980). In the strong opening scene where we are introduced to Tom, the youngest sibling in the story, relaying his sense of intense apprehension about going to visit his estranged father to a child psychologist, one could be forgiven for thinking that it was the young actor who played Danny in The Shining portraying him, such is the resemblance between the two: mop-haired, mumbling, both with seemingly similar psychic abilities, and both with a heightened sense of dread.
This is Marchand's third feature film after his 2003 debut Who Killed Bambi?, which was nominated for the Cesar Award for Best First Feature, and the 2010 drama Black Heaven. He's been a prolific screenwriter outside of these, including penning the critically acclaimed Harry, He's Here to Help (2000). Themes of obsession and mystery are a constant current in his work and he continues this in Into the Forest.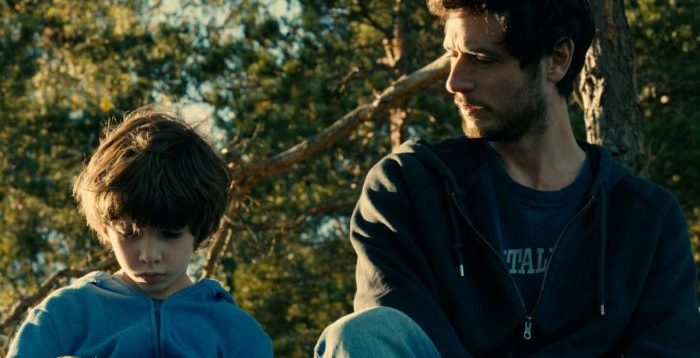 Tom, along with his older brother Benjamin, travel to Sweden (perhaps a subtle nod to the great Ingmar Bergman and his dark lands of exquisite psychodramas) to visit their father who they haven't seen since their parents divorced. It swiftly becomes evident that all is not right with the man. Lines like "We're going to hit it off" are delivered in tones never used by a loving parent before. The boys discover a drawer full of pill bottles, interspersed with old family pictures with their mother's face crudely removed from them. When Tom finds him fully awake in the middle of the night, he claims to not be able to ever sleep at all. The father incessantly hints to his youngest that they share some unique connection, some mind-reading ability he once observed in Tom. The supernatural elements of the film come in the consistent appearance of a terribly disfigured man who Tom keeps seeing; this apparition seems to foreshadow Tom's aforementioned sense of dread.
Marchand then takes the action to the titular forest – a landscape known to most seasoned cinephiles as holding nothing but dread and horror – when the father unexpectedly announces that he's taking the boys on a camping trip. That the director held off, unlike Kubrick, in introducing us to the wilderness enhances the foreboding, but he does utilise an eerily echoing overhead shot, familiar from The Shining's opening, as their car traverses the lonely road into wooded isolation.
The father eventually stops the car in a shallow clearing and instructs his children to follow him on foot; he apparently knows this terrain, and soon they arrive at a cabin. Parallels are drawn with the boys' mother, as we see them using their phone several times in the film's earlier parts to connect and speak with her. In these moments they are clearly much more at ease in her online presence than they are with their father in proximity. When Benjamin then hesitantly asks if he can call his mother from the woods, his father reacts as expected.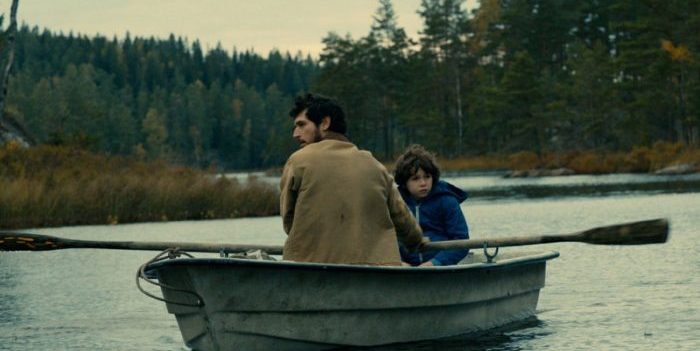 The trip slowly comes to symbolise the father trying to remove his children from the overwhelming motherly presence that they're used to, an attempt to cut them off from her. Marchand does not tell us what happened at the divorce, if the boys chose to stay with their mother or it was court-ordered; perhaps it does not matter, for the father would still want more control over his children. The father especially seems to want to reconnect with Tom, due to their shared psychic powers, but Tom isn't forthcoming. The father grows ever more overbearing as their trip continues, even suggesting that they may not need to return to civilisation at all. As the film arrives at its end, it may be an unsatisfying conclusion for some, after the slow-burn of the narrative, but the disturbing and creepy journey should satiate most genre fans.
The real triumph of Into the Forest is the discovery of young Timothe Vom Dorp, the actor portraying Tom: not just a mere copy of Danny, he performs with a naturalism that evokes genuine empathy from the audience. Vom Dorp makes Tom's dread come to life, his apprehension fully realised. Similarly, his weary older brother Benjamin is encapsulated well by Theo Van de Voorde. The film looks great too, sometimes transcending mere genre work in its crisp, cool images of the snow-capped forest, shot nicely by cinematographer Jeanne Lapoirie.
It's not a mere Kubrickian rip-off, a travail up a well-trodden path; rather, Marchand is a writer with intent, of pronounced vision, and while all his ideas might not fully come together here, there's certainly plenty to hold one's interest. It seems like Marchand perhaps stretched himself too thin: Into the Forest feels like a delicate but unfurnished hybrid of coming-of-age story, psychodrama, thriller, and supernatural horror.
Into the Forest is available to watch as part of the 2018 MyFrenchFilmFestival, running 19th January to 19th February. Find the full lineup on FilmDoo here.