Director: Jo Sol
ArteKino Festival review
From one man's fight for the right to cum emerges a politically-charged but very human cinematic essay written against the tumultuous backdrop of recent Spanish history. Demonstrating the inseparability of personal struggle from its sociopolitical context, Jo Sol's Living and Other Fictions evokes a need for freedom in the realms of the mind, the nation and the physical body while also acknowledging an inherent interdependency between people on all of these levels. It's a bold manifesto of a film whose craft and impact sometimes buckle under the weight of its ambitious ideas but the dryness of its delivery finds validation in the lingering impression that Sol's film leaves.
The springboard for the film's academic discourse and personal musings is a subversive 'sexual assistance project' from tetraplegic writer Antonio, who has allocated room in his apartment for a young female employee to provide pleasure to a series of physically handicapped clients.
While it makes many people uncomfortable to think of disabled people as sexual beings, Antonio makes a case for sexuality as a statement of humanity, a source of vitality and a healthy admission of vulnerability in flesh and mind, comparing an asexual body to a lifeless slab of meat. Possibly granted perspective by the limited nature of his own sex life, Antonio discusses sex with relative objectivity as a basic human need. The film even likens a woman's sexual assistance for the handicapped to the services of Antonio's female carer, Laura – seen helping Antonio to urinate in the opening minutes – framing the orgasm as something as banal as it is necessary.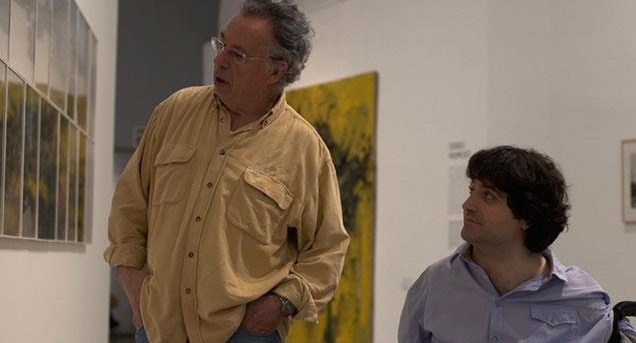 In scenes of intellectual debate that punctuate the proceedings, the most frequent voice of dissent is provided by Antonio's friend Pepe, whose own solitary life serves as a lonely and moving counterpoint to Antonio's project of co-dependency. An absent son catalyses an ongoing sense of loss for Pepe whose troubled backstory – from his time in a mental asylum, to his stint as an illegitimate cabbie driving taxis that he stole for the night – suggests a man left disillusioned with society at large.
Between these two leads, Sol gives himself a lot of thematic ground to cover and the resultant film can often feel unfocussed and overly reliant on explanatory monologues and dialogue to get its points across. Nonetheless, there is unmistakeable empathy in the director's naturalistic style that prevents this somewhat academic-minded work from feeling too much like the cinematic equivalent of eating your vegetables. Though Living and Other Fictions is a challenging work that dares its audience to venture into abstract, unfamiliar, maybe even radical territory, it is the humanity at its core that makes this strange and meandering trip worthwhile.
Living and Other Fictions is available online in Europe as part of the ArteKino Festival, running from the 1st to the 17th December. More info here.
Watch on FilmDoo: