Director: Mikael Buch
A heavily pregnant rabbi prepares the bar mitzvah for a troubled 13-year-old, while her husband escapes a psychiatric ward in Paris. But believe me when I say, Mikael Buch's Simon and Théodore may well be one of the most relatable films you will see all year. This is due in part to something that is unique to French filmmakers: the ability to conjure universality from a melting pot of complications, clearing the fog in the cauldron until, somehow, you see your own reflection staring back at you.
In Simon and Théodore, a hapless ward patient named Simon finds his way back to his expectant rabbi wife, Rivka. Anxious of his condition and his proclivity for self-harm, she concludes that he is not capable of caring for his child. Determined and desperate to prove her wrong, Simon brashly takes it upon himself to follow Théodore, a dejected student of Rivka's, who runs away from his broken family and father's negligence. Without money, and slowly losing their tempers and minds, the two embark upon a series of misadventures on a cold, Parisian night. Together, the two learn that caring for one another can often be easier than caring for yourself.
There is a beautiful cacophony to the film as both Simon and Théodore's worlds fuse, their chaos raveling and unraveling to reveal encounters of redemption, muted pleas of desperation and tests of tenderness. Once defiant in his quest to fatherhood, Simon's self-assurance is placed under the microscope when left to tend to Théodore. Simon is faced with a mirror of his wife's prophecy in Théodore's relationship with his father: a sensible man who wreaked havoc and torment, observed by a tormented man who wrecks himself. But as we witness this epiphany unfold, maybe, just maybe, two children can be saved in the process.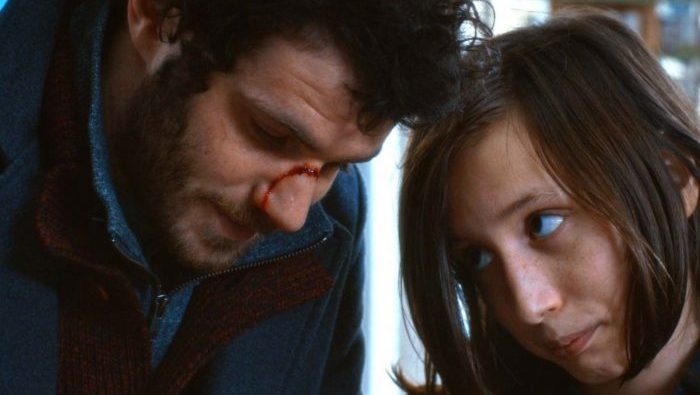 The introduction of Théodore's mother Edith via her encounter with Rivka is sublimely human. Edith's initial dislike for the woman she blames for her son's disappearance melts away with the pangs of sympathy and duty. In these dire circumstances the greatest of differences remain trivial and irrelevant: this dynamic transitions fluidly from two notably different women, and strangers at that, to two mothers with no one else to turn to.
Perhaps one of the most endearing and captivating aspects of this film is how earnestly each character's need for the other is. Théodore needs Simon to escape. Théodore's father needs Théodore to forgive him. Simon needs Théodore in order to forgive himself. They both need Rivka. Edith needs Rivka to find her son. Rivka needs Edith for the safety of her newborn baby; and her baby needs his father. This familial centricity offers audiences a myriad of insights in which to see themselves, and thanks to its exquisite narrative delivery, you may find yourself relating to multiple characters at the same time, regardless of how contrasting their viewpoints may be.
It's films like Simon and Théodore that reaffirm a singular truth in filmmaking: if a story is captivating enough, all other elements become invisible. It is a huge success, then, that it would be near impossible for me to talk about a cinematic convention, the film's cinematography or sound without relating it back entirely to the film's story. Picking out individual aspects of this film is as redundant as picking a favourite piece of glass in a mosaic – nothing satisfies quite like the work as a whole and, just like a mosaic, the beautifully pieced together shards of glass in this film can reveal snippets of yourself in wholly new ways.
Simon and Théodore is now showing in cinemas across France.
Find more films about Fatherhood with this FilmDoo Playlist.
To help bring this film to your region, cast your DOOVote on the Simon and Théodore page.