Watch The Eye of Silence on FilmDoo
A despondent revenge thriller set amidst lavish nights and sobering days, Emmanuel Sapolsky's The Eye of Silence tells a layered and compelling story of greed, commodification and 21st century excess. Through the biologically advanced eyes of Amelie (Xin Wang), a young woman capable of seeing in the dark, we are shown a murky new era of Beijing where human life is bought, used and disposed of by the wealthy and powerful.
Speaking to FilmDoo, director Emmanuel Sapolsky shares his thoughts on this richly revealing new work.
What was the original premise behind The Eye of Silence when you started making it?
The starting point of The Eye of Silence was related to our previous project and the frustration from the lead actress Xin Wang – who's also the producer of the film – to finance it. Xin was born in China, but moved to France for studies when she was 19. Going back to China was a shock. She was raised in a communist environment where men and women were educated equally.
Ten years after she left, the women's condition went backward. Money made 'concubines' fashionable again, and as educated and talented as she was, for wealthy Chinese investors she was just seen as a piece of fresh meat. I also wanted to describe modern China. Most movies that made it to Europe pictured poor peasants or workers from remote industrial towns. I wanted to talk about the rich and daring of Beijing, the ones who can get away easily from trouble. One day I saw a report about a Chinese kid who could see in the dark. I snapped and saw a great opportunity of describing a country that is purposefully blind about its issues in order to achieve modernity.
Would you say that the film presents a very dispirited view of modern big city life?
Well, this could have been a darker tale, believe me! I've lived in Beijing for a few years and there's not much to be happy with when you wake up in a polluted, gritty, overpopulated, unhealthy city. Don't get me wrong. I love China and respect a lot Chinese people. But they deserve to see a blue sky too. As for relationships in general, everything is related to the money you have. Friends, women, work opportunities are tied to it more than anywhere in the world.
The film makes multiple allusions to France and French culture, even suggesting that Amelie might be named after the Jean-Pierre Jeunet film of the same name. Along with the drinking game that involves naming capital cities, do you see these elements as products of the more globalised era we currently live in?
Amelie loves France because, well, I'm a French director and I wanted to pay a tribute to the country that gave me the taste of cinema. Also, for Chinese people, France represents romanticism, a sense of good taste, and refinement – all these values so far away from the character of Amelie.
As for your question about globalisation: You can see that the transformation of China into a giant playground for franchises like Starbucks, KFC and Zara is a huge issue in Beijing. In my opinion, it erases the specificities and cultural differences. It gives you the feeling that you are some sort of character from the movie The Truman Show, never able to leave your village. Then again, people can name brands from all around the world but are unable to guess a capital or a historical character from these countries. The 'games' scene represents this educational emptiness filled with alcohol and sex. And don't get me wrong, I've got nothing against sex and alcohol!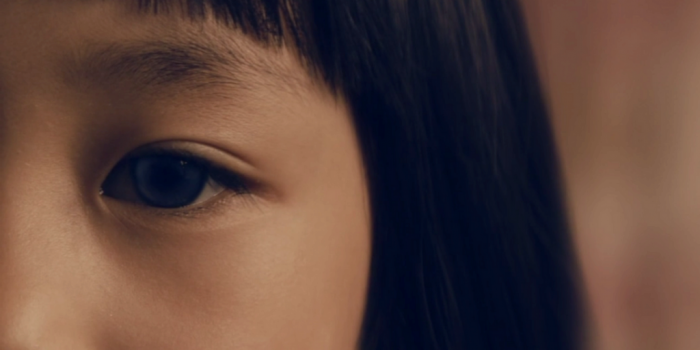 Are there any particular filmmakers or artists that you feel strongly inspired your work on The Eye of Silence?
You can guess I am a huge fan of Korean cinema. I totally fell for Oldboy, Memories of Murder, Mother… All these incredible movies that were entertaining, playful, and deep. I love the ability of Korean directors like Park Chan-wook, Kim Jee-woon or Bong Joon-ho to jump from a thriller to comedy so easily without losing their audience. I'm also a big fan of the nouvelle vague director Jean Pierre Melville who redefined the criminal genre in the late 60's in France. Most people don't know that directors like John Woo were deeply influence by his movies like L'Armée des Ombres or Le Cercle Rouge. As a newcomer, I try to keep in mind that entertainment without a soul is pointless and art without an audience is useless.
Given the layer of dark social commentary in the film, have you had any problems getting your work seen in China?
The film hasn't been seen in mainland China (yet). Not only because of censorship but also because local distributors rely on 3D movies with cheap VFX. Though, considering that the country is growing so fast and the need for deeper stories grows, we sincerely hope we can make it there one day.
Are you currently involved in anything new?
Yes I am! But hush-hush my experience has taught me to be cautious when you advertise on something that hasn't been made yet. Let's just say that I'm involved in a television project in France. Cinema has become a difficult place to make independent projects come true.
Featured image from Pascal Le Segretain/Getty Images Europe