By David Pountain
Watch Somewhere in the Middle on FilmDoo
In Lanre Olabisi's endearing and perceptive Somewhere in the Middle, every personal experience is a jigsaw piece in a picture that's bigger than any one person. Through a playfully non-linear structure, the film reveals a tangle of conflicts and attractions from three different perspectives. Actress Cassandra Freeman offers one such perspective through the character of Billie, a tough and resilient businesswoman who varies from coldly manipulative to poignantly vulnerable depending on the context.
A performer who's graced the screen in such acclaimed independent dramas as Alexandre Moors' Blue Caprice and Alrick Brown's Kinyarwanda, Freeman discusses her experience with this insightful and affecting new film.
What initially made you want to get involved in this film?
I really loved how these lives are so closely connected and yet these people hardly have any real emotional connection, and I thought the role of Billie had depth and a lot of complexity – definitely a fun role for me to explore. And I thought it would be great for an audience to see too!
Somewhere in the Middle was created from a year-long improvisational process. In your opinion, how did this unconventional approach help shape what we see on screen?
I came on after, so for me it was just the script. However, it is obvious it is filled with an energy that is fresh and unexpected.
Given the collaborative nature of this project, how important would say your co-stars were in inspiring your performance?
100% between them and our director Lanre Olabisi. It was so collaborative and energizing to create each moment on the screen.
Did you find yourself drawing much from personal experience?
No. Not really. Billie is quite different from me. If anything I relished the opportunity to leave my life and enter her life. She has a boldness and strength that is very different from me. I'm more laid back and have humor. Billie is really dry…well, unless she has alcohol.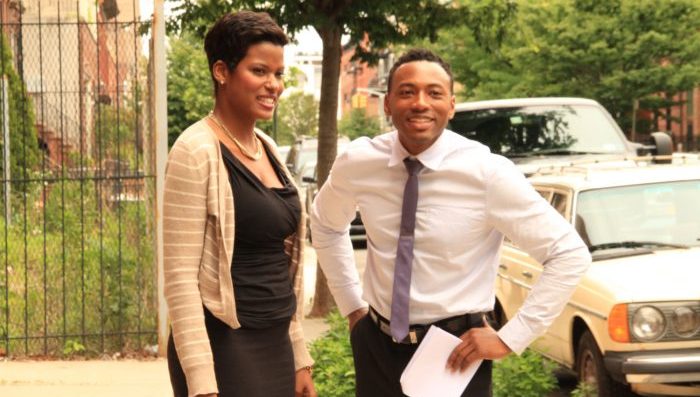 Would you say that the various conflicts, deceptions and misunderstandings in Somewhere in the Middle are the result of a simple lack of direct communication?
That, and it's about what you allow and not allow people to see in order to be perceived a specific way, and how intoxicating it is to be seen the way you wish to be seen. And maybe ultimately it's about how you only know a small portion of the people you meet and have relationships with…and how, in those roles, it can be quite isolating.
Do you think we all have these different sides to ourselves that remain a mystery to even the people we're closest to?
Yes…and we might even be blind to it too!
Are you currently involved in any new projects?
I have 2 other films releasing this year, a film that premiered last year at SXSW Long Nights Short Mornings and My Other Home is a great film about the life of basketball champ Stephon Marbury.
Watch Somewhere in the Middle on FilmDoo. (US, Canada and the Caribbean Basin only)