By Benjamin Brown
Director: Edgar Honetschläger
'Age is something that doesn't matter, unless you are a cheese' – Luis Buñuel.
Directed by Edgar Honetschläger, Omsch is a delightful, life-affirming story which portrays the tender relationship between a middle-aged man and his centenarian neighbour over several years. Also a fine artist, Honetschläger paints an intimate portrait of this solitary, soulful woman who seems to openly embrace these twilight years of her life. 'For me, the best part of life is being old', Omsch muses. It is this dynamic of a younger man paired off with a vibrant, vivacious older lady that strangely recalls the quirky classic Harold and Maude (1971).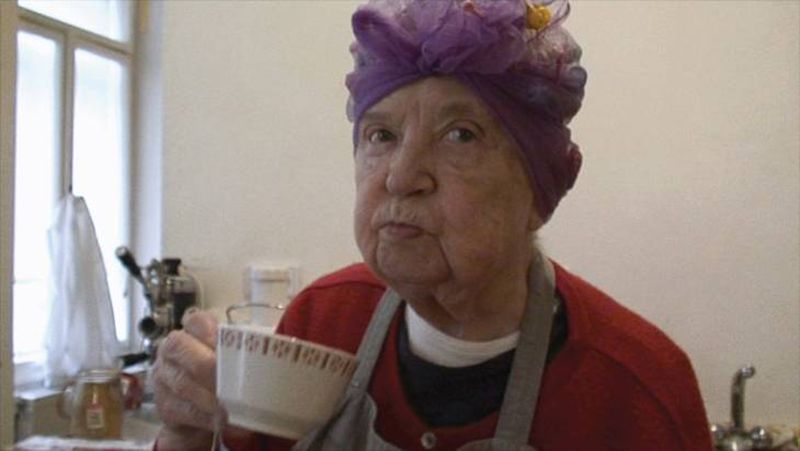 Like Ruth Gordon's character, Omsch is also nearing a milestone; in this case a century. Far from winding down, she is shown to remain active both in body and mind. Her sharp wit and impish humour are on display throughout, and there are also flashes of some genuinely perceptive philosophical insight. "˜What do most people think about? How to get rich, how to get a car, a holiday…can that possibly be a goal in life?', Omsch contemplates. The film conveys the message that forging meaningful bonds with others is what really counts. As a highly personal and poetic documentary, Omsch has certainly managed to get close to its subject; at times perhaps almost too close for comfort.
Following a natural and somewhat inevitable narrative arc, it becomes apparent that Omsch's health has begun to deteriorate, and these images of human frailty and vulnerability present a painful yet poignant reminder of just how fleeting our time on earth really is. However, for all its sombre, existential reflection, the central message of Omsch is overwhelmingly one of optimism. One needn't fear the arrival of old age, but should welcome and accept it willingly. For Omsch, revelling in life's frivolities is clearly the key to accepting the unforgiving ageing process and irreversible march of time.
Spiritual, perceptive and emotionally elevating, the film and its radiant subject are truly joys to behold. It is simply beautiful.
Watch Omsch on FilmDoo now! 
FilmDoo also recommends: