By Elizabeth Sandell
Directed by Ethan Reid
Watch Peter de Rome: Grandfather of Gay Porn on FilmDoo
Director Ethan Reid begins Peter de Rome: Grandfather of Gay Porn in Sandwich, Kent, where his now elderly and retired subject spends each summer. In this small, historic parish town, an unsuspecting neighbour delivers a wayward parcel. Inside? A giant, golden, ornamental phallus, complete with ornate, painted wings. Below the shaft, it reads: Winner of the Erotic Film Awards, 2012. De Rome is delighted.
From here, we shadow kindly octogenarian de Rome through his twilight years, which prove to be something of an Indian summer for this largely forgotten director. De Rome's films, after decades of being exhibited primarily in underground New York parties, small American cinemas, or not at all, have now been recognised by the BFI and granted a well-earned cult status. Peter de Rome: Grandfather of Gay Porn is in essence the story of a repatriated national treasure.
De Rome began life in an English boarding school, where he made "bull's-eyes of the boys," before enlisting in the RAF in '43. Porky, one of de Rome's bull's-eyes-turned-childhood sweetheart, was sadly lost in action, making post-war Britain a difficult and dull place to be for de Rome. He travelled to New York, where he would remain for the rest of his life, only escaping back to England during the scorching city summers. He became a naturalised US citizen in the late nineties, but never lost the demeanour of a perfect English gentleman.
On the other side of the Atlantic, de Rome's life took on a degree of Forrest Gump (Forrest Hump?) style fortuitousness. De Rome spent time in the Deep South, involved in the Civil Rights Movement – an endeavour that seems to correspond with his seemingly unproblematic, or at least apolitical, love of the black male body. He describes himself as never being, "terribly caught up in the gay movement," but his career nevertheless spanned a critical period: from carefree summers spent on Fire Island, to the Stonewall revolution and then woefully, the AIDS crisis, which brought de Rome's filmmaking to an end.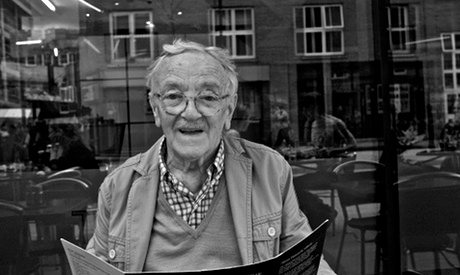 The films themselves encapsulate both a precious pre-AIDS sense of sexual freedom and de Rome's own delightfully uncomplicated love of sex. His work is playful, erotic and often highly conceptual. Double Exposure (1969) involves a man who, while walking along a pier, notices another man gazing at him, naked, from a window. Intrigued, he goes to look for the man but finds the room empty. He removes his clothes and approaches the same window, only to see himself below on the pier, gazing back up at him. Clearly, this is not your average pornographic fare.
His genius did not go unnoticed; fans included Andy Warhol, author William S. Burroughs, and more recently, modern porn pioneer Kristen Bjorn and comedian Julian Clary, who asks de Rome the question on everyone's lips: how does he do it? His early films commonly began with de Rome coyly filming men he found attractive – a handsome visiting sailor, perhaps – who then proceed to return to his apartment to have impromptu, creatively rendered, on-camera sex with him. De Rome's charm, it seems, was irresistible.
Charming, he certainly is. The strength of this film really relies on this dynamic: between a character study centred on a thoroughly likable and interesting man, coupled and contrasted with a very naughty subject matter, and plenty of full-frontal nudity. With a generous use of interviews, illustrative clips from de Rome's most influential films and some gorgeous 8mm footage of 1970s New York, watching the film feels as if you are spending an afternoon with the man himself. As documentary fate would have it, de Rome sadly passed away almost immediately after the film was made. Peter de Rome: Grandfather of Gay Porn seems a suitable, timely and affectionate homage.
FilmDoo Also Recommends: