By Sharon Calingasan
Director: Alexandra-Therese Keining
Girls Lost from director Alexandra-Therese Keining (whose previous works include 2011's Kiss Me and 2002's Hot Dog) tackles with sincerity issues of bullying and gender but places the proceedings a notch higher by putting a fantasy spin on the story. Three girls who have been friends since childhood – Kim, Bella and Momo – are at the center of it all. They are a popular target for the bullies at school who label them as "˜ugly cunts'. The bullying is worsened by the lack of action from their teacher, whose only response is to tell Kim that they need to "˜toughen up'. These three girls are united and strong in their bond as friends and protect each other but an incident where boys suddenly swarm around Bella, taunting her for her breasts and almost undressing her, evidently affects them badly.
It is also established early that Kim is having internal struggles of her own. While walking with Momo, she becomes suddenly emotional and opens up about her anxieties, telling her friend that "she seems to have a zipper somewhere" and that there's "a different body underneath", even asking Momo if she is disgusting to her. Viewers also get the hint that Kim has developed feelings for Momo.
A transitional phase begins when they discover the nectar of a magical flower that transforms them into boys. The initial experience is an emotional boost for the three friends as their new identities somehow restore their confidence and self-worth. They find that as boys they are easily accepted by the local guys and they even get to play soccer with the rest of them. It is also at this time that Kim becomes friends with Tony, who it soon turns out is not the nicest boy around. However, most importantly, the magical transformation proves revelatory in helping Kim to understand the "˜masculine' tendencies underlying her feelings.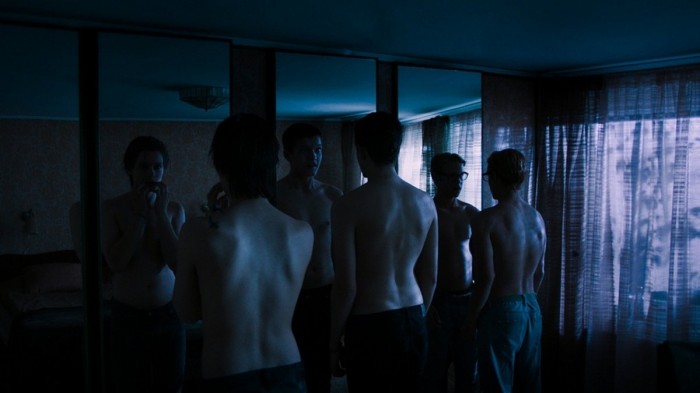 Acting-wise, the lead characters all give commendable performances. Tuva Jagell as Kim is fragile yet conflicted and has a rebellious streak that surfaces when she is with Tony. Louise Nyvall as Momo is gentle and a loving and protective friend with a strong screen presence. Wilma Holmen as Bella is the awkward type of girl who, despite her insecurities, remains very devoted to her friends. The three girls all have their shining moments in this film: Momo facing off with a guy who storms the girls' locker room when he gets beaten by Kim in a rope climbing challenge; Bella, looking downtrodden and humiliated when a group of boys attack and attempt to undress her; and Kim in particular stands out in the scene where she spills out her secret to Momo. Their boy counterparts are similarly outstanding whereas Mandus Berg earns attention for his portrayal of Tony, projecting an outwardly friendly appearance while inwardly he is just as conflicted as Kim, a quality that pulls them together.
Visually, Girls Lost is a generally compelling work, presenting a seamless physical transformation for the three friends that makes it surprisingly difficult to pinpoint when exactly the changes happen. Musical scoring is effectively employed to heighten the mood and director Keining does a stellar job of imbuing this coming-of-age tale with a magical touch that helps bring to light issues of gender insecurities and biases, while exploring the process of acknowledging one's sexuality and showing the beauty of genuine friendship.
Watch Girls Lost from Friday 4th November on FilmDoo.com (UK & Ireland only)
FilmDoo Also Recommends: