By Sharon Calingasan
Director: Mika Kaurismí¤ki
Mika Kaurismí¤ki's The Girl King, written by Michel Marc Bouchard (Lilies, Tom at the Farm), is a retelling of the colorful and unconventional life of Queen Kristina Augusta of Sweden who reigned from 1632 to 1654. With its lavish costumes and vivid feel for its historical period, viewers will instantly recognize the significance of Chancellor Axel Oxenstierna's (portrayed by Michael Nyqvist) order that the young Kristina (Marlin Buska) be raised as a boy. Moreover, it is evident even in her teenage years that Kristina has an unquenchable thirst for knowledge and new discoveries, including a growing interest in Descartes and Catholicism, much to the distaste of the Lutherans who deem her behavior to be blasphemous. To this, Kristina has a ready answer: "To be uneducated in this world – that would be blasphemy". Through such defiant rejoinders, we are introduced to a queen whose nature is rebellious, persuasive and unwavering, even to the point of refuting her Lutheran mentors.
The day she's crowned as queen is marked as a moment of transition in her life. On this day she is introduced to Countess Ebba Sparre (Sarah Gadon), the fiancée of Count Jakob de la Gardie. Sparks of interest are immediately evident in the queen's eyes upon meeting the countess. As Kristina narrates the words of Descartes – "The best remedy for excessive admiration is to acquire knowledge of many things and practice appreciation of those that seem most rare and strange" – she earns the admiration and fascination of the countess,who we see listening intently. The speech is well-received but the queen is also met with indignation when she announces her intentions to make peace with the nation's enemies instead of war, and instead pursue social policies.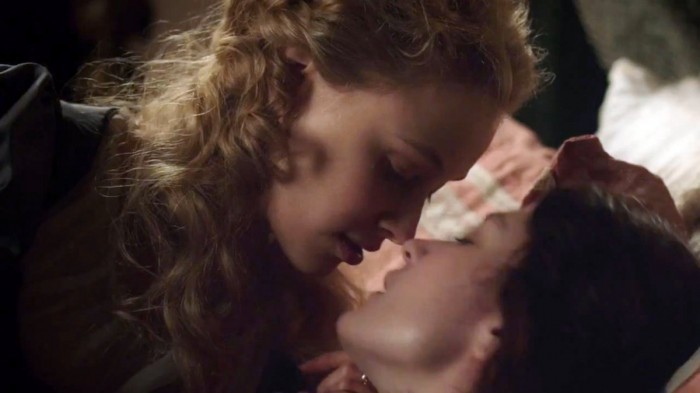 Though The Girl King touches on the politics and intrigues of that magnificent era, it tends to focus more on the brimming romance between the queen and Countess Ebba, whom she appoints as her lady in waiting and bed companion. This relationship, however, can never truly be brought into fruition, due to contemporary laws against same-sex relations, along with a fear of controversy seeing how the countess already has a fiancé. But the actions between queen and countess defy such restrictions, and the loving glances and fascinated stares between the two are just a few of the indications of the suppressed romance and feelings.
Over the course of the film, much is also said on the teachings of Descartes, portrayed here by Patrick Bauchau, a Belgian actor well-remembered for his role as the murderous Scarpine in Bond thriller A View to a Kill. In fact, the film may inspire in some viewers a renewed interest in the philosopher's teachings, along with renewed debate with regard to his death.
Acting-wise, praise is owed to Malin Buska for her glowing depiction of the unconventional queen. While, there is a subtle halting manner to which she delivers her speeches and sections of her dialogue, her facial features also command a kind of inner strength and persuasiveness befitting the character, and the eyes, with that unmistakable glint, gives a peek into the sharp wit of the girl king. Sarah Gadon as Countess Ebba has a glorious aura, embodying a woman committed to a man yet drawn so strongly to the queen. She admires Kristina's intelligence and passionately explores unknown boundaries with her. Other noteworthy performances come from Lucas Bryant as Count Johan and the aforementioned Bauchau as Descartes.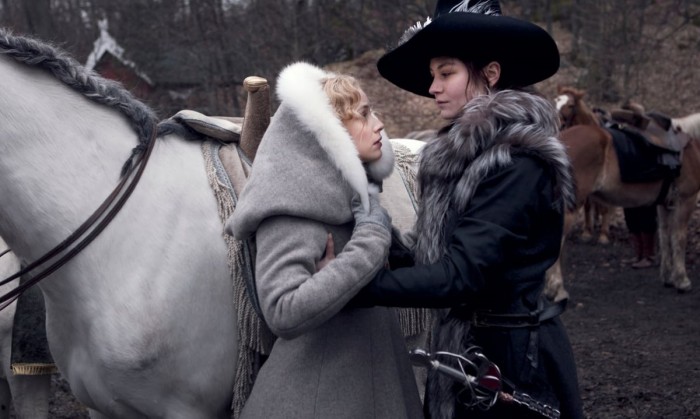 Meanwhile, Nyqvist as Chancellor Oxenstierna proves to be a particularly engaging character who plays a pivotal role in molding Kristina in her duties to the kingdom. Appointing himself as her guardian seals an important bond with the queen, though it is clear that he can never completely replace the spot of her true father, King Gustav, in her heart. While the chancellor generally shows concern for the queen's well-being, it is nonetheless apparent that he also has his own intention of building up his son, Johan, to gain merit in her eyes. Though he cannot fully influence the queen's mind in the matter of choosing her king, there is no show of force in his desire to persuade her; and, in this element of his character, he earns the viewer's admiration. A scene where he kneels and implores her to decide on what's good for the kingdom has the queen thinking with deep introspection, and her eventual decision is one that could only come from a brilliant mind.
Kaurismí¤ki's vision of Queen Kristina is that of a woman ahead of her time, a thinker, a wisdom-seeker, someone who had an innovative mind with an intention to end war and pursue peace. It is controversial and intriguing, as well as a bit exaggerated to sensationalize the alleged romance between Queen Kristina and the countess. It does, however, end on a positive note, as viewers witness the queen on a horse, riding towards the horizon, in pursuit of knowledge and wisdom.
Watch The Girl King on FilmDoo.com. (UK & Ireland only)
FilmDoo Also Recommends: