By Sharon Calingasan
Directed by Christy Garland
Christy Garland's documentary gives viewers a closer look at what goes on in a squad of cheerleaders so used to losing. Named the Arctic Circle Spirit Ice Queens, these girls seem to stay true to their name; they appear cold, aloof and hesitant to smile, a great contrast to what we usually envision cheerleaders to be; gregarious and full of energy. In a way, these observed traits of the Ice Queens seem to match with the aerial views and landscapes of their place, clothed with white snow and with negative zero temperatures.
As the film unfolds, viewers get to know Miia, their coach, and two of the cheerleaders; named Patricia, or Patu, and Aino. A scene where the squad is seen practicing for a competition reveals one important thing: there is a lack of connection between the coach and the cheerleaders. While the dedication to coaching and cheerleading alike is evident, there is a sense of distance and isolation between Miia and the girls, and worse, her lectures don't seem to be sinking in. Right before the Finnish National Cheerleading Qualifiers in Oulu, Finland, she talks to the girls and urges them to 'Cheer Up' because they 'look like they're at a funeral'.
A trip to Texas, USA, and into the headquarters of Cheer Athletics opens Miia's eyes to the reality there; cheerleaders, men and women alike, practice like there's no tomorrow. They give their all, they are very expressive and they all look determined and full of energy. Listening to the advice of the coaches provokes several realizations for Miia. When she talks with director Jay McCartney, for instance, McCartney has these stirring words to say: "Failure is success. I hate second place. If you fall, get back in and do it again". These and more are very pivotal views that Miia absorbs during her Texas visit, as she looks for inspiration to help her local team improve. Ironically, she is also tormented with personal struggles and, over the course of the film, viewers witness her attempts to have a love life while dealing with a pregnancy that she may have to face single-handedly.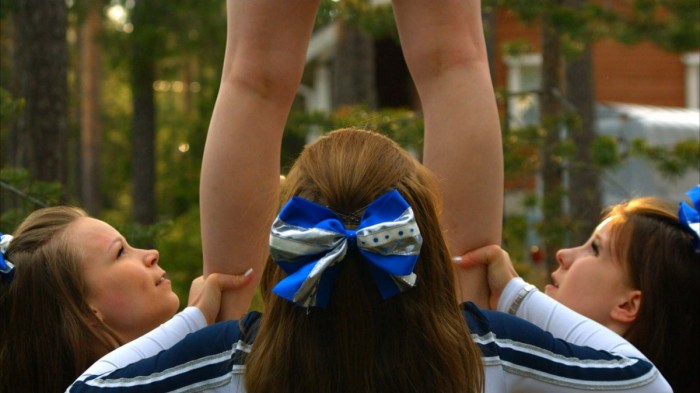 A very interesting element of Cheer Up comes from getting to know its two cheerleaders of focus. Patu, silent and reserved, is struggling with the thought of her father having a new family, while still coming to terms with her mother's death. Based on the interactions we see between them, Patu is aloof and doesn't seem to have a close relationship with her father. Aino, on the other hand, comes across as the typical teenager who has a bunch of friends, goes to rock concerts and has a boyfriend, along with displaying the usual dose of angst that young people are commonly associated with. But one key thing that differentiates her from Patricia is her strong relationship with her mother. The footage of Aino with her mother sees them communicate openly on her love life, make-up, cooking and other subjects.
Coach Miia, while contemplating her own sensitive condition, returns from the Texas trip to reenergize the team, sporting a new tattoo on her torso with the words "no pain, no gain" – perhaps to reaffirm and to remind herself of this. She brings that teaching into action by focusing anew on the cheerleading squad and adding guys to their group. As they prepare for a local competition in Helsinki, Miia vows to challenge the team and reiterates that they're aiming for number one, and not just for top 5. She also opens up about her pregnancy and tells the group that they are family and that they are like her kids that she won't abandon. The pep talk has positive results as the practice session sees the whole group becoming more challenged, focused and determined.
By this time, Aino is rediscovering the joys of going to school and learning to drive. Patricia, meanwhile, upon the encouragement of teammate Julle, visits her stepmother at the hospital and holds her baby brother in her hands, a feeling so wonderful for her that she sheds tears of joy while her dad fondly looks on. It's one of the most poignant and emotional scenes in the documentary, with Patricia shedding her inhibitions and disdain towards the stepfamily. The experience, in a sense, helps her to become a better person, teaching her to forgive and move on, and, ultimately, to become a better cheerleader too.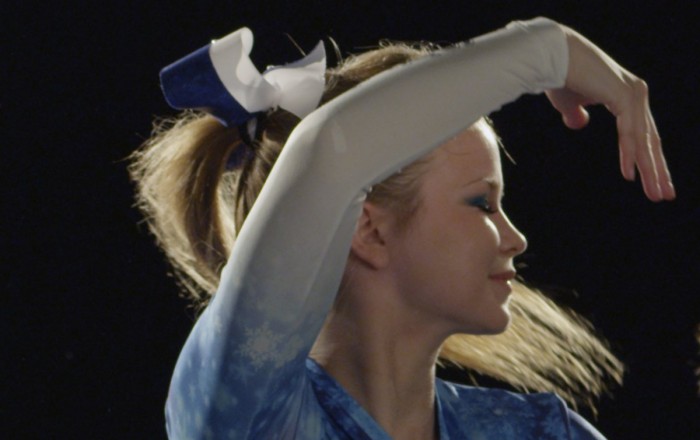 The presentation of the team at the Super Cheer Competition in Helsinki is a defining moment for them: they are hopeful and they do their best despite some mishaps and mistakes along the way. Scenes of their performance, shot in slow motion, magnify with impressive clarity the facial expressions of the cheerleaders and capture some sensitive flying routines.
On one level, Cheer Up is a salute to the teenage experience but its themes also incorporate the majority of us. Sure there are winners, but the losers outnumber them. In this regard, the film is a reflection of what normal cheerleaders, athletes and people who compete go through. The only difference may be in the culture. Finnish people are generally seen as reserved and may not equal their American counterparts in terms of joviality and expressiveness but, ultimately, their predicaments and life struggles – cheerleading and otherwise – remain the same. Miia delivers a powerful message to Aino as she fixes her eyelashes: "The more obstacles you encounter when you were young, the stronger you become when you face challenges as an adult."
More so, the film aims to drive the message that to compete doesn't necessarily mean that you'll win, but losing doesn't give you an excuse not to do better next time. And while the title itself is a form of admonition, urging you to 'Cheer Up!' while you're doing your routines, defeat is also something that should be welcomed with a smile.
Cheer Up is available to watch on FilmDoo.com for the whole of July 2016. See it here. (UK & Ireland only)
FilmDoo Also Recommends: