Director Toby Fell-Holden's layered and socially relevant Balcony is a brutally hard-hitting short that uses its story of a young British girl's developing feelings for a newly arrived Middle-Eastern immigrant to evoke the barriers of knowledge and culture that can divide a community. Starting off as an ostensible modern fairy tale of forbidden romance (as filtered through the mind of young lead Tina), the film's devastating climax drags all that came before it into a new light, revealing the power of prejudice and false perceptions to shape popular narratives.
With his film screening in London this Friday as part of the East End Film Festival's New Queer Visions evening, director Fell-Holden speaks to FilmDoo about this bold new work.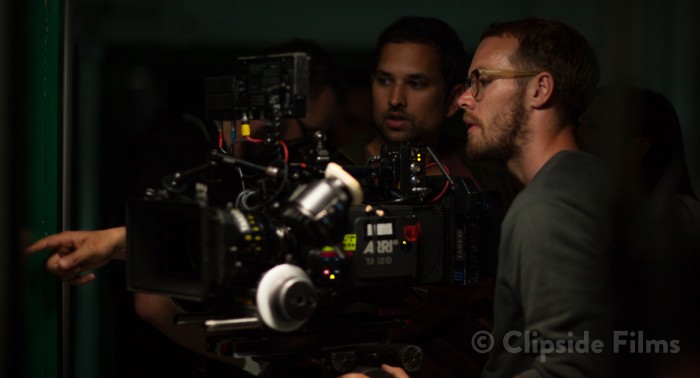 Has racial tension factored into any of your previous works or was this new creative territory for you?
There are a few feature scripts where race was a strong part of the story, but in my previous shorts, racial tension was more something that lingered in the background. Balcony is the first short in which issues around race were central, where we were consciously making a statement with the film.
Was the film significantly inspired by any personal experiences or was it purely a response to the national zeitgeist and current events?
Balcony is more a collection of past experience than what's currently in the air. I wrote a draft of the script many years ago but couldn't work out what it was. It slowly became a story about projection and race drawing from things I'd witnessed where I grew up. That the subject matter is particularly under the spotlight, even more so with Brexit, was coincidence. That said, the last few drafts became more pointed towards recent conflicts; the final scene was written late in the process and is perhaps a more plausible scenario now than it was when I first conceived the story five years. These issues will likely be in the air for a long time to come, sadly.
Tina seems plagued by strong, unwieldy emotions that at times create almost contradictory sides to her character. What was it like working with actress Charlotte Beaumont to develop these buried complexities?
There was a lot going on underneath the surface with Tina, violent emotions that can't find easy expression alongside a profound loneliness and desire to connect. We had some in depth conversations during the rehearsals and before some of the bigger dramatic scenes. It was a challenging balancing act given the way the film withholds information. It meant that both Tina and Genevieve's behavior had to ring true to who these people are, but also plausibly play into the misdirection and miscommunication. Charlotte would ask a lot of smart questions and trusted her instincts – it's always helpful when an actor tells you if something doesn't ring true emotionally. It opened up some moments to experimentation and made the film stronger. Actors are such a vital part of the writing process!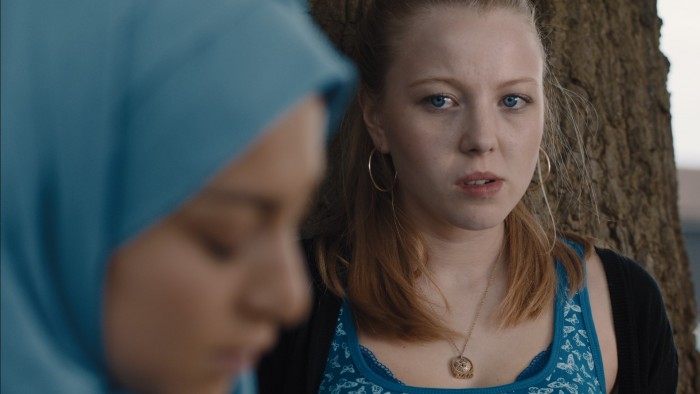 The final few minutes of Balcony prompt us to reassess much of what we've seen before. Would you say that this is a film that benefits from more than one viewing?
Yes! It was a concern that too much had been packed into a short script and it took a lot of finessing in the edit to find the right balance of information, so that the viewer is having an emotional reaction, rather than having to think through the logic of what they've seen… If you're having to think in the moment, it's harder to feel. The hope was that you are left with much to think about, but were emotionally engaged during the film. People have said they appreciate the film more on a second viewing as they catch the confessional elements of the voice over and the small hints to an off­-kilter situation. Hopefully in one viewing, the audience receives enough of what's hidden between the lines, the small ambiguities in interactions, such that the end feels earned – surprising but expected – so that all the small question marks line up in one answer.
How did you decide upon the film's location?
We actually didn't have much choice; most of the boroughs in London were concerned about how the story might portray their community and so declined granting permission to shoot. It was partly good fortune and the perseverance of the producers that the location in High Barnet, one of the few places that granted us permission, was so well suited to the story. The large greens surrounded by flats really helped add to the feeling that you were in a small community that was boxed in.
Do you have any new projects in the works?
Yes, we're working on a few feature projects. One of them explores very similar themes to Balcony – of race and perception, but in a different context. It's about to go into development. We're very excited about that story!
Watch Balcony Friday 1st July at the Ace Hotel, London, as part of the East End Film Festival's New Queer Visions short film evening. Click here for more info.