Directed by François Ruffin
French journalist François Ruffin has cited Michael Moore as a key inspiration for his first foray into feature filmmaking and, much like the latter's most famous work, the warm, cheeky identity of Merci Patron! (Thanks Boss!) feels like an extension of the director's endearing onscreen presence. Though this highly topical documentary certainly shows us some dark truths, it's rarely at the expense of the sharp, mischievous humour Ruffin brings to his discussions of serious issues. So while you may well see a few political-minded films this year that go more in depth into the mechanisms of corruption, gentrification and corporate greed, Merci Patron! nonetheless seems like a fine addition to the conversation, portraying its working man's story as a comical battle of wits that sees a rare small victory attained against a worthy target of the ninety-nine percent's scorn and ridicule.
The villain in question is business magnate Bernard Arnault, head of multinational luxury conglomerate LVMH and purportedly 13th richest person in the world. A few years ago, Arnault made headlines for reports that he was planning to apply for a Belgian citizenship in an act of tax evasion but, in the new film, the infamous figure is primarily taken to task for moving one of his factories to Poland. Amongst the men and women put out of work were couple Jocelyn and Serge Klur, the sympathetic centre of Ruffin's picture.
The tongue-in-cheek title of Merci Patron! is a flippant reference to the director's aim of helping the Klurs and their fellow workers take back some of what Arnault took from them by turning the PR-conscious legal trickery of the big business world against itself. Some of the biggest thrills and laughs of the film come in its elaborate final third, in which Ruffin nimbly navigates through a series of loopholes and elaborate deceptions in order to get the Klurs some reparations and employment while, at the same time, finding a way to defy a confidentiality agreement that would have prevented this film from being legally viewable.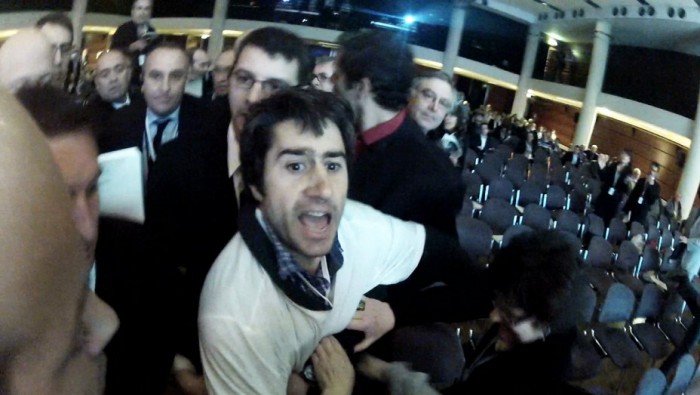 That Ruffin, at times, presents all of the above as a naïve attempt to 'reconcile the lower and upper class French' is exemplary of the film's irreverent comedy. Often Ruffin's dry one-liners will carry bitter resentment towards the system (after getting thrown out of a shareholders' meeting he remarks, "The free champagne we'd received wouldn't save the Klurs.") but, more often, this jokiness simply serves as an affectionate reminder of the real, relatable people who are paying the price. The Klurs and other laid off employees are frequently seen speaking of their hardships in good humour, finding something to laugh about with their friends, partners or former colleagues even in the most desperate periods. Ruffin responds to this humour with his own, showing a touching solidarity that stands in defiant opposition to the cold, impersonal dealings of Arnault's business.
Arnault himself remains as a phantom for the picture's entirety, observed only in news reports or speaking from large monitors. That we see so little of the other side of this struggle is perhaps one symptom of the film's limited scope of vision but it also profoundly indicates the progress still to be made and the current lack of communication between the common man and these out of touch giants. Given the box office success Merci Patron! has already found in France, the film may well serve as a genuine catalyst in amplifying the necessary dialogue or getting some legal and political gears turning (it's certainly considered a factor in the rise of the recent Occupy-esque social movement, Nuit debout). But, putting this wider impact aside, Ruffin has provided us with a funny, rousing debut with the wit, compassion and optimism to enliven some difficult times.
To bring Merci Patron! to your region, cast your DooVote here!
Recommended Viewing on FilmDoo:

(UK & Ireland only)