By Amy Dunning
Director: Ana Maria Hermida
Written and directed by Ana Maria Hermida, The Firefly beautifully explores the different ways in which the human body copes with the grieving process. Beginning with a scene in which Lucia decides to end her marriage, the story then flashbacks to the set of circumstances that led her to make this decision. After the tragic sudden loss of her estranged brother Andre, Lucia and his bride Mariana meet accidentally. Due to an unsupportive husband, Lucia is drawn towards Mariana, as she needs more care than Lucia does. Through their shared memories of Andre, the two women find comfort in each other in a way that they couldn't have anticipated.
Heart-wrenching from the beginning, The Firefly really pulls out all of the stops to make you empathise and have compassion for its characters. Hermida has successfully captured the devastation and sense of loss that accompany the sudden death of a loved one. Lucia and Mariana's mourning processes are both very different, but each allow the women to discover new sides to themselves. Monstrosities are a running metaphor throughout the film, with Lucia explaining that 'monster' was the worst insult she could call her brother whilst growing up. In the depths of her despair, there are a few scenes of gothic realism where she seems to adopt a monster-like form as she reaches out to Andre. Although these scenes seem at odds with the tone of the rest of the film, they add another layer of complexity to the depth of Lucia's grieving process. It is through this process that both women realise how much they loved Andre, and where that love will go now that he is no longer there. The Firefly is a film about the constantly evolving nature of our ability to love one another, in different capacities.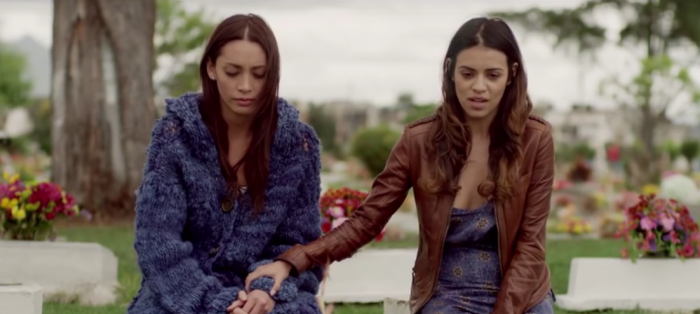 The beauty of Colombia shines throughout the film with breath-taking landscape shots of the wild, as well as intimate moments in small rural villages of the daily activities. The music is incredibly fitting, aiding to the excellent performances. Carolina Guerra (Lucia) and Olga Segura (Mariana) are stunning, with their scenes of despair and the scenes of joy beautifully contrasting with each other and revealing both actresses' amazing abilities. This Colombian film, by focusing on what lies beyond death, beyond the end of the world, demonstrates that life can start anew, and that love continues to live on.
Alejandro Jodorowsky's line "even in the mud, fireflies still shine" ends the film, emphasising the picture's importance. Love and life, beauty and hope will continue to exist, even in the darkest hours of your life. Lucia and Mariana were fortunate enough to find a kindred spirit in which they could receive support for their sorrows. Most importantly, The Firefly highlights the importance of being grateful and thankful to those we love because you don't know what life has in store for you.
To bring The Firefly to your region, cast your DooVote here!
Recommended Viewing on FilmDoo:
(UK & Ireland only)