By Owen Peters
Directed by Stephan Bergmann
Taking a cruise ship holiday evokes a definitive and emotive response from most people who have gone through the experience. Some people love the interaction with new fellow passengers and can't wait to go book again. For others it's a floating hell, as they become involved with events, people and protocols which leave them rushing for the nearest lifeboat or next port.
The Last Gigolos, a documentary directed and written by Stephan Bergmann, takes us aboard the MS Deutschland cruise ship. It documents a pair of elderly (both in their seventies), respectful and energetic dance hosts Peter Nemela and Heinz Löffelbein. Their role is to dance, escort, fraternise and flirt if needs be with the senior frauleins at every opportunity. It could be called Strictly Fraternising.
The hosts/escorts, confirm the rules and code of conduct during the documentary's first on-board scene. As hosts they must be smart, well groomed, request the hand of ladies who wish to dance when and wherever possible, which, as we see, can be during the evening, around a bar, one on one or an afternoon on deck. Nowhere is out of bounds for a waltz, cha cha cha or the close proximity of scents and colognes colliding. Rules prefer no drinking on the job and not to accept or encourage romantic associations, although that dividing line is traversed with the dexterity of a tightrope walker at times. Men become a problem, as one well coffered lady announces. "There are very few single men on the cruise. I've only spotted two or three and they don't want to dance," she complains with an air of "˜what's a girl supposed to do?'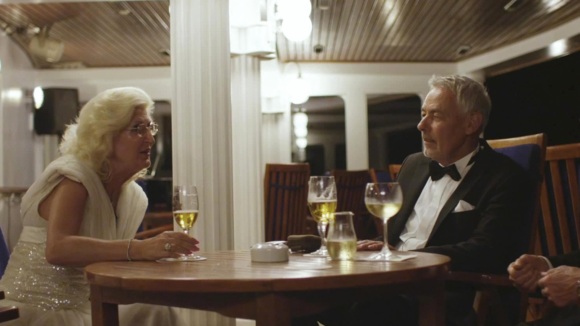 Bergmann's first soundtrack song is the Williams/Graham jazz standard "I Ain't Got Nobody" which in some subtle way sets up the film's direction. Its range and scope becomes less about Peter and Heinz more about the single old ladies who are cruising the Mediterranean seas mainly due to the passing of their partners. Most of their stories are very personal, moving and undoubtedly sad. It's like watching your grandmother express her life's emotions – the good, the bad and the brutal – knowing there is very little you can do to change the situation.
There are a few pieces of dialogue straight to camera. However, most of the narrative is either as a voice-over or a camera's lens, allowing the audience to eavesdrop into private conversations; smiles and tears captured for all to see.
For some, losing a partner has left a huge void in their life. The mental and physical impact of loss has become impossible for them to resolve in their daily lives. As more than one lady states somewhat poignantly, instead of being lonely at home, they came on a cruise surrounded themselves with people, and still feel lonely. Others have found the strength and vitality to move on, put some joy back in their lives. Peter tells how the death of his daughter (at birth) and wife in later years had taken its toll, whilst Heinz had found his epiphany through exercise. A daily routine of press-ups, sit-ups and light jogging allows him to still move with grace and aura of aged elegance. The old dog still carries a twinkle in his eye – maybe in his loins as well, but that's not allowed here.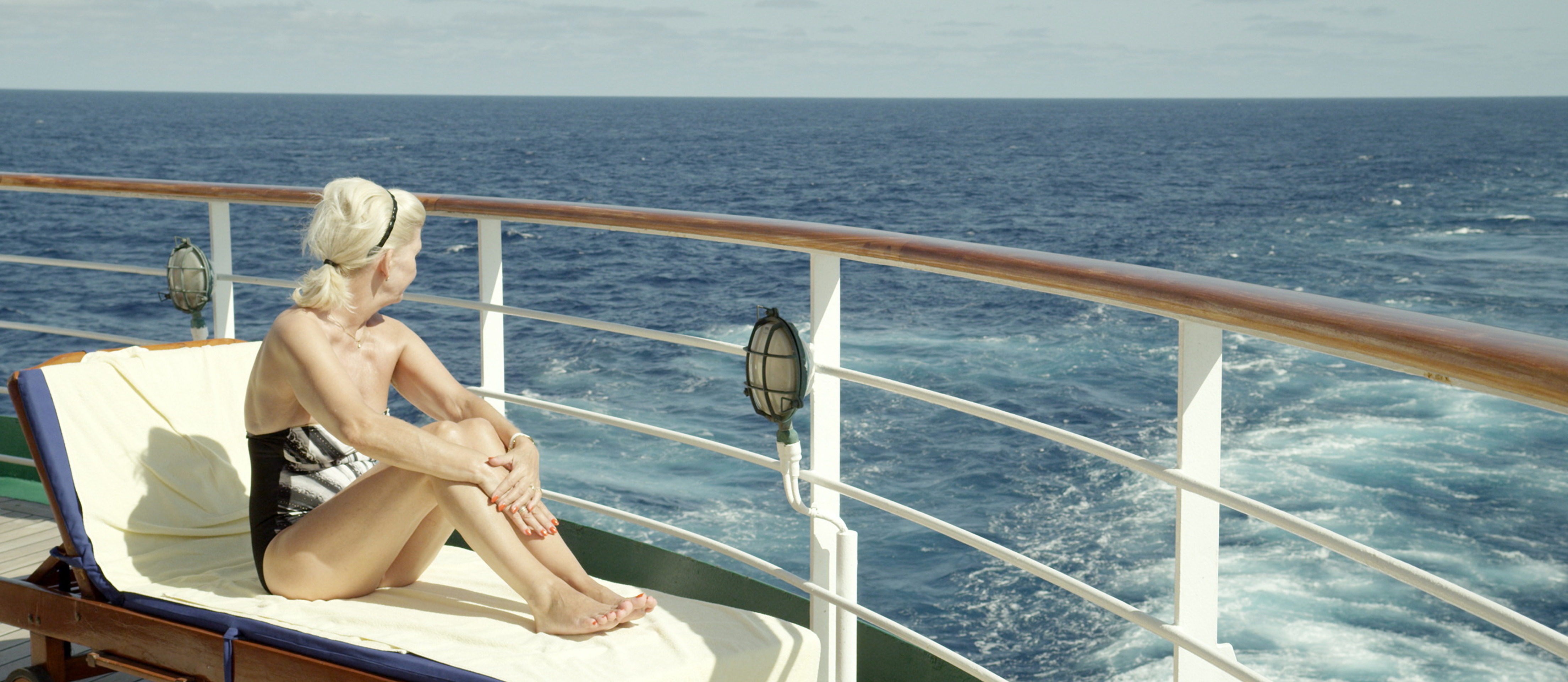 On the hour mark the film doesn't so much lose its way as misses opportunities. If The Last Gigolos is simply the exploits of two elderly gents dancing with elderly ladies on a cruise ship, it's half an hour too long. If it's a social documentary allowing the voices of this group of septuagenarians to share their loves, losses and old age, with more direction and structure it could have been a wee gem. Instead, the remaining 30 minutes offer more of the same. More dancing, bingo, singalongs, sunbathing and heartbreaking stories.
At no point do we see any of the ship's officers. I would have thought a visit to the Captain's table and crew interaction would have been a prerequisite bearing in mind the ship's clientele. Perhaps family members commenting on the benefits of a mother or grandmother joining the cruise would have been a nice touch, as opposed to them going off and being left to fend for themselves. There isn't any connection with the group's outside world which, for some ladies, leaves them looking lonely, fragile and exposed.
Bergmann does a good job of capturing some very honest and open narrative from the ship's passengers, then doesn't seem totally sure of what to do with it. The Last Gigolos is well worth watching. Is it just a documentary or a commentary on love, loss and the sheer resilience of aging frauleins? Make your own judgement, either way you'll probably need some tissues with you.
To bring The Last Gigolos to your region, cast your DooVote here!
Recommended Viewing on FilmDoo:
(UK & Ireland only)