By Matthew Riordan
Directed by Adriyanto Dewo
At first glance Tabula Rasa might appear to be a formulaic rags-to-riches story. In the opening scenes we meet Hans (Jimmy Kobogau), a promising footballer from Papua, Indonesia. Hans is scouted by a club in Jakarta and leaves rural island life and his large foster family behind to chase his sporting dreams.
It all seems fairly routine at this point but after the titles fade away, director Adriyanto Dewo immediately turns the visual and dramatic terrain of the film on its head. The verdant, tropical greens of the Papuan day are replaced by a murky Jakartan night populated by armies of mopeds, peeling walls of painted graffiti and rundown railway lines. Only the persistent hum of the crickets persists. The previously presentable and ever-smiling Hans is now limping barefoot towards a makeshift shelter on the banks of railway tracks. His footballing dreams have vanished as soon as they appeared and we see him consider committing suicide by jumping from the railway bridge.
After an apparent suicide attempt, Hans is found unconscious by Mak (Dewi Irawan) and Natsir. Mak and Natsir run a small, struggling restaurant, Takana Juo, and on Mak's insistence they take Hans in, feed him and eventually offer him work. The restaurant's chef, Parmanto (Yayu Unru), is riled by Hans' presence, not least because the restaurant is already struggling to stay afloat and taking on an extra employee only adds to their problems. In these scenes the writer, Tumpal Tampubolon, explores the limits of charity and the struggle of small local businesses to maintain their traditions and safeguard their culture in a profit-based market with intelligence and subtlety.
When a corporate chain restaurant opens across the street and Parmanto deserts Takan Juo, the film's themes come to a head. Mak teaches Hans the recipes she once taught Parmanto and along with Natsir they attempt to fight the debilitating presence of their new culinary powerhouse without sacrificing or compromising on the local, authentic character of their own restaurant.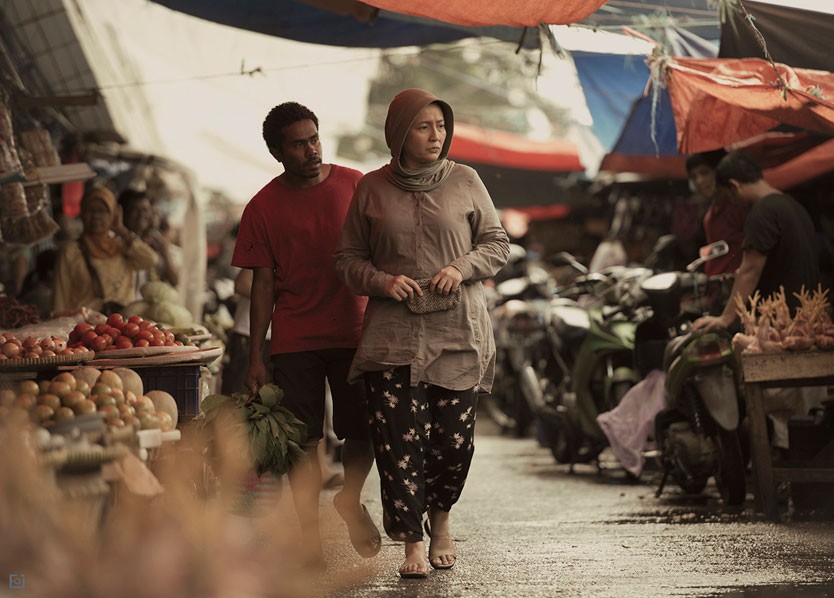 Like Hans' injured leg, Tabula Rasa limps along a little in the first half but, with the arrival of conflict, the film's metaphor takes center stage and proves itself to be both layered and effective. The vibrant and rich cooking scenes between Mak and Hans are some of the film's high points. Fantastically shot, they bring an authentic and spirited feel to the narrative. In these scenes, the interaction between Mak and Hans is particularly poignant as Mak confides in Hans about her son, Amir, who she lost in an earthquake and Hans confides in her about how his shame prevents him from returning to Papau or even calling home. If this surrogate mother-son relationship is the vehicle through which many of the film's more lofty themes are explored, then the relationship between Hans and Natsir (played by the often very funny Ramdan Setia) provides a much needed comedic touch that steers the film clear of explicit sentimentalism.
Tampubolon and Dewo have managed to weave together a number of interesting themes in Tabula Rasa and it is a testament to their skills that they are all fleshed out and purposeful. Tabula Rasa manages to be many things at once: the archetypal story of the "˜little guy' taking on the big corporation, a condemnation of the erosion of local culture by chain-consumerism, a thought-provoking exploration of the links between taste, flavours and food on the one hand and life, relationships and memory on the other, and an ode to the perhaps unparalleled melting pot of ethnicities, cultures and traditions alive in modern Indonesia.
Armed with several praiseworthy performances, rich cinematography that manages to faithfully capture the Indonesian archipelago, and a varied and atmospheric score, Tabula Rasa is a moving and gratifying watch that might just change the way you look at your next meal.
Disclaimer: this film will make you hungry.
Recommended Viewing on FilmDoo: