Director: Lucky Kuswandi
As the title would suggest, In the Absence of the Sun, the humorous and poignant new drama from Indonesian writer-director Lucky Kuswandi, takes place mostly at night (one single night, in fact). However, the transition from day to night is signalled not by a setting sun but by the Sun disappearing behind a cloud of smog.
Accompanied by the sound of a Muslim call to prayer, the moment cleverly encapsulates the city of Jakarta's transition from the familiar and traditional to the artificial and westernised. This is now a place where children own iPads from age three, fancy restaurants only serve Fiji water and everyone carries two phones around to ensure that they always have a signal. For better or worse, the city is changing and it's up to each individual citizen to find their footing.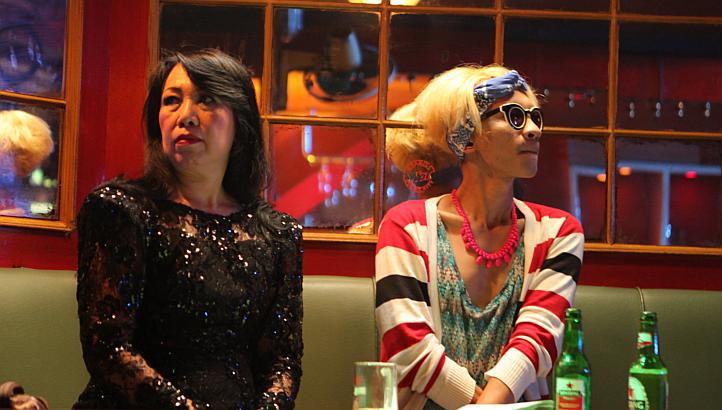 Characterised by a pensive stillness but shot with luminous warmth, the film has three parallel plotlines that often intersect in characters and locations. A young woman named Gia returns to Jakarta after years of living in New York to find a very different city from the one she left. Feeling alienated, she attempts to reconnect with her old friend, Naomi, who seems more accustomed than Gia to the new culture of their home city. In another plotline, Indri, the towel girl at Naomi's gym, wanders alone through the streets after her date with a wealthy man turns out to be a complete waste of time. Meanwhile, after a widow named Ci Surya finds out that her deceased husband was seeing another woman, she books a room in a seedy hotel and spends the night trying to resolve her conflicted feelings about the man she loved.
Though the three leads never directly interact with each other, their stories are skilfully woven together through corresponding images and emotions. That all three stories conclude in the Lone Star, a hotel which gives visitors the option of booking a room for just two hours, is indicative of the feelings of loneliness and confusion that transcend the social barriers of Jakarta and, for that matter, the city itself.
In the Absence of the Sun is a melancholic tribute to a shifting city but it also succeeds more widely both as a bittersweet exploration of how our sense of self is dependent on the bonds we form with others and as a heartrending elegy to the people, places and emotional connections of times gone by.
Watch 'In the Absence of the Sun' at FilmDoo now (Now Available Internationally)