Directed by Riri Riza
Sokola rimba (aka The Jungle School), the latest feature from Indonesian director Riri Riza, is a film that sits comfortably in the long-running genre of the townie-meets-native film, a tricky class of fiction typically fraught with simplistic preachiness and banal, worn-out insights. While it can't be said that Riza's film entirely transcends the trappings of its type, it's sufficiently developed in its ideas on the nature of institutionalised values for it to lay claim to an identity of its own and justify an attentive viewing. Telling the true story of pioneering teacher Butet Manurung, Sokola rimba succeeds because it's as much about knowledge and education on a universal level as it is about jungle life or environmentalism. The picture serves as a sincere deconstruction of formal education, depicting its introduction to a culture closer to nature than the rest of us so that common practices can be seen in a new, less dogmatic light.
We open the film with Butet's inner monologue explaining how she has been teaching literacy and maths to a tribe in the jungles of Sumatra for two years but still questions the extent to which she is benefitting and understands the people she teaches. While she gets along well with her young students, she seems afraid to impart knowledge that strays beyond the confines of basic schooling. When, for instance, her pupils ask about the outsiders cutting down trees near where they live, Butet changes the subject to maths, shelling up within standard procedure. When she tries her hand at teaching a clan that lives downstream to the one she's been assigned, she takes a bold step in challenging popular conventions (she is doing so without official permission from her organisation) and also the conventions of the jungle people (the downstream community is highly suspicious of formal education).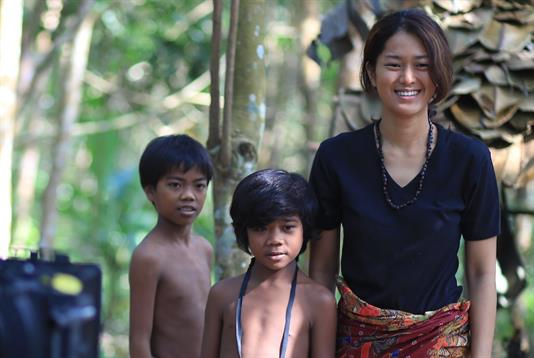 It is an attempt to introduce formal education on a more organic person-to-person level, free of arbitrary standards. Education is presented as a tool of defence against outsiders, specifically when the illiterate downstream tribe risk getting a raw deal from plantation owners who con them into signing unfair contracts. More widely, Riza promotes the use of knowledge for practical, adaptive purposes, rather than as a pretentious mark of 'civilisation'. Butet's project proves mutually enlightening as she learns to transcend the confines of her own culture and its need to contain, classify and restructure elements of nature.
Sokola rimba is often marred by uncommitted direction, stuck between quiet realism and something more eye-catching, but it carries the story pleasingly and sporadically intrigues in ways beyond the consistently pretty cinematography. An animated sequence in the film's second half, for example, serves as a mesmerising depiction of tribal traditions. Elsewhere, the imagery is generally at its best when it discretely illustrates the integration of cultures. Such low-key sights as a small tribal boy in a moped helmet answering arithmetic questions tie into the film's balanced understanding of outsider influence – an understanding that incorporates the best and the worst of cross-cultural exchanges but concludes its findings with warm, contagious optimism.
Recommended Viewing on FilmDoo:
(UK & Ireland only)