By David Pountain
Directed by Mir-Jean Bou Chaaya
London Film Festival review
While the basic premise of Very Big Shot could be described, if somewhat crudely, as Argo with drug dealers and indie filmmakers instead of government agents and Hollywood personalities, Mir-Jean Bou Chaaya's clever satire has far more to say about political calculation and film industry cynicism than Ben Affleck's prestige picture. The Lebanese director's debut feature may not always hit its mark on a sympathetically human level but, with its sly humour and bitter insights, Very Big Shot succeeds as a cheeky parody of big studio dishonesty.
The film's opening is brutally sudden, showing in quick succession Ziad killing a man during a scuffle and his teenage brother Jad taking the rap for it. Before you've even had time to find your bearings, the film jumps forward five years, by which point Jad is getting out of jail, and Ziad and third brother Joe are running a pizzeria as a front for their drug trade – an early example in the film of an ostensibly honest living cloaking illicit intentions. In a sequence that's downright Tarantinian in its violent spontaneity, Ziad acquires a generous supply of stolen stash that he intends to profit from, provided he can find a way of smuggling the drugs out of the country.
It is here that the sardonic slant truly works its way into the narrative as Ziad comes up with a plan to hide the goods in film canisters in order to bypass the security scanners. The revelation that a permit is required to get the canisters through unchecked serves as the start of Ziad's descent into an increasingly convoluted farce as our protagonist decides to fund local filmmaker Charbel's pet project as a cover.
Footage early in Bou Chaaya's film of the first Lebanese director to make it to Cannes serves as a reminder of cinema's potential to provide hope and cultural representation. To criminal-producer Ziad, however, cinema is just another means to a financially beneficial end. Not that the actual artists of the medium come across particularly well – fictional director Charbel is a mild-mannered bumbler in debt for his excessive pizza deliveries and naí¯vely unquestioning of Ziad's intentions – but the film's most effective digs are directed at oppressive studios that mercilessly hack projects to pieces and exploit hot button topics for their own interests.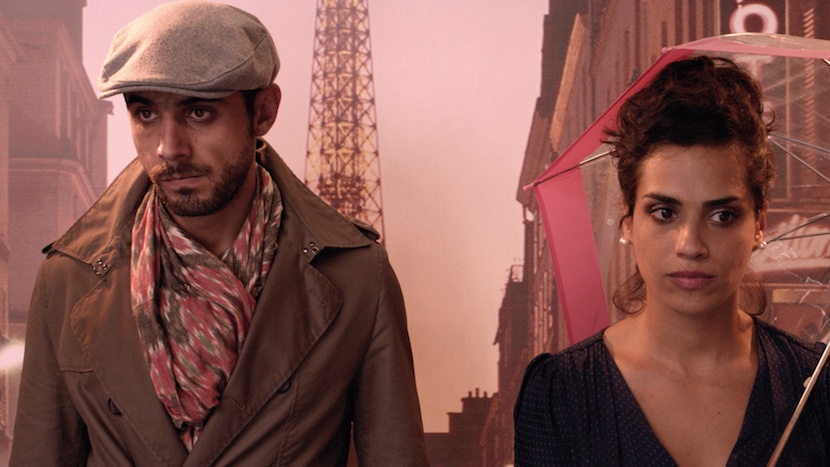 Ziad may not be the most emotionally accessible of leads but the drama is kept afloat by an ongoing impression of ideas silently, carefully forming in this thoughtful antihero's head. He seems to fall into the identity of film producer like a natural, pressuring Charbel into casting brother Jad for the lead before bullying Charbel into reworking the whole script so that Jad no longer has to play a Muslim. Whereas Bou Chaaya also despondently acknowledges wider cultural problems in Lebanon, including an artistically smothering sense of absolutism (removing a Muslim woman's veil even within the context of a filmed scene is enough to start a ruckus on the street), Ziad take advantage of these problems for the sake of media hype, presenting his production as something of a free speech crusade.
Very Big Shot gets a little ahead of itself in its final few minutes when its narrative suddenly relocates from the entertainment industry to straight up politics. Though the shift is thematically appropriate, it feels rushed in its execution and not entirely necessary given the sharp, socially aware subtext that runs through the film. It's a stumble across the finish line for a film that otherwise serves as one of the funnier, more regrettably accurate showbiz send-ups to premier this year. Despite its problems, Mir-Jean Bou Chaaya's debut nails the corruption that runs rampant in today's cinema and, in the process, acts as its own enjoyable alternative.
Watch classic London Film Festival entries at FilmDoo.com: