By Matthew Riordan
Directed by Lee Whittaker
Lee Whittaker has spent the majority of his film career working in Hollywood stunt departments. In his debut as writer-director he uses his vast experience coordinating action to create a gripping, energetic film. Yet, it is his ability to tell his story with subtlety and visual ingenuity that separates Catching Fireflies from the pack.
The film follows 9-year-old Isabella (Gianna Gomez) as she wields her seemingly indomitable imagination against the daily horrors of life on the streets. The character of Isabella brings Lewis Carroll's Alice to mind. The difference being, where Alice found the Madhatter and the Cheshire cat in here wonderland Isabella instead finds warring Latino gangs, her heroin-addicted mother (Carlotta Elektra Bosch) and a street-dancing guardian angel (Stephen Boss).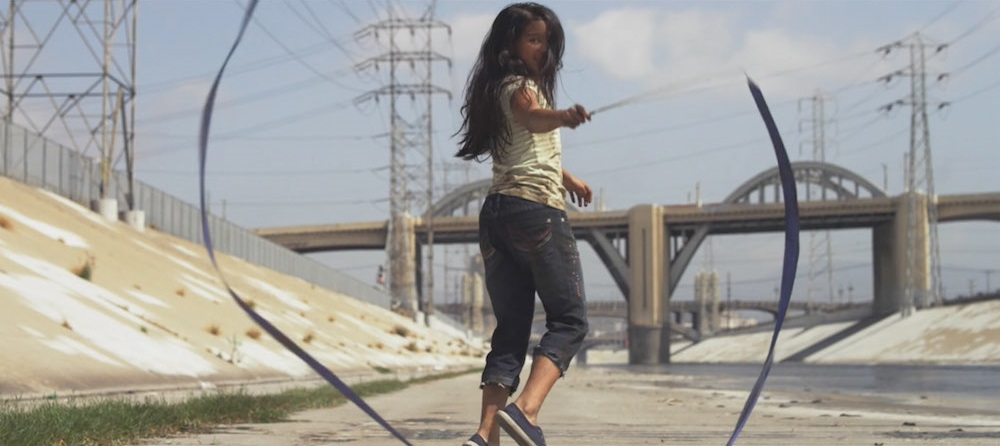 The message that Whittaker wants to deliver in Catching Fireflies is clear. It is a film about the need to prevent the exposure of homeless children to violence and Whittaker's belief in this cause lends an emotional authenticity to the film. But like all filmmakers worth their salt, Whittaker does not force-feed the issue to his audience and the film never feels like a lecture.
Centred around a homeless community residing on the concrete banks of the L.A. River, the film weaves effortlessly between gritty urban realism and hypnotic fantasy. Tents transform into regal courts, derelict cardboard homes expand into labyrinths and bullets morph into fireflies. Whittaker and cinematographer Elie Smolkin's technically brilliant use of light and space allows the narrative to move seamlessly between fantasy and reality whilst maintaining a dark undercurrent that runs throughout the film like the central channel of the inner-city river.
Magical realism has long been a staple of art in the Spanish-speaking world, from the novels of the Latin American Boom to the films of Guillermo del Toro. By applying this artistic tradition to the sinister underbelly of contemporary Los Angeles, Whittaker has created a unique and powerful short. Perhaps the best compliment you could pay Catching Fireflies is that it could share the bill with Pan's Labyrinth and easily hold its own.
Recommended Viewing on FilmDoo: