By William Page – Co-founder of FilmDoo
Oculus announced yesterday that Netflix is coming to Gear VR, and that you'll be able to download it directly onto your existing hardware immediately.
For the time being, the functionality allows people to be transported into a different environment to see their favourite films or TV shows in a virtual world. The new Netflix Gear VR app features a component creatively entitled "˜Netflix Living Room' which activates a user interface designed for the virtual-reality headset.  The user is then transported to a log cabin where they can watch Netflix on a TV screen in front of them.
At the moment, the functionality is missing some basic features, for example more environments or the ability to change certain features, although no doubt Netflix will look to increase the offering in the future.
Netflix isn't alone in entering virtual reality. Hulu intends to follow suit with an announcement that people will be able to "choose to view Hulu's library of premium content including movies and current season TV in a classic movie theatre setting. Seinfeld fans can choose to be transported on to the blue couch in Jerry's iconic apartment to watch favourite episodes of the series."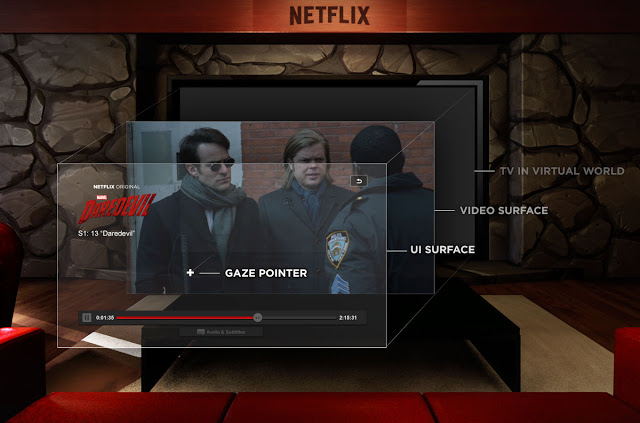 The announcement underscores how serious Hollywood and the VoD platforms are about making waves in the virtual-reality and the 3D worlds. 20th Century Fox also announced a partnership with Oculus with plans to release more than 100 titles from its library onto the Oculus Video store, including Gone Girl and Birdman.
At the moment the virtual reality experience is limited, since films need to be filmed differently in order to provide the full experience. However, we are probably just a few years away from this becoming increasingly normal. It highlights how quickly the viewing experience is changing and how the cable and VoD platforms need to embrace rather than fight this form of technology. FilmDoo is very excited at the emergence of VR and believes that it offers a revolutionary and exciting way for people to discover, experience and eventually share entertainment.
Whilst the prospect of seeing the next Adam Sandler comedy in virtual reality is a scary thought, we have no doubt that this is the direction that a lot of entertainment shall take as people consume and experience film and TV in an entirely new way.