By Matthew Riordan
Directors: Remy Bennett and Emilie Richard-Froozan
The name 'Buttercup Bill' rings with a childlike innocence. In many ways it is the perfect title for Remy Bennett and Emilie Richard-Froozan's feature-length debut, a film that explores the corruption of innocence and the link between childhood trauma and adulthood. Always pleasing to the eye, this Freudian drama may not be as groundbreaking as the make-up of its production crew – 80% of which was female – but it is often compelling and consistently disconcerting.
In the opening scenes we are introduced to the film's protagonist, Pernilla (Remy Bennett), a young woman struggling to deal with the news that a childhood friend was found hanged in the woods. Pernilla is lost in her hedonistic grief, mourning amidst the neon signs, red-lit bars and graffiti-covered bathroom stalls of the city. She obsesses over a childhood friend, Patrick (Evan Louison), and over the top of these disjointed early scenes we hear the unanswered messages she leaves on his answering machine.
Although well composed and often skillfully shot, these early fragmented vignettes do give in to many of the worn tropes of American indie cinema, and it isn't until we follow Prinella back to Louisiana and the inevitable reunion with human-organ courier Patrick that the film really finds its feet. The Southern Gothic landscape that Richard-Froozan and Bennett bring to the screen is extraordinarily textured – a character in itself, it is a strange mix of Badlands and Neverland; rural wasteland and adolescent paradise. On a bed of chirping crickets, "˜50s Americana music, crucifixes and drained bourbon bottles, the disturbing nature of Prinella and Patrick's relationship slowly reveals itself.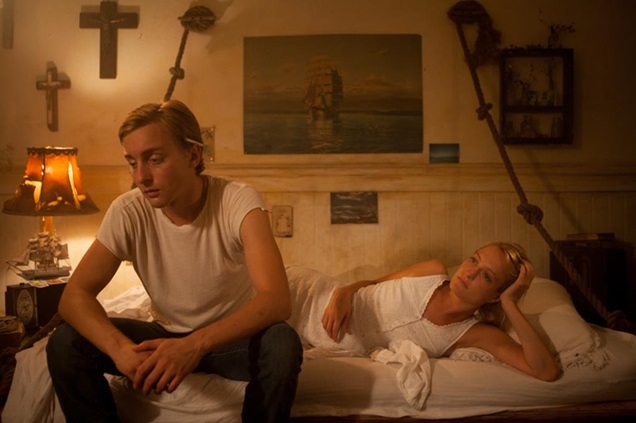 The pair live like deserted children in Patrick's tumbledown house, play-fighting and reading bedtime stories – think the siblings in Jean Pierre Melville's Les Enfants Terribles or Bernardo Bertolucci's The Dreamers. But Bennett and Richard-Froozan reverse the script on the incest theme. Instead of siblings whose relationship is disturbing because of its sexual character, we have a sexual relationship that disturbs because of its sibling character. When tattooed trinket-hoarder Joey (Pauly Lingerfelt) asks Prinella and Patrick what their relationship is they both agree that they are "˜like brother and sister'. It's the fact that they are only like siblings and not in fact related that makes the psychological dimension of the film all the more interesting and fresh.
Anchored by two delicate, oscillating performances by its leads, Buttercup Bill weaves relatable themes with taboo. At times it falls into caricature – the Super 8 flashbacks seem played out – and its humid whiskey-swilling eroticism might exasperate some viewers, but under the surface there is a mature film here that poses a lot of questions: Do we have a choice in how our childhood experiences shape us? Why do we hang on to things that harm us? Where do nostalgia and masochism meet? How do we stay in the present when death forces us to confront the past?
The pacing of the film isn't perfect – the final revelation isn't grand enough a twist to be delayed as long as it is – and it can be a difficult watch, one scene involving a fork, a stove and an bare forearm comes to mind, but, beneath all that, the co-directors tackle some universal themes that might just cut close to the bone.
Watch Buttercup Bill now at FilmDoo.com. (UK & Ireland only)