By Jake Bibby
Directed by Yann Gonzalez
Just when you thought French cinema was perhaps beginning to quell its penchant for nonsensical flirtation with taboo themes, 2013 saw the Yann Gonzalez directed You And The Night royally dispel such a notion. Part tragedy, part comedy, You And The Night is as ambiguous as it is infuriating, compelling as it is whimsical, yet in conjuring such contradictory feelings it undoubtedly stays with you long after the credits have ceased.
You And The Night details the sexual escapades of seven almost Shakespearean individuals as they converge into one room within a nondescript mansion in order to partake in a sexually liberal orgiastic romp. Matthias and Ali are a couple who are both meek yet sensual, Udo the transvestite is lustful and eager, the slut is as you would expect a ball of sexual dependence, whilst the teen, the stud and the star are all mysterious characters with past stories to share. As each of these characters share their own individual stories, Gonzalez explores sexuality, amongst other themes, in a dream-like surrealist trance.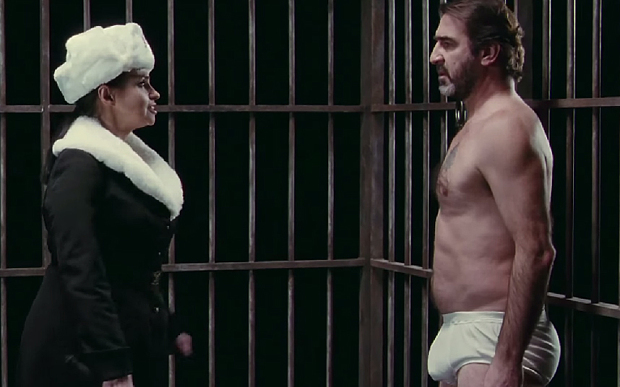 The first of the seven characters to recount what is either a dream or an event from their past, is the prosthetically well-endowed stud (Eric Cantona), as he recounts his time in prison, due to, believe or not, the size of his penis. Strewn out on all fours of the cell floor, we are then witness to his lashings at the hands of the Commissioner (Beatrice Dalle), whilst the prisoner's guards are seen to be unceremoniously pleasuring themselves. It is with this scene that Gonzalez establishes the absurdist and sexually debauched malaise that is to follow. Such sequences come and go to little or no aid to the films already muddled plot, yet it is clear that Yann Gonzalez is not concerned with cinematic cohesion. Once you have understood this, then you are left to appreciate You And The Night for different reasons. Aesthetically, the chamber in which these individuals fornicate is stark and clinical whilst the editing is incredibly slow and the range of framing is somewhat sparse. Interestingly, in the face of such a minimalist approach towards editing, framing and aesthetics, the scenes filmed within the chamber share the same qualities as a stage production. Due to this, Gonzalez's film draws parallels with Lars Von Trier's Antichrist. Not only does Gonzalez evidently share the same sexual candour as Trier, but the stylistic choices can also be compared.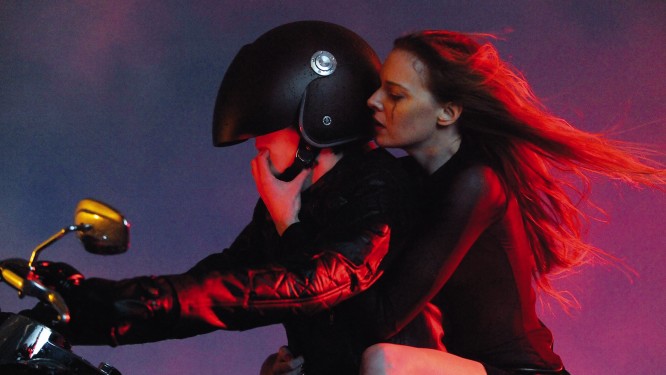 Despite the complexities faced when trying to make tangible sense of You And The Night, its comedy values cannot be denied. Whether it be Eric Cantona nonchalantly taking the sluts ejaculation all over his face, or the transvestite mischievously informing the police that she does in fact have a rabble of children locked in her basement, the frankness at which the characters discuss and perform their sexual rhetoric is never discomforting to watch. However, such openness only serves to leave the viewer with more questions. What is Gonzalez saying about sexuality and its representation? Why do these people have to meet in secret to fulfil their sexual fantasies? The provocation of questions continues throughout You And The Night, only it is left to the viewers to find the answers that you will ultimately never know to be right or wrong. For instance, during the collective dream sequence of
Ali, Matthias and Udo, Gonzalez bestows the power of resurrection upo the shoulders of Udo playing what appears to be a witch doctor or alchemist. However, the power to restore is only done so in return for sexual gratification. It is not God who holds the power, it is Lucifer, and he uses his power for personal gain. Does religion curtail sexual exploration? Does limiting sexual exploration through religion only serve to stimulate our sexually curiosity? Again, these are but a few of the questions that could be attributed to this particular scene, but throughout You And The Night, despite its often over philosophised non-linear narrative, there is, surely, method to the sexually fuelled lunacy.
You And The Night, ambiguous as it is, carries far more substance than the frankly comic Baise Moi, yet its winding, often unnecessary narrative does begin to wear a little thin come the end. This is a film for those who love to be provoked, yet be warned; you will be done so with very little reward.
Watch 'You and the Night' at FilmDoo now (UK & Ireland only)