By Amanpreet Dosanjh
FilmDoo introduces you to Abby Ajayi, a successful and extremely talented writer who began in TV and is now working on feature film projects.
Early on, filmmaking was not something Abby Ajayi was thinking of as her career path. She started out as a Law student at Oxford, which turned to provide her with indispensable skills for the screenwriting craft later on.
At law school, Ajayi learnt "strong writing and critical reading skills, thoroughness, attention to detail and being able to focus on a problem and work out myriad solutions and creative strategies" – so maybe every aspiring filmmaker should take a leaf from a law book.
In addition to pursing a law degree, Ajayi loved English Literature at school and knew that writing or journalism was something she ultimately wanted to do.
After graduation, Ajayi worked in development for a small production company where she utilized her legal, creative and script reading skills. She followed this with a job in drama development at the BBC in the Children's Drama department. Ajayi had stayed at the BBC for three years working as a script editor across dramas in development and production.
"This was my film school," Ajayi says. "I learnt the process of taking a project from idea to production, through to broadcast and I got to learn from some very savvy and experienced producers."
At the BBC, Ajayi also met people with whom she would later collaborate when she started writing. Although things now seem to have turned out seamlessly for her, Ajayi says that it was very difficult at the time working out how to get to where she wanted to be.
"I turned down incredible job opportunities and it made me think, I have to go for what I really want. I didn't want to be in development, I wanted to write." Ajayi says.
She got her first paid commission on the TV series The Story of Tracy Beaker and signed with an agent. Since then, Ajayi has been writing for long-running BBC drama series, including East Enders, Casualty and Doctors.
Ajayi says she has learnt a lot from her experience of writing continuing drama series. "As a writer, it's great to be paid and to see your work broadcast on television," she says, adding that she was also curious about what she would write if she didn't have the format constraints of an existing series.
Ajayi wrote the original comedy-drama script, The Future WAGs of Great Britain, which was broadcast as part of Channel 4's Coming Up Scheme. The short film, written by Ajayi and directed by Destiny Ekaragha, follows two British-Nigerian girls growing up in Tottenham, North London; it went on to play at several film festivals.
"For the first time in my writing life, I was writing from my cultural space, without many compromises," Ajayi says.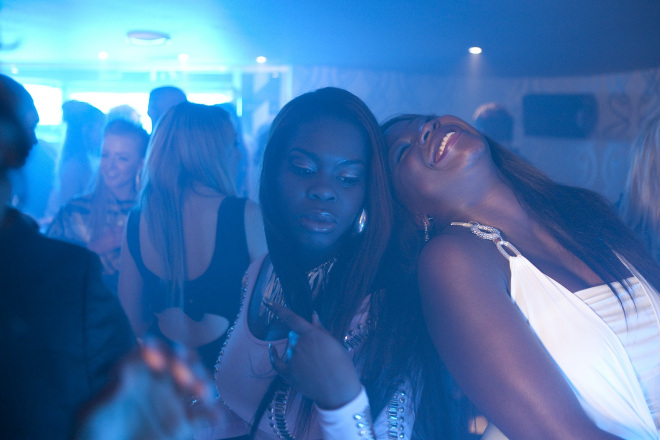 Ajayi confesses that "the prevalence of guns and crime in most depictions of Black British life on British TV" profoundly infuriates her.
"Representation is narrow and limited and I don't see many black women on screen and not much aspiration in the lives shown," Ajayi points out.
"Writing Future WAGs was really liberating for me."
At the same time, Ajayi wrote a feature-length TV movie Three Wise Women for the Hallmark channel in the US. Soon afterwards, Ajayi was awarded a Fulbright scholarship and went to the New York Film Academy for a year.
"It was great to actually go to film school and take a break to think about story and the stories that I want to tell," Ajayi says on her experiences there.
While at New York film school, Ajayi wrote several feature film scripts and the short film In Dreams. "My time in New York also gave me the space and time to think about how I wanted to shape and recalibrate my career path," Ajayi says.
Over the last year, Ajayi has focused on opportunities in film. She is writing a script for a feature film The Ugly List, directed by Alex Kalymnios and produced by Jessica Levick, which is currently in development with iFeatures, Creative England's low budget film scheme.
Ajayi is also teaming up with Levick on another feature, while also writing a script for a Lionsgate and Poisson Rouge Pictures film, Blackheath, with Destiny Ekaragha attached to direct.
Despite her success as a screenwriter, Ajayi finds the industry challenging for anyone. She notes that there's no set path to follow, which makes it difficult for new entrants, and that one has to be flexible and jump wherever the right opportunities emerge.
Ajayi is very far from taking her success as granted, pointing out how hard it is to find opportunities and get oneself heard on TV as a newcomer. She feels that with film, there might be more ways in.
However, "Film [industry] can sometimes feel like a boy's club, which is why schemes like Creative England's iShorts Funny Girls are so important," Ajayi explains.
"I tend to write female driven films and I'm really lucky to have the chance to work with female directors like Destiny Ekaragha and Alex Kalymnios, with whom I find I've evolved a good short-hand."
Disparity in the medium is not lost on Ajayi, either. "My experience in film is still evolving but in TV, I felt there was a lot of talk about diversity but the numbers speak for themselves," she says.
Ajayi is adamant that it's time to have actual change in terms of representation in front of and behind the camera, and not just be constantly talking about it.
"This isn't just about getting new, diverse talent into the industry – which is important – but working with the body of diverse talent already here who simply don't get the opportunities that their experience and talent deserves," Ajayi explains.
"It remains to be seen whether the television industry wants to change or just likes talking about change."
Reflecting on working as a screenwriter for both TV and films, Ajayi says that she loves switching between mediums, and she has found that film and TV both have their challenges.
"With film, you need to convince someone to believe in that single story, suspend disbelief and go with it," she says.
"But then in TV, you have to convince someone to believe in a series – that this world and characters can sustain several years of stories and that can be incredibly hard to do."
Ajayi also tried her hand at directing at the film school in New York, and she plans to explore it further. Although she sees herself first and foremost as a writer, Ajayi says that she has learnt so much about directing through being invited on set, and there are a couple of stories that she doesn't want to hand over.
Ajayi is enthusiastic about our platform FilmDoo. She points out that sometimes "you see a film that looks interesting but by the time you get to the cinema it's already stopped showing."
She adds that independent films and non-English language films can be particularly hard to track down, with many films not even making it to the cinema. So, "FilmDoo will be an interesting way to find and discover new films. As a writer it's important for me to find inspiration from different places and different filmmaking cultures, and not just Hollywood."
---
Abby Ajayi's Top 3 Film Recommendations
The Lives of Others (Dir: Florian Henckel von Donnersmarck, Germany, 2006)
Volver (Dir: Pedro Almodovar, Spain, 2006)
Ran (Dir: Akira Kurosawa, Japan/France, 1985)
Check out more about Ajayi's work here:
IMDB: http://www.imdb.com/name/nm2184926/
The Ugly List- http://www.ifeatures.co.uk/the-ugly-list.html
United Agents- http://unitedagents.co.uk/abby-ajayi
Women in Film and TV- http://www.wftv.org.uk/resources/interviews