Our campaign for Female Directors continues! This time, Filmdoo will introduce you to the British director, writer and documentary filmmaker Eirene Houston, who has two very interesting projects up her sleeve.
Writer and director Eirene Houston talks to FilmDoo about her experiences in the film and TV industry as well as her love for Cuba.
Glasgow-born Houston developed a passion for writing through songwriting. She also performed some of these songs but then came to the realisation that writing was her real passion.
"I'd rather someone else performed my song than I perform somebody else's song. This told me I was a writer rather than a performer," Houston says.
Houston went on to study screenwriting at the National Film and Television School and there she had her first taste of directing, making the short film A Stiff Drink in 1996.
The day after she graduated, the BBC bought the screenplay for a film she had written but, unfortunately, it never got made. "You need to keep going!" says Houston, who sees herself as first and foremost a film writer.
Last year, she was rewarded for her persistence with the release of her first feature film Day of the Flowers, directed by the BAFTA award-winning John Roberts, who shared Houston's vision for the film.
In addition to film writing, Houston has had a fruitful career writing for many TV shows that have become household names, including Eastenders, This Life and Monarch of the Glen. Despite success in television, film remains her true passion.
Day of the Flowers sees this passion come together with another one: a love of Cuba. The film is set in Cuba, as is the documentary she is currently making –The Cuban Way. This is Houston's first documentary but she is keen to make sure it won't be her last.
"It's very interesting –making a documentary is like writing but with live people. People do things that surprise you," Houston says.
"I let my characters take me on a journey. And that style works quite well when you then transfer it to documentary making. Your characters take you on a journey."
Another reason why documentary filmmaking is attractive to Houston is that it involves fewer obstacles for women.
"There are a lot more female documentary-makers and that's because the process is much simpler and easier for one person to do without much backing. Provided you have a good story and a camera, there isn't much that can get in your way, whereas there are a lot of hoops to get through for females to direct a drama."
But Houston isn't yet ruling out future writing projects. In this field, she considers herself a "populist writer". She writes for people and yet Day of the Flowers is more than just a rom-com.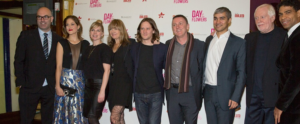 "It's a layered film. It works on different levels," Houston says.
For instance, there are lots of cubanisms –cultural references– that are appreciated by the Cuban audience.
"The audience brings a lot to the film," Houston says. She adds that the male audience in particular was surprised by how much they liked her film – and how great it felt to receive their positive feedback.
Houston's film features a pair of Scottish sisters who couldn't be more different. Imagine a diluted version of Jenifer Saunder's character Eddy and her daughter from "˜Ab Fab'– embark on a journey to Cuba to scatter their father's ashes on the day of the year that their parents met. It isn't long before they lose these ashes… Cue adventure in Havana!
While Houston does like to get her teeth into strong well-rounded female characters, as she does in her new release, she's also interested in male characters. For a lead male role in her film, there was only one actor she had in mind: Carlos Acosta.
Acosta is a Cuban-born dancer at The Royal Ballet, whom Houston met at a salsa club in London many years ago. It was fantastic for the two of them when he was brought on board.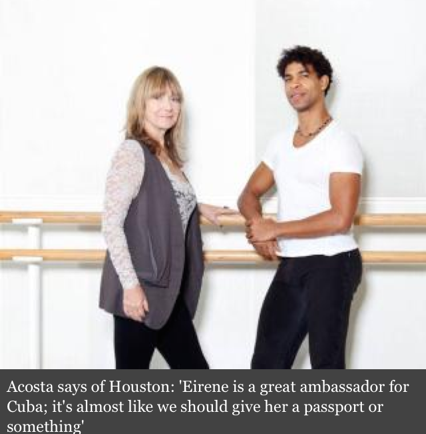 Houston's choice to have leading female protagonists wasn't a conscious decision to give the film a feminist slant. She says that she simply took inspiration from the world around her and translates these into realistic characters on the screen.
For instance, Houston herself has a sister who has a very different personality to her. However, when I comment on it being refreshing to see female leads, Houston agrees that there aren't as many films about women, but she does feel this is changing.
Having spent a lot of time in Latin America, one of the things that stood out for Houston was that even though it's still quite a macho society, female writers and directors were well represented at the film festivals she attended.
"Machismo is different to misogyny. Even though there is that machismo, there's still tremendous respect for women. It's an odd thing," Houston says.
By chance Glasgow and Havana are twin cities, which works well for the Scottish writer-director who has a deep interest in the Caribbean Island. Her first feature film touches on this rich and unique culture and she tries to explore one area of this further in The Cuban Way: dance.
Houston aims to show people's passion for dance in the film. "Dance is very important in everyday life in Cuba. In Cuba it's a part of so many people's existence," she says.
The Glaswegian herself, Houston discovered a passion for dance when she first went to Cuba. She has since been back a staggering 32 times and is keen to keep this number rising.
 The Cuban Way traces the lives of an older Cuban couple that dance the traditional partner Cuban salsa –son, a group who perform the Rueda de Casino, and a younger group that dance Reggaeton, made popular by the likes of Pitbull, Don Omar and Gente de Zona. (You might know this last group from their collaboration with Enrique Iglesias on the song "˜Bailando').
The Cubans are so natural in front of a camera," Houston gushes. And who better than she, who has been visiting the country for almost twenty years, would be there to capture on camera the people she has got to know so well.
The fun she has when working out in Cuba is plain to see. "The people, the way of life, the weather… There are different priorities over there."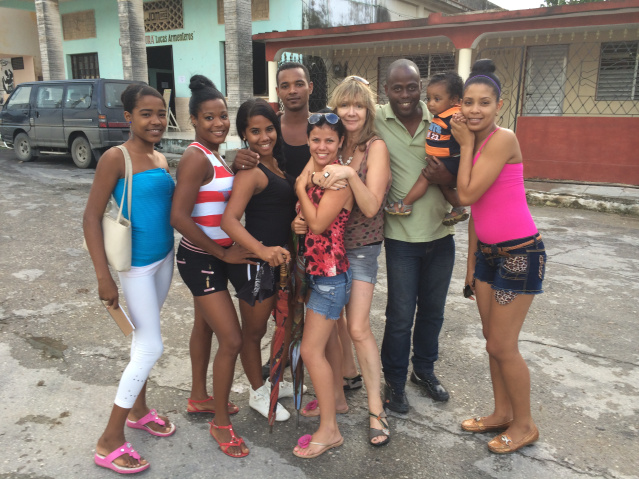 Now a keen documentary-maker herself, Houston professes her appreciation of the work of a fellow female director, Penny Woolcock. Woolcock made a documentary last year about the black community in Birmingham, One Mile Away.
"I'm always trying to find interesting documentaries that maybe aren't seen" so a discovery platform such as FilmDoo will be welcomed by the documentary-maker.
Whether it be directing, documentary-making or writing, we can look forward to seeing Houston's work in the future. Day of the Flowers is out now on DVD on Amazon and The Cuban Way should be released next year. Look out for it!
---
Eirene Houston's Top Three film recommendations:
"Under the Skin" (1997, UK). Dir. by Caroline Adler.
"Memories of Underdevelopment" ("Memorias del Subdesarrollo", 1968, Cuba). Dir. by Tomás Guitérrez Alea.
"Sideways" (2004, USA, Hungary). Dir. by Alexander Payne.