As FilmDoo's Campaign for Female Directors continues, meet our next interviewee, the talented British TV and film director Alex Kalymnios! Find out what she has to say on directing, the supernatural genre and motherhood below.
Alex Kalymnios is an established TV director, who has made several award-winning short films. She is currently developing her debut feature film, The Ugly List, with iFeatures (Creative England's low budget initiative).
While still studying TV and Video Production at Bournemouth University, Kalymnios had already known what she wanted to dedicate her life to. During the three-year course, she was writing all her own scripts and as she was visualizing them – and then it felt as a natural step to direct them.
"My love of story, eye for detail and slightly obsessive nature meant I probably was always destined to direct," Kalymnios says.
She adds that she looked up to the works of her favourite directors, such as Alfred Hitchcock, David Fincher and Kathryn Bigelow.
After graduating with a BA honours, Kalymnios won a placement at the prestigious BBC Director's Academy, which she describes as "a great learning curve as multi-camera drama directing is a dying skill in the industry".
Working in television, Kalymnios gained a great scope of experience, directing for popular television programmes with a quick turnaround, such as the soaps Eastenders and Hollyoaks.
"Directing shows like Hollyoaks and Eastenders is what I refer to as a "˜director's bootcamp," Kalymnios explains.
"You have to be a really effective communicator with your crew and cast in order to achieve what you want within the time and budget constraints."
Kalymnios has been closely involved with TV productions aimed at teen audience, such as the popular series Waterloo Road and the BAFTA-nominated Becoming Human, both set in schools. She admits that she loved spotting new talent and nurturing and working with younger actors.
"I am drawn to stories set within the teen world – perhaps because there is so much drama or maybe it's because I'm in denial about growing up!" Kalymnios says.
Another genre that appeals greatly to her is the supernatural. Becoming Human, as the title suggests, heavily features the supernatural – the series protagonists include a vampire, a ghost and a werewolf. One of Kalymnios' short films, The Green Fairy (2007), also includes a sprinkling of magic.
"I love horror. I love the supernatural genre," Kalymnios says.
"I think part of the reason that I was so involved in horror stories when I was growing up was because there was often a female lead."
With this background in mind, it's no surprise that Alex's debut feature film with iFeatures is The Ugly List, a supernatural thriller set in a school.
Six feuding teenage girls become trapped in their school during Saturday detention. Soon, they'll have to confront the malevolent presence terrorising them and face up to the reasons why they are being haunted – if they want to make it out alive.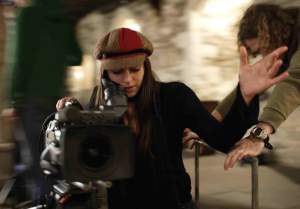 In addition to having a female-led creative team (it is written by by Abby Ajayi and produced by Jessica Levick), The Ugly List will also have an all-female cast.
"The film will appeal to fans of supernatural thrillers and ghost stories. But we particularly wanted to make a film for girls about girls," Kalymnios says.
"Hopefully they'll enjoy it, be thrilled by it, be scared by it and maybe see a bit of themselves in it".
Reflecting on her work, Kalymnios points out that she has always been interested in strong female characters, and that she feels that these voices are too often under-represented in cinema. She admits to being constantly intrigued by the dynamics between girls, which her team wanted to explore without preaching.
"It's a thrilling, supernatural story but underpinned with real truth and heart that should resonate with the audience," Kalymnios says.
Achieving a stronger female presence in television and film is something Kalymnios is very keen to see. She says that she is pleased with newly launched Creative England's the iShorts+ "˜Funny Girls' initiative, a competition to find the next generation of talented female writers and directors of comedy.
Kalymnios is hopeful that more women will be able to break behind the camera, and that there will be more opportunities to progress up the ranks of the industry, whether or not women take career breaks to start a family.
"I think times will change. I think there'll be a shift. There are lots of talented female filmmakers out there – it is now about getting the opportunities and the exposure," Kalymnios says.
At the moment, Kalymnios is developing an idea for TV and would again love to have a female-dominated crew, especially involving working mothers, as she herself has a 6-month-old baby.
"As a mother you really appreciate the value of time, which is a key component on any production whatever the budget".
Kalymnios and her team are currently writing for the Women in Film & Television blog, where you can keep up to date with the production progress of The Ugly List.
Fingers crossed that it'll make it to the final eight and that we'll be able to see it on the big screen next year!
Find out even more about Alex Kalymnios and her upcoming projects:
Alex Kalymnios' Blog:
http://www.wftv.org.uk/resources/reports-and-statistics/team-ugly-list-producers-view-countdown
Becoming Human Page:
Alex Kalymnios' Top Three Film Recommendations:
 La Femme Nikita (1990, France/Italy). Dir. by Luc Besson.
 The Lives of Others (2006, Germany). Dir. by Florian Henckel von Donnersmarck.
City of God (2002, Brazil). Dir. by Fernando Meirelles and Kátia Lund.