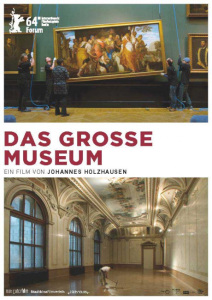 By Alice Pickard
Directed by Johannes Holzhausen
Original Title: Das groíŸe Museum
The prestigious Kunsthistorisches Museum Vienna, opened in 1891, has been closed since 2002 for structural and technical renovation, and director Johannes Holzhausen, who has a degree in art history, observes the last stages of these developments in this documentary.
Very much like how visiting a museum should be, the pace of these observations is slow and calm, despite the busy work schedules of the museum staff. Great attention to detail is demonstrated by the camera, as it is by the careful restoration artists who come across as passionate about their work. They know they are playing a vital role in the preservation of cultural heritage, and this is generally recognised by the management team. Yet when the staff feel they aren't being treated with the respect they show in their work, they express their discontent, as we witness at a team meeting.
We are invited behind the scenes in all aspects of museum life and the sense of preparation and anticipation is present throughout. Whilst we might become part of the mysterious world of an art gallery, not once are we allowed to take the invaluable 2,200 objects they have in their collections for granted, ranging from Egyptian mummies to Count Ottokar von Czernin's ceremonial Imperial Chamberlain uniform.
There is another side to this beautiful aesthetic perfectionism: the relationship between museums and the capitalist economy. We sit in on board meetings and begin to understand the financial difficulties faced by institutions that largely depend on small government grants and who constantly need to be thinking of ways to increase revenue and of competing with other art galleries and museums. One way they find of appealing to tourists is by adding "Imperial" to the name of their collections. The grandeur of the Habsburgs and the imperial age are popular with visitors whilst not all of the museum staff agree with the changes.
There are many moments of silence, staying true to the ambience of such a place, and there is no soundtrack, which allows for a real appreciation of the labour that goes on in such a large project, such as the ear-splitting procedure of taking up wooden floorboards with a pickaxe. The only music we hear is military fanfare at the opening ceremony of the Imperial Chamber of Art, and the sudden change is emphatic: the hard work and painstaking detail has been worth it, even if we don't know yet if it will have paid off financially. The President of the Republic of Austria seems impressed, and so should we.