Dir: David Zellner
Review by: Daria Landal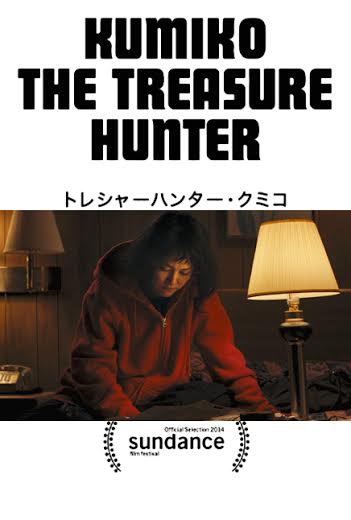 Minnesota's unlikely urban legend, a depressed Japanese woman lost in the woods of Fargo in the fall of 2001, gets a reincarnation with a new film by David Zellner Kumiko: The Treasure Hunter.
The film that has been sweeping Sundance festivals on both sides of the Atlantic follows a story of a 29-year-old Tokyo based Kumiko (Rinko Kikuchi). She fills her days working as a Japanese OL – office lady, a position usually reserved for young women about to get married. However, for Kumiko marriage is nowhere in the wings: she only has a little bunny Bunzo and her nagging mother Sakagami (Nobuyuki Katsube) for company. Kumiko's lonely life is changed forever when she finds a water-damaged copy of the Coens'film "Fargo"in a cave on a beach. Obsessively watching the movie again and again, Kumiko grows convinced that the money bag Steve Buscemi's character had buried in the snow back in 1996 is the real deal. She sets out to hunt her treasure in America, armed but with a hand-drawn map and a stolen company's credit card.
Kumiko: The Treasure Hunter movie is loosely based on a real story of a Japanese worker Takako Konishi, who was found dead by the Detroit Lakes in 2001. While the press, citing a local policeman who talked to Konishi shortly before her death, suggested she died trying to locate the money bag from Fargo, the reality was much less romantic. Driven to depression by separation with her American boyfriend and losing her office job, Takako Konishi committed suicide in the icy woods of Minnesota. Although Kumiko borrows much of the real Konishi's story, the narrative sticks to the urban myth, which brightens but does not relieve the subconscious moodiness of the movie.
Despite the director's David Zellner attempts to give a very kind treatment to the character of Kumiko and provide an occasional comic relief to the audience, the suicidal motives are a strong recurring theme throughout the whole film. As Kumiko gets closer to her destination in Fargo, the music themes of the movie that won a special prize at Sundance get edgier, more somber and disturbing, adding to the overall gloominess of the story. Psychological tension that takes a toll on Kumiko is effectively transmitted to the audience: one wishes she'd reach her destination at last, even though her quest is far from common sense.
Rinko Kikuchi gives a haunting performance as the title character, saying very few words in English but mesmerising audiences with a deadpan stare and an air of steely stubbornness to her Kumiko. She effortlessly conveys the odddetermination of her character that borders with lunacy, looking very much like a Japanese Red Riding Hood wandering the dark woods in her red hoodie. Kikuchi takes the central stage with few supporting characters appearing in the movie, most notably the director David Zellner himself. Playing a police sheriff in a small Minnesota town, Zellner as an actor guides Kikuchi on screen with as much benevolence and care as he did behind the camera as a director.
Kumiko: The Treasure Hunter is a multilayered movie, with a story that has more than meets an eye. A dramedy with an unlikely fairytale vibe, Kumiko explores the boundaries of human oddities in Midwest America, literally letting the protagonist's actions speak for themselves. We never really know neither the roots of Kumiko's obsession with the treasure nor does she ever explain it to anyone – including herself. Throughout the movie, she relies only on her blind faith in succeeding to find that treasure. Ultimately, it proves enough to win the audience's compassion for her cause.