Director: Lee Kwang-kuk
London Korean Film Festival teaser screening review
A quiet sense of defeat runs through every long, despondent stare and impeded attempt at communication in Lee Kwang-kuk's latest effort. Though the escaped zoo animal of the film's title features largely as an unseen and absurd threat that prowls the city streets, you have to wonder if the two dysfunctional leads of A Tiger in Winter would benefit from the shock of actually running into this open metaphor of a beast. The fear of death could at least jolt some drive and energy into this unmotivated pair, who constantly seem on the verge of crawling back in bed to avoid another day of trying.
It is both a flaw and a poignantly executed stylistic choice that this melancholic, wearily humorous drama can often seem as drained and directionless as the characters it depicts. But if A Tiger in Winter surely didn't need all 107 minutes of its runtime to make its point, it at least serves as a worthy demonstration of Lee's keen and compassionate eye for modern life at its most strange and pitiful.
We're introduced to struggling writer Gyeong-yu as he awakens from his slumber to inform his girlfriend that he's been dismissed from his job. Moments later, Gyeong-yu's girlfriend orders him to get out of the house for the day under the pretence that her parents are visiting, giving her the time she needs to move out of her residence and seemingly cut all ties from her old life.
It's an Antonioni-esque disappearing act that leaves Gyeong-yu with little to do but drift between residencies while finding work as a designated driver for drunk socialisers. In this dispiriting occupation, Gyeong-yu is forced to deal with people at their most entitled, obnoxious and undignified, but it is also through this job that he bumps into his old flame, Yoo-jung.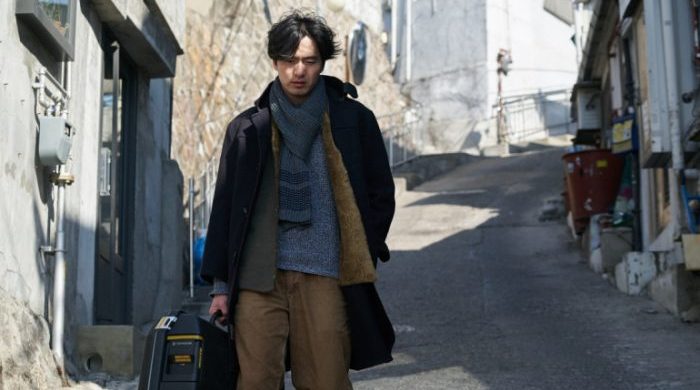 As the author of an award-winning novel, Yoo-jung has ostensibly succeeded where Gyeong-yu failed, but she's no less miserable for it. As she struggles to push through her writer's block, Yoo-jung does what every tortured writer is supposed to do and turns to drink – a cliché whose sad banality is emphasised by the Ernest Hemingway novel on her book shelf.
Just as you'd expect from two former lovers who've become this lost and lonely, their relationship starts anew, but with continuing difficulties. Though we sense a more passionate past between this pair, the emotional baggage they've accumulated in the meantime threatens to intrude upon their more intimate moments. That Gyeong-yu has trouble performing in the bedroom could be taken as both a cheeky embodiment of the unresolved issues pervading this relationship and a wider reflection of the anxious manner in which these two leads conduct their day-to-day lives. For this comically inert couple, existence is but a flaccid member.
As the film plods on with its series of setbacks and indignities – albeit, moving towards a conclusion of cautious optimism  – A Tiger in Winter is not without its ponderous stretches, but its bittersweet vision of the economic, creative and emotional hindrances that come with living in a society ensures that this is at least as compelling a film to contemplate as it is to sit through. Gently countering the fear of failure that keeps Gyeong-yu and Yoo-jung in a state of despondent lethargy, Lee's film observes the more graceless facets of human nature that this life does such a fine job of bringing out of people, and in these imperfections, it finds something tender and endearing.
The London Korean Film Festival 2018 runs 1st – 14th November. More info here.