Channelling timely and intersectional social commentary through a web of intersecting relationships, No Shade presents an articulate and accessible picture of colourism in Black British communities. Centring its ensemble drama around the dark-skinned Jade's (Adele Oni) exhausting attempts to find love and happiness in modern day London, the new film from writer, director and actress Clare Anyiam-Osigwe serves as a heartfelt depiction of the ways in which the prejudices and politics of society can shape a person's view of themselves and others.
Speaking to FilmDoo, Anyiam-Osigwe provides some context on this thoughtful directorial debut.
For your directorial debut, what inspired you to tackle the issue of colourism in British society?
Often, Black British cinema is dominated by violence, crime and the hells of daily life. There is a lack of variety and diversity within our diverse culture. I wanted to bring stories to screen that I was inspired by as a child – Black African-American love stories. Love Jones, Love and Basketball and Poetic Justice to name a few. I watched those films religiously on VHS and learnt all the screen plays. I wanted to direct like John Singleton and Spike Lee and wanted to act like Nia Long and Vivica A. Fox.
I saw that nobody else was doing black love in British cinema and felt that this was a great niche to fill. Romantic Drama and the complexity of 21st century love is exciting and fascinates me. Colourism was a great catalyst as it is such a complex issue in the global black community. It is something that only blacks knew of until this year. We had no official terminology for the symptoms: Americans call it Shadiesm, Brits call it Colourism. Essentially, it is the degradation of someone for being lighter or darker skinned in the same racial community. It happens in mainly Black and Asian communities and has sad repercussions: suicide, depression, skin-bleaching and unnecessarily demanding relationships.
I've read that your experience is primarily in the skincare industry. What were some of the biggest challenges you faced in working on your first film? And would you say that your unconventional background also had its advantages when it came to telling this story?
My first degree was a joint honours in Acting and Directing at Brunel. I graduated in 2006 at the age of 21. I did further training at LAMDA and Identity Drama School for 2 more years. I then got my PGCE to become a Drama teacher. I got an agent and was booking small walk on roles – one year I played 'The Nurse' three times. I had no lines. I felt like 'wow, my white mates from uni are booking theatre work and getting good TV work." There's no written roles for black women in Britain. I didn't have the finances and confidence to migrate to the states, so I focused on plan B, which was Beauty.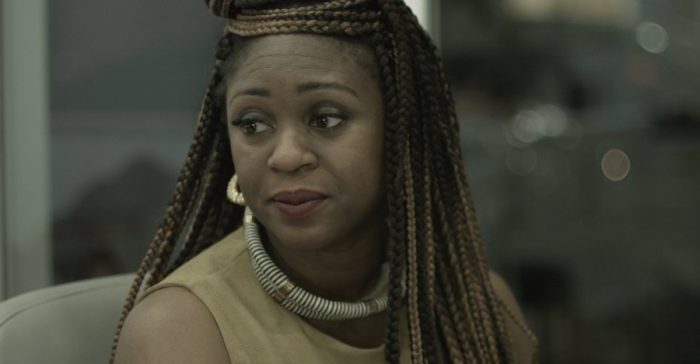 My beauty career started in 2001 as a side job whilst studying. I developed a true love for skin care. I am a massive advocate for natural beauty, what we eat and what we wear on our skin being a pure as possible to enhance your true unique beauty. I've achieved massive success as a successful Vegan skin doctor. I was honoured by the Queen last year for my services to Dermatology and have won 17 business awards for Premae. I have done trade shows, opened shops, clinics, mentored over 30 young people, employed staff, made products in my kitchen, sold on shopping channels. I had achieved my 20 year goals in 5 years from 2012 – 2017. I began writing the script for No Shade (originally entitled 'Dick and Diamonds' lol) in October 2017 a month after BET has honoured me in their annual 'Black Girls Rock' ceremony.
I arranged two table reads with a range of actors. I woke up on Boxing Day and told my husband (and Producer Emmanuel Anyiam-Osigwe) that I don't think I could continue running Premae whilst directing, acting and promoting the film. He told me to sleep on it for 24hrs and if I felt the same, then do what God had instructed me to do – close Premae.
I woke up on 27th December feeling the same and closed the company on New Year's Eve. I knew instinctively that I had to put one baby (Premae) in board school, to manage the gestation of a new baby (No Shade). In the film, the house party actually starts on December 31st 2017, this was literally a direct documentation of my own life.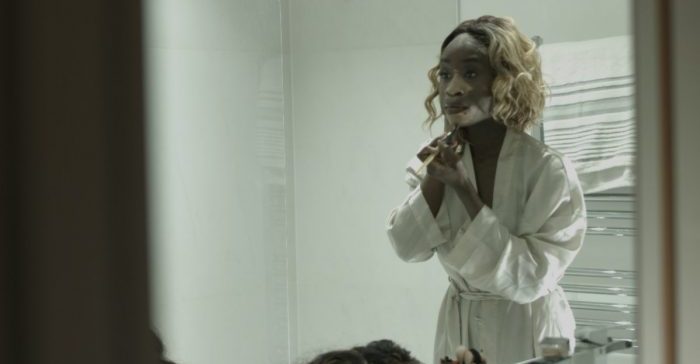 Directing and acting in my debut film was a mammoth challenge. I actually look back and cannot believe that I did it. It was a true baptism of faith and courage. I was managing a crew of 12 people and a cast of 5-10 people at any one time. And then on days where there were extras and moving variables like different locations, bad weather, it was a godsend to have my husband by my side and also my sister Joanna assisting in any way I needed her. Family is everything. Having an unconventional background has shaped my whole life. I grew up in Islington. I lived in a children's home from the age of 11 until I got my first home at 18.
I don't think people realise how important it is to use adversity to build strength and character. Nothing that happens to you in life is wasted. Everything has a reason and a meaning. My best friend from secondary school Grace Ladoja called me after she heard about the film and said 'This is destiny, you have married film and beauty together through No Shade. Your two greatest loves. You are married to the Founder of the British Urban Film Festival. This is destiny. This film is bigger than you. This film is for every dark-skinned black girl that has ever experienced colourism, that's every single one of us – thank you.' I hadn't really looked at it like that until she laid it out like that, but knew she was right.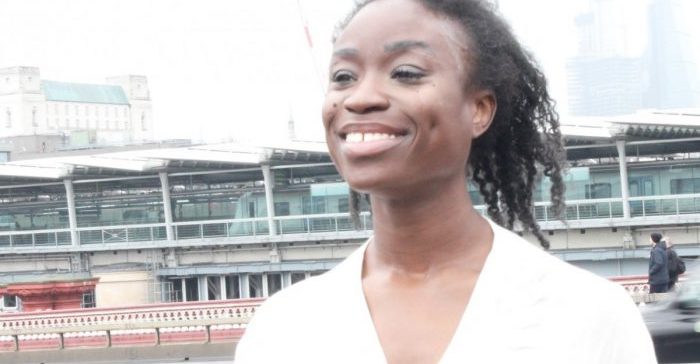 I've also read that the film was written in two days and shot in six. How do you feel that this quick, spontaneous approach helped shape the final film?
The 1st draft was written in 3hrs. I shaped it for 6 weeks. It was shot over 6.5 days and edited and colour graded for 3 months by a young wizard – the supremely talented Charles Scowsill. I moved quickly on things, because whenever you want to do something mega, or make a life changing decision, doubt and fear start to creep into your subconscious. I had been so confident for years in Premae, working and winning, but now I was embarking on going back into the hostile and completely random world of film. The film business is cut-throat and mystical. Everyone wants to be in it, but not many truly have a method for succeeding in it. I had closed my business and put all my finances with my families into this. No studio finance. No BFI. No Crowdfund. We backed ourselves. I'm Igbo, we are taught from young to back yourself. The stakes are higher when you do, and the reward is greater.
There was an urgency to crack on and the cast and crew felt it. But we did not rush anything. We let every scene take its time in filming. The DOP, Israr Azam, created a great method of rehearsing every scene before we shot it so that he could plan his camera journey and we could see the scene play out. The film feels like a fly on the wall documentary without the shaky camera. It makes the audience literally feel like they are privy to some deep shit that they shouldn't be seeing – it's sexy, saucy and damn right stressful. You will laugh, cry and kiss your teeth. These are emotions that the films I watched in my childhood and teens gave me. I wanted to slap Tyrese Gibson in Baby Boy – but I also wanted to rip his clothes off. That's how female viewers feel about Danny (portrayed by Kadeem Pearse).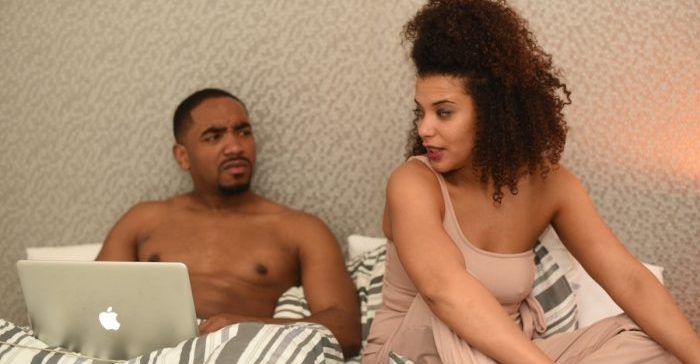 That's how love can be sometimes. It's complex and it's alluring. I wanted to give women that, not jut black women, all women. I love it when white women DM on Instagram saying this film is a feminist movie. They felt so included in the film and recognise themselves in Jade, not for being mistreated for her skin colour necessarily – but the other labels that white women experience such as the 'Dumb Blonde' or the 'You're too pale' if they don't wear fake tan. It's the constant message that women (regardless of shade) are never good enough that they relate to. I'm grateful for that.
As well as addressing issues of race and complexion, the film incorporates these themes of gender and culture. Do you regard all these topics as inherently interlinked?
Massively. I just spoke to that, but yes there's so much going on in the film – everyone will take away something different. Men tell me that they have had to check themselves and think deeply about their part in the mistreatment of women, whether it's emotionally, physically, mentally and indeed verbally. The hyper-sexualised world we currently live in, thanks to social media, social dating and advertising, has created a more hostile environment when dating. Men, especially men with a bit of fame or money, are less likely to have to earn the respect, trust and friendship of woman. Women are competing against other women to be sexier, lighter, brighter and more docile to appease men.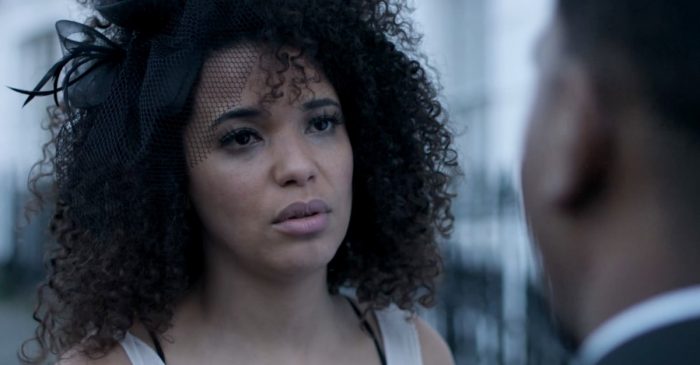 Even though I'm only 33, I'm old school, man. Me and Emmanuel courted for 18 months. Then we got married. There's something sacred about being friends with your spouse. There's an unbreakable bond that draws you back to each other, something that's deeper than Tinder and Instagram. I'm not knocking online dating, in fact I encourage it but I think No Shade exposes the 'filtering' people do to portray their 'flawless' selves and this is a hard act to upkeep. It is inherently becoming harder to 'keep it real in a fake world'.
As a child I was told by my brothers to focus on my personality and mentality, that wisdom is what makes a person truly beautiful. So it never bothered me if guys found me attractive physically as I knew I had more than 'a look'. Not every girl has this foundational core, and men can see that and use that to weaken women into submission.
Do you feel that problems of colourism within black communities are influenced by problems of racism towards black communities?
Certainly. Colourism is the by-product of the ricochet of slavery. The brown paper bag (where if blacks are darker than that bag eliminated them from entry into universities, employment) in America only stopped in the '70s. Today we see most news anchors, black models are mixed-race. The acceptable shade of black to white people. White people feel more comfortable talking to blacks with straighter hair, lighter coloured eyes and skin. I have experienced this first hand. When I wear my hair in afro styles, I am followed around by security guards in shops. When I wear straight wigs, I am left alone. IN THE SAME SHOP. I laugh but honestly, it's sad. Blackness is portrayed as violent, criminal, unruly, vicious and in need of white cleansing or control. I abhor this notion. We are more than that. No Shade gives a few clues as to who were are. The good, the bad and the sometimes ugly (mentally).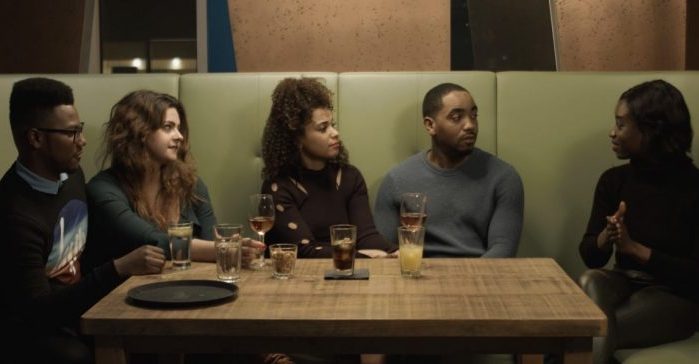 So far, how have audiences responded to your film and its themes?
Audiences are enjoying the discourse and the refreshing look at contemporary blackness. They love the Q&A, which is going to be somewhat lost via streaming. However, you can dialogue with us on all social media @noshadefilm. The themes have helped people reflect on their place in the world. Black girls who have been made to feel like 'if I complain about this, I just look like the angry black girl' and also the white audiences have been left thinking about the fact that slavery has caused so many deep rooted issues for their black counterparts. A lot of people in the educational sector are getting in touch to arrange screenings to help teach about themes of gender and race. As an educator, I am so happy about this. I think film can be a great catalyst for teaching and transformation.
Can you tell us a little about what you're working on next?
Sure, I am writing 3 scripts at the moment while going for auditions for acting roles. I will also be a guest lecturer at MET film school in Acting for Film and Directing, starting from this month. I am looking for producers to finance my next film script, which will be a romantic comedy with well known American talent attached to the project – let's talk!
Watch No Shade on FilmDoo
BTS photos by Tenisha White