Director: Manu Riche
A former bank – featureless and barren in the middle of a featureless, desolate Brussels – has become a temporary home for a group of asylum-seeking migrants trying to find a way to escape the miseries of their own countries in Manu Riche's highly successful first feature. Following on from a series of documentaries including 2009's Snake Dance, a work re-examining the invention of nuclear weapons, Riche displays an impressive range in the subject matter he chooses to confront and explore.
Cross-border migrant Bipul (played with restraint by dancer Tarek Halaby in his first acting role) is the thread that holds the story together as we briefly enter the lives of a random collection of refugees struggling to hang on to a shred of hope. His spoken word poetry and the melancholic soundtrack connect a series of glimpses of the difficult backgrounds and future ambitions of his fellow residents from unnamed countries. It is no surprise that although Bipul speaks many languages, his origins are a forgotten memory, the authorities unable to send him back because no one knows where 'back' is.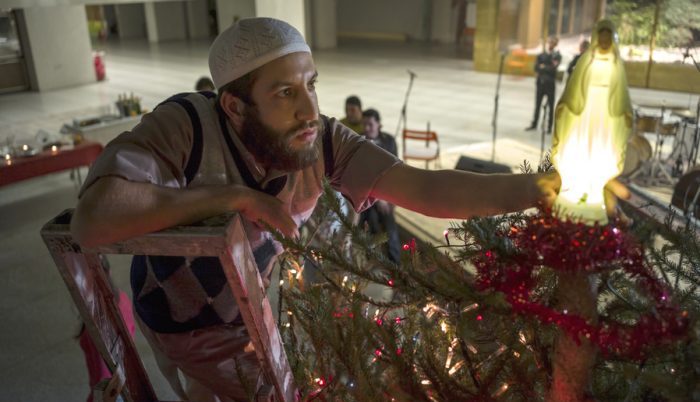 Throughout, Riche's adoption of surreal and somewhat comedic elements – extended pauses in empty spaces, a Christmas tree forever being moved from place to place, a weary official treading an indoor exercise circuit – powerfully underline the pointlessness of an immigration process that seemingly leads to nothing but despair and even death. It is within these spaces that Riche's lost souls roam, their characters fleshed out with excellent performances.
Kamil Alisultanov as Igor delivers an almost entirely wordless performance with significant impact. In one scene he entreats Bibul to open and read aloud the response to Igor's application for asylum. With an immobile face it is only Alisultanov's eyes that betray a tiny flicker of hope even as he prepares himself for the worst.
Bringing to mind Nina Kusturica's 2009 refugee documentary Little Alien with its focus on the youth who brave all in the attempt to find a new home, Riche keeps the audience invested and optimistic despite powerful moments of darkness and despair, ensuring the film successfully carries the weight of the truth it reflects.
Problemski Hotel is now showing in cinemas across France.
To help bring this film to your region, cast your DOOVote on Problemski Hotel page.