Director: Gilles Coulier
London Film Festival review
Though timely social and economic concerns provide a sturdy backdrop for Cargo, Gilles Coulier's richly affecting depiction of a family of working class fishermen finds its most resonant emotions in the personal realms of the mind and spirit. The film can perhaps be regarded as both an update and a deconstruction of the Hemingway model of masculinity, channelling the mythic seafaring imagery of classic stories of maritime heroism while sensitively peeling back the hardened layers of Coulier's tough and beardy characters to reveal the fear, grief and longing beneath.
The haunting aura of existential despair that pervades the drama first arises in Cargo's opening minutes when the aged Leon Broucke slips into a coma after falling overboard from his fishing boat, an incident soon revealed to be a suicide attempt. Legacy is a primary concern in the struggles of the all-male Broucke family as Jean is forced to deal with his father's monetary issues while striving to create a better future for his 8-year-old son.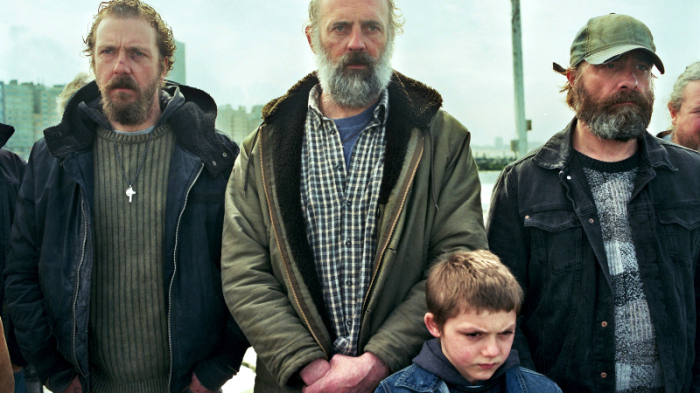 Jean's younger brother Francis, meanwhile, feels the need to conceal his relationship with another man, suggesting that the burden of traditional prejudice still weighs upon this community. Lastly, Leon's critical condition brings his disgraced son William back into the fold. Though a reckless figure with a history of shady dealings, we believe that William is sincere in his attempt at a fresh start, though the family's strained economic status renders this a challenge.
After the restrained but richly expressive observations of human behaviour that compose film's first two thirds, it's a little disappointing that Cargo then chooses to channel all of its tension into that most clichéd of narrative conflict-generators: the thuggish mobsters who push our protagonists into performing 'one final job'. Still, even when applying this overused crime thriller trope, Coulier remains a proficient craftsman who has more or less won back our hearts by the time the film reaches its surprisingly optimistic though suitably open-ended conclusion.
But whatever path the story takes us on, Cargo's mood and ideas always bring us back to the sea, which remains an ever-present, beckoning abyss that mirrors the dread and desire of the three brothers. What exactly lies on the other side of that ocean may as well be another planet because this is a film about men feeling trapped – by their circumstances, by their environment and by their own emotions – and Coulier vividly captures the quiet sorrow and desperation as these walls continue to close in.
Cargo screened as part of the London Film Festival 2017. 
FilmDoo Also Recommends: