Director: Nicolae Constantin Tanase
Watch The World is Mine on FilmDoo
Both brutal and authentic in its portrayal of youth, The World is Mine is a coming of age drama that allows us to reflect on our own high school years and, arguably, empathise with 16-year old Larisa and her experiences as she makes one mistake after the other. Actress Ana Maria Guran is mesmerizing in her bold depiction of a damaged and rebellious teen. The same goes for her co-stars Ana Vătămanu and Oana Rusu who play her loyal best friends Olimpia and Aurora, respectively. To a certain degree, they reveal today's millennials in a completely different light. With her soft features, girly poses, and, at times, a tad too much make-up, it is hard to believe that this sweet sixteen-year-old is a big mouth and troublemaker at heart. She is not afraid to speak her mind and can get into fits of rage when annoyed.
While some might find the film lacking in originality and with an impression of déjà-vu, its best quality rests in its main character and the sense of curiosity she awakens in us as we follow her around the city of Constanta in Romania, where she lives with her submissive mother, disabled grand-mother, and abusive step-father. The choice to present Romanian men as aggressive individuals who treat their women with little to no respect might seem to be a cliché, but in parallel—and as discussed—the film offers a head-strong and ambitious heroine who is willing to fight back with a kick and a punch in order to protect her hopes and dreams. At first, she lets herself be bullied physically by the school's princess Ana, who is played by actress Iulia Ciochina, but soon retaliates at the sound of laughing peers.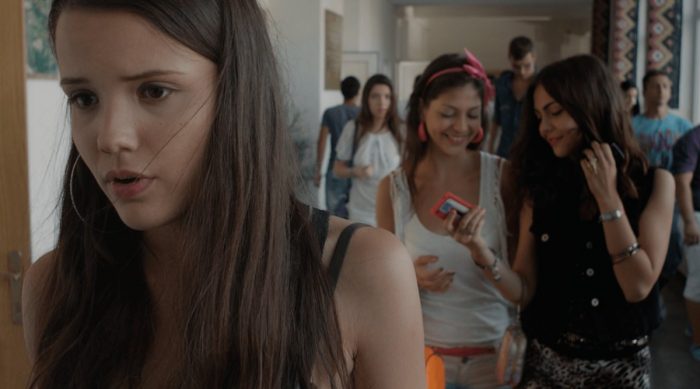 It is also interesting to recall her voice-over at the beginning and at the end of the film when she mentions she has bad dreams of choking on her own teeth and blood, which alludes to her violent nature and temperament, and that she is not someone to be toyed with, or fooled for that matter. Yet she is completely disillusioned when it comes to love, or rather her idea of love and sexual pleasure. But her words also stress upon the fact that in the end, no matter how much she might be in pain or scared, she will be alright. And this is an important statement to make because it somewhat reveals that she is developing a certain degree of emotional maturity, which is not easy to gain during adolescent years.
It is no secret that a teenager's main concern is the image he or she reflects to others, which in turn has been enhanced by social media in today's modern society. Thus, how teenagers are perceived by their peers and friends is essential and this film proves just that. It explores these issues truthfully and as a trickle-down effect by looking at how one situation influences another. Here, the need and desire to be labelled as a cool kid reaches alarming proportions. To make her teenage wishes come true, Larisa is willing to get hurt and to lie along the way even at the risk of losing her friends. It is almost as though she cannot help herself and is compelled to lie, even to those closest to her.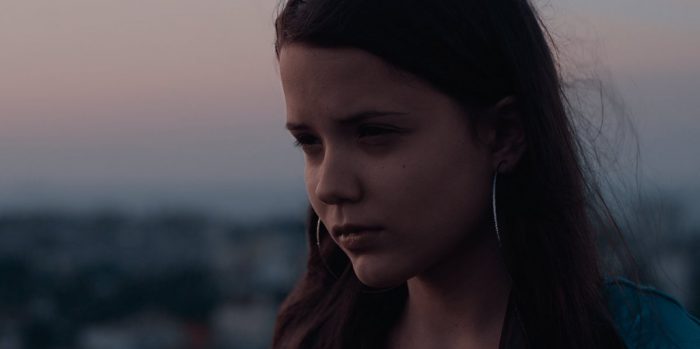 One memorable scene that particularly stands out and beautifully represents teenage distress and anxiety on screen is during the party in which the protagonist, her friends, and love interest are all at the same night club. After a heavy dose of alcohol in her system, the film cuts back and forth to a drunken Larisa who is unable to hold on her own two feet to a drowning Larisa who tries unsuccessfully to swim up to gasp for some air. At some point her friend Dani—played by actor Daniel Rădulescu—pulls her up to the surface, thus awakening her from this nightmare where she can finally catch her breathe again, but only ends up turning to drugs when riding in the backseat of Dani's car.
The whole premise of the story seems to be built on that duality of ups and down, highs and lows, restrictions and non-restrictions which in the end are what comprise a teenager's life. There is no middle-ground. Larisa is ready to cling onto those little things that make her happy even if it is only for a moment, or rather shield herself from the danger of getting hurt. And this play with tension is what makes this debut feature worthwhile.
Recommended viewing on FilmDoo: