Director: Wiktor Ericsson
Through its opening sequence, Wiktor Ericsson's Strawberry Days (Jordgubbslandet) sets the tone for its steady-paced narrative with long shots of empty and tranquil farmland during the early hours of the morning. This sequence is accompanied by a Polish family's arrival in a small Swedish town. A married couple and their teenage son pursue work as migrant farmers for the summer season, a job that offers no securities or luxuries besides the companionship of their family and fellow migrant workers. As a unique coming-of-age film, Strawberry Days is a drama that (ironically) often subdues its dramatic narrative events with a consistent tone of tranquility and buoyancy that parallels the characters' natural surroundings.
The couple's son, Wojtek (Staszek Cywka), is the central character of the film. Having never been outside Poland before, the film provides an account of migrant working that is simultaneously optimistic and harsh, a perspective often only possible though a youth's point of view. Wojtek accepts that he must help provide for his family, and despite the discomfort and inequalities the workers undergo during their long hours of strawberry picking (and later on, cucumber picking), the son never once complains to his family about his duties.
Instead, the teenager's experience of manual labor highlights his bonding with other young workers, and he eventually secretly dates the farm owner's teenage daughter, Anneli (Nelly Axelsson). However, despite the narrative's attention on youth friendship and romance, Strawberry Days intertwines Wojtek's interactions with Anneli and his new friends with the film's underlying representation of social inequality. Some of the most memorable of these scenes, and which undoubtedly contribute to the film's simultaneously optimistic and sober tone, are those in which Wojtek spends time after work with friends. What first appears as carefree, rowdy socializing transforms into a commentary on social and class difference, with frequent discussions about how Lithuanian workers are offered more work (but for half the pay), thus leaving less work for other workers. The young men's frustration escalates to a point in which they seek extra earnings by stealing, and consequently lose their jobs on the farm as well as their month's pay.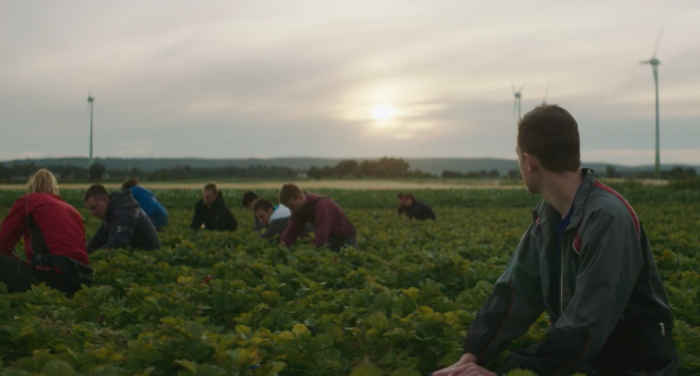 Anneli's experiences are likewise rendered in a way that emphasizes social and class difference. One of the most interesting stylistic choices of the film is its use of alternating scenes that contrast Anneli's experiences living in a family with job security with Wojtek and his family's uncertain employment and financial circumstances (after three weeks of work, Wojtek's mother argues with her husband about why Anneli's father has still not paid them).
Another standout stylistic choice is the film's use of subtle and perfectly timed instrumental background music (often just piano). In fact, an online search of the film reveals that there are more reviews for the soundtrack than for the film itself. The soundtrack's composer, Hanan Townshend, is an Austin-based musician and composer known for his work on Terrence Malick's Tree of Life, so it is not surprising that the music in Strawberry Days is beautifully harmonized with its narrative.
At times Ericsson's film does not have a strong enough visualization of inequality and migrant work, but this does not deter from the story's overall impact. The steady pace and subtle emotions of the characters and their actions seem to work well with its depiction of migrant working, manifesting as a reminder that unfortunately there is some level of acceptance (of mistreatment, and of social and class differences) required for workers to keep their jobs. The film also does a great job of neutralizing its drama with optimistic scenes of youth.
Strawberry Days had its market premiere screening at the European Film Market 2017, courtesy of Yellow Affair.