By Lyn-Kateri Visedsuk
Director: Lisa Takeba
After her 2013 short Wandering Alien Detective Robin, first-time director, Lisa Takeba charms us with her debut feature film The Pinkie, winner of the Grand Prix at the 24th Yubari International Fantastic Film Festival. Fans of Japanese anime and manga would most certainly enjoy the excessive showcase of violence, gore, sexuality and profanity in The Pinkie. Over an hour of concentrated weirdness – frantically paced and chocked-full of Western and Japanese pop culture-stereotypes – the film hooks us in with an eccentric blending of sci-fi, drama, comedy and fantasy with a twist of insanity and some bloody action. It's a work rooted in a hyper-imaginative, over-the-top kind of fun, amounting to more than your average teen-flick.
In short, the film follows the story of slacker Ryosuke and his clone, both played by Ryota Ozawa. The two of them are in a pair of twisted love triangles involving stalker Momoko (Miwako Wagatsuma) and Yakuza moll Samayou Koyubi (Haruka Suenaga). Ryosuke lives life recklessly, going from one dead-end job to another and from one dead-end relationship to the next. He is a loser and a pervert, yet, despite being particularly flawed with girls, Ryosuke has a life-long admirer in the mischievous Momoka.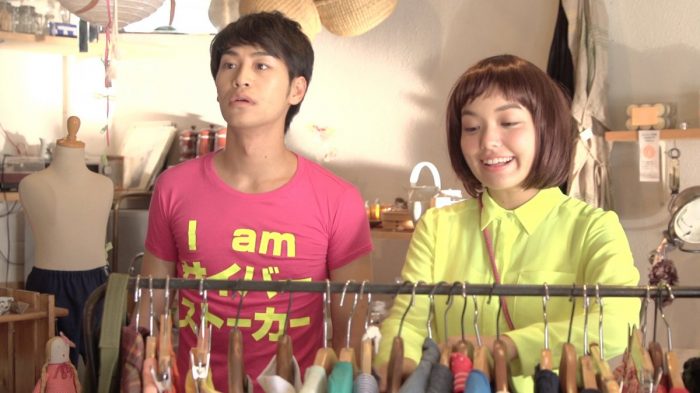 Ironically enough, she does eventually get her hands on him, but only his pinkie-finger, which she uses to creates a perfect clone-copy of Ryosuke – called "Pinkie-Red String", in reference to the ties of love that bind her and him together. While Ryosuke is busy seducing the girlfriend of a yakuza boss – bringing complications to this initial love triangle – Ryosuke's clone Pinkie performs beyond expectations. He humbly does all of Ryosuke's work and duties and even proves to be a remarkable lover to Momoka.
Technically, the cinematography in the film is rather good given its low budget, showcasing many an impressive fast-paced fight scene between the two protagonists and the gangsters. The visuals make use of soft-romantic lighting to set the mood, and the use of pink/red tones in the costumes, sets and backgrounds is alluring. Despite the film's blood and gore, the romantic and comedic elements of the script – underpinned by the bubble-gum pop soundtrack – create a lightness in tone throughout the film. And yes, the script is vulgar but witty in a manner typical of most cult comedy-slasher films.
Through all the instances of desperation and betrayal exhibited in the failed love lives of The Pinkie's characters, there remains the underlying notion that love needs a victim. But while The Pinkie explores themes of unfulfilled romantic-notions and unrealistic fantasies, it is ultimately an uplifting work that stresses the importance of freeing yourself from obsessions and delusions, and suggests the possibility of finding love after love.
FilmDoo Also Recommends: