By Gita Subaran
Berlin International Film Festival review
Director: Piotr J. Lewandowski
It is often said that life waits for no one; that it is about taking chances and living in the present. Yet while most young blooming 23-year olds would have lived by these principles and headed off to graduate school or travelled across the country, Jonathan's efforts and energy are spent on taking care of his ailing father, Burkhard, who suffers from skin cancer. Along with his aunt Martha, he helps out on his father's farm in rural Germany by tending to the cattle and providing his father with his daily treatment.
Right from the beginning, his frustration at not being the master of his own decisions is reflected though his tense relationship with his father. Neither of the two characters seem to see eye-to-eye on certain matters. While the film is quite slow, we get to fully empathise with Jonathan through his moments of angst, rage and sorrow. As the viewer will agree, not everything is black or white, and these different shades and fluctuations of emotions unravel themselves in symbiosis with nature. Here, the wild scenery and all that pertains to it is synonymous of the home. As Jonathan points out to his love interest, Anka, the grass smells like home. And indeed, Jonathan repeatedly brings us back home, literally and figuratively speaking.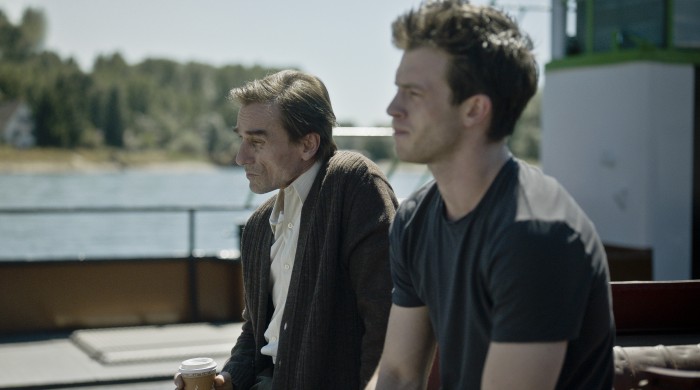 However, what truly sets this film apart is its interest in the older generation: the generation of our fathers and mothers. The elderly are not simply cast aside and given the role of supporting characters. They are the main focus of the film and their mysterious past only waits to be resolved. But it is not always easy to blend the barriers between the young and the older generations, the latter being deeply rooted in tradition. Through various scenes portraying Jonathan's daily routine, we come to understand his inner turmoil: a deep desire for emancipation juxtaposed with an obligation to fulfil his duties as a loving son. But director Piotr J. Lewandowski takes it a step further and unexpectedly entwines this coming-of-age film with a coming-out story, adding much to its calibre as a poignant tale of love not only between a father and his son, but between two best friends.
Very much akin to the main characters, we are faced with mixed feelings regarding where the film will lead us. At most times, it seems that the stubbornness of both of these male characters will bring about their downfall, and as the narrative progresses we find ourselves wishing it will not be the case. Like Martha, who heads to prayer at the local church, we find ourselves praying in the comfort of our own home for these two characters to find some form of salvation. It is clear that the circumstances in which Jonathan finds himself in are difficult to contend with, yet we admire his strength to cope with the mundane activities, which are far from a life of his own choosing. While we seem to relate more to the young Jonathan, his elderly father is not completely despicable and in a way we find ourselves already mourning his inevitable death in the back of our minds.
Interestingly, Catholicism is widely prevalent throughout the film. This is not to be discarded, as Jonathan appears as a heroic figure in the Bible, and is portrayed as a model of truth and friendship. In the film itself, Jonathan is given such attributes and is perceived as both a loyal and caring person. He demonstrates a great sense of goodwill and strives to do what is right. This is wonderfully and brutally contrasted with his father who seems to be haunted by the past and cannot seem to embrace death with open arms right away. From the very beginning, the film sets out this eerie tone. While we know that this is not a horror film, there is something uncanny revolving around Jonathan's father. We know that something is just not right, but we are unable to pinpoint what exactly, which is as good an endeavour as any drama should attempt.
Finally, Julia Koschitz, in the role of the compassionate and carefree Anka, with her adorable wavy curls and pixie cut, is probably one of the best additions to the film. She brings about a certain je ne sais quoi, and her portrayal of a cosmopolitan and outspoken young woman fills each scene with the certainty that in the end everything will be okay. Undoubtedly, Anka is the shimmering beacon of hope that we had longed for and in some way is the light at the end of the tunnel during Jonathan's moments of utter despair. She allows him to open up and always pushes him to do the unexpected for the sheer excitement of it, such as running around the forest fully naked without a care in the world. Importantly, she is the one who tells him that, "life does not wait for you". By the end of it, we cannot help but wonder about the marvellous things that are yet to happen to Jonathan, but also to each of us.
Recommended Viewing on FilmDoo:
To bring this film to your region, cast your DOOVote on the Jonathan page.