By Sharon Calingasan
Director: Catherine Stewart
Catherine Stewart's While You Weren't Looking is an interesting take on LGBT issues and the concerns surrounding these communities in a South African context, particularly in relation to the ongoing biases and opinions placed on these groups by society.  However, it doesn't stop there as the films also explores family relationships, lesbian marriage woes and struggles, and the social and economic stigmas that divide South Africa, just as they usually do elsewhere.
We start the film with Dez (Sandi Schultz) and Terri (Camilla Lily Waldman), a lesbian couple who both still have the hots for each other even after years of marriage. However, a chance discovery by Terri of a box inside a closet will create conflict and turmoil between them. The couple has an adopted 18-year-old named Asanda (Petronella Tshuma) and her introductory scene, where she is seen having her hair styled into an Afro seems, to symbolize that she is ready to embrace her individuality as a grown woman. She later gets to know Shado (Thishiwe Ziqubu), a tommy boy from the township of Khayalitsha, after a night at a disco pub and they eventually fall for each other. The scenes featuring the lectures of Mack (Lionel Stewart) in the queer theory class of Asanda which appear sporadically throughout the movie add a dose of understanding concerning South African society's stance and opinions on LGBT issues with accompanying images flashed on a projector to add clarity and context.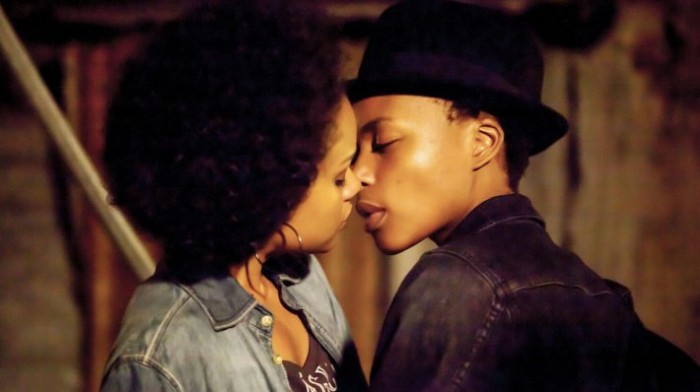 Needless to say, the four above-mentioned leads are essential assets of this film. Sandi Schultz carries her role as Dez quite well; a tough and callous business woman, who, by traditional standards, takes on a role resembling a "˜father figure'. Meanwhile, Camilla Lily Waldman as Terri is the "˜motherly' one who's very expressive of her fondness for their daughter. Petronella Tshuma, a promising and multi-award-winning young actress, shines as Asanda, exhibiting a natural flair and a face that registers well on camera, and Thishiwe Ziqubu, also an acclaimed actress, fits her role as Shado well, embodying a tommy boy from the other side of town, used to the violence in her surroundings but, deep inside, a very caring soul. The on-screen chemistry and contrasts of these characters embolden the film's unique flavor and themes.
Director Catherine Stewart's movie is compelling in its own special way for the messages that it aims to convey, covering subjects from family relationships and conflicts to the universal views and biases that come with being part of the LGBT community.  There is also a hint of the big divide between local Africans based on social-economic status, as evidenced notably in a scene where Dez and Terri's housekeeper berates Shado as if to remind her that she is not worthy to be associated with Asanda. Cinematography is generally commendable and the soundtrack seems especially attuned to the younger generation. The traditional-sounding background opening music is particularly impactful, serving as a fitting introduction to a movie that celebrates individuality and humanity in its truest sense.
Watch While You Weren't Looking on FilmDoo.com
FilmDoo Also Recommends: