By Jessica Duncanson
Director: Wu Wuna
Watch Happy or Not on FilmDoo.com
Happy or Not shows Wu Wuna in the early stages of her filmmaking career. In the narration she admits that she was still somewhat of an amateur when the film was made. This professional innocence does in fact give the documentary an interesting dimension, making it feel like some kind of intimate home video. The film depicts Mrs. Zhu and her two schizophrenic children, Huiran and Huixin, who are 27 and 25 respectively. They have both been regularly in and out of hospital and have a changeable attitude towards their medication. The documentary is not only a study of the everyday lives of those with schizophrenia, but also looks at the difficulties faced by their family members. What's more, psychiatrist Dr. Yang is interviewed and discusses the lack of services and support for families caring for mentally ill loved ones.
Mrs. Zhu has told her children that Wu is filming them as part of a project about family life, implying some lack of understanding on their part. However, this assumption of aloofness is shattered when Huixin bluntly states that Wu is filming her because she's 'crazy'. Henceforth, the documentary breaks down various presumptions and stigmas surrounding schizophrenia. Violence, for example, is an issue that many connect with the illness. While Mrs. Zhu does make some references to the potential violence of Huiran after finding a knife in his room, Huixin is portrayed as incredibly gentle. In this way, Happy or Not shows that violence is not a prerequisite of schizophrenia and that it is also rarely the same from case to case.
While there are some incredibly upsetting scenes in which the two young characters struggle with delusions, for the most part the film humanises an illness that is often stigmatised due to imaginings of it as provoking violence and mayhem. We see Huiran and Huixin struggling with schizophrenia but also with general questions and uncertainties of young life. For example, Huixin is extremely upset after being scolded by her teacher for underachieving. What's more, repressed sexuality appears to plague them both. Having both been hospitalised during their youth, it seems that they may have missed out on "˜average' romantic experiences. At one point Huixin asks why text books don't teach things to do with love and sex. While her unfamiliarity with the subject may be due to the limitations imposed upon her by her schizophrenia, these are feelings that most young people have. Sexual frustration even manifests itself in Huiran's delusions and at one point he imagines himself as having 10,000 female servants. What's more, throughout the documentary Huixin makes various comments about wanting to help to support the family financially, once more showing that she wants to fight the illness and be part of adult life.
The mother of the two, Mrs. Zhu, is a widow, works full time and bears the complex and volatile burden of looking after two schizophrenic children. Throughout the film she is clearly exhausted and gradually gets more and more frustrated at the situation. Wu's relationship with Mrs. Zhu is certainly an ode to her ability as a documentary maker. Mrs. Zhu continuously vents her frustrations and confesses her worries to Wu in a way that friends might. At one point she winks slyly at the camera after telling a white lie to Huixin, one that Wu defends. At times Wu even appears to be a makeshift psychiatrist for Mrs. Zhu. Hence, we can see that the filmmaker succeeds in making intimate and trusting relationships with her subjects.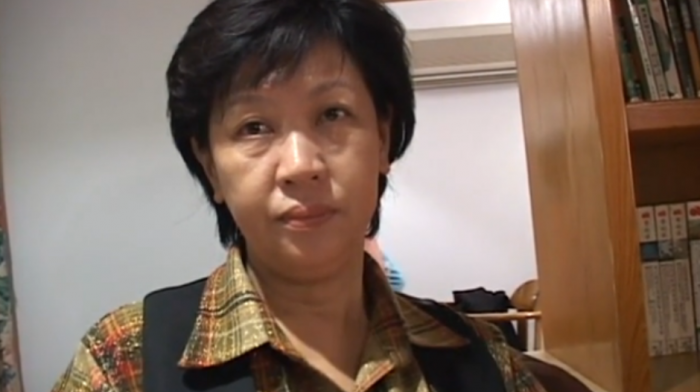 The film can certainly be seen as a social commentary regarding insufficient mental health services. Dr. Yang argues that the government needs to do more to help families deal with the impact of having loved ones with mental illness and calls the current situation 'completely unjust'. As the documentary shows, for families with fairly high incomes, the government can reject applications for long-term care, leaving them with little to no aid. The film's inside look into these struggles gives undeniable evidence that something isn't working. Ultimately, however, Wu can only document. In one scene a frustrated Mrs. Zhu declares that 'filming is meaningless' and cannot help her family. Although Wu cannot do much to help the family directly, her honest portrayal of the situation is welcome.
While Mrs. Zhu's statement that the illness can only really be understood by people within the family holds weight, depictions such as these can only boost general understanding. What's more, although she declares that 'people's pain is their own', her suffering throughout the film shows that mental illness affects more than just the patient. Complex, distressing, and at times uplifting, Happy or Not shows that happiness is not as simple as its title suggests.
FilmDoo Also Recommends: