By David Pountain
Panos Koutras' Xenia is a funny, organically composed and affecting drama that succeeds on levels both personal and national. Telling the story of two young half-Albanian brothers, Danny (Kostas Nikouli) and Ody (Nikos Gelia), who, along with Danny's fluffy white rabbit Dido, journey across Greece to find their father, the film uses this simple bittersweet tale to tap into bigger questions of the country's social, political and economic future, particularly the problems faced by Greece's first and second generation immigrants.
So it could be considered a sad irony that, when Nikouli came to the UK and spoke with FilmDoo, his onscreen brother Gelia was unable to make the trip with him due to visa issues related to the actor's Albanian birth. This connection was not lost on Nikouli when he shared with us his thoughts on Panos Koutras' feature and the experience of being in his first film.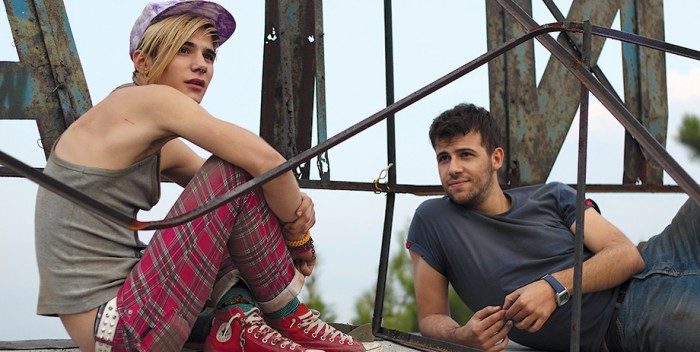 What initially interested you about this character?
Well this was my first touch with the cinema. I wasn't a professional actor. I was in school and then I found a casting call that wanted Albanian teenagers who spoke fluent Greek. And I said, "Why not? I have to try that," because I wanted to be an actor from the beginning. And, when I met Panos (Koutras), he was very very very helpful to me. My mother was panicked a little bit at the beginning because she didn't want me to be treated badly. She was afraid. She was like, "Why are you going to do this?" But she met Panos, they spoke and she was very open after that.
How did Panos help you to get into and understand the character?
We had six months of rehearsing, where Panos was telling me, "Don't imagine weird stuff. Don't try to be a character. Don't try to change yourself." He told me not to go to the role as a 'gay guy', or what I had as 'gay' in my mind. And he told me to be more like a child. Danny is someone who has lost his mother and who doesn't have his brother, and this all figured into the role.
Was there a lot of improvisation involved in filming?
Yes, in the scenes of dancing, and any scenes where Danny and Odi are together. With Panos, we worked through how we got into our characters, how we measured the situation, how we interacted with each other, how I had to speak to Odi to convince him to go with me to Thessaloniki to find our father.
Though presumably there was also a lot of choreographing that went into the dance scenes.
Yes, of course, but in the beginning it was improvised and then we choreographed.
So you came up with it yourselves?
Yes, because the choreography consisted of things that these two kids had done when they were younger with their mother so it had to be very human, very natural. Because it's one thing to be like choreographed dancers and it's another thing if you are brothers who come up with the dance.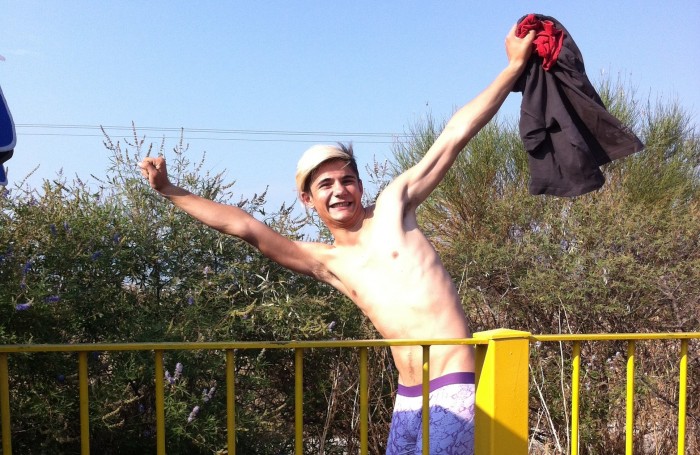 And how about the fight scenes? What were those like?
The fighting was very difficult and the most difficult scene was the one on a stage with Aggelos (Papadimitriou) and Romanna (Lobats) where I had to hit Nikos (Gelia) in the face. I felt bad because it was very harmful, and, in cinema, you're required to do it again and again. So you feel very bad but you have to keep acting natural. But, in the scene with Lefteris at the end of the film, it was fun because Yannis Stankoglou was very helpful with us. He would say, "Come on. Come on. Hit me! Hit me!" It was a kind of joke but it made me more comfortable, so it wasn't as bad.
What was it like working with the rabbit, Dido?
We had to build a relationship. Before the shootings, for example, I went like once a week to a guy who had animals in order to be with Dido, to feed him, to build a relationship and for him to smell me and feel comfortable with me. We had a lot of shootings where Dido was in my bag and it had to be comfortable there because the bag was like its house but it was all very nice I believe. The best part was in one shooting, where we had Dido running through a grass field and I had to grab him and hug him. It was difficult to shoot. The whole crew was asking, "Where is Dido? Where is Dido?" and I was running after him but, when I took him, it was very nice. Then when we did that scene where we fall down on the grass and Dido comes onto my neck like a little puppy. It was a very nice image that Dido did made. I believe that we built that relationship before shooting.
And what about your relationship with your onscreen brother Nikos?
Nikos was like a real brother. We were beginning our career together so the first thing that we said to each other was, 'Come on, we are in this thing together,' so we had a relationship to support each other.
Because you were both new to screen acting?
Yes, we have had a very good relationship. I was very sad when I learned that he couldn't come to the UK because he had issues with his visa. I believe that we had a very nice bond each other that Panos saw, and from that he figured that we should be the main characters. So from the beginning I believe we had a very strong relationship.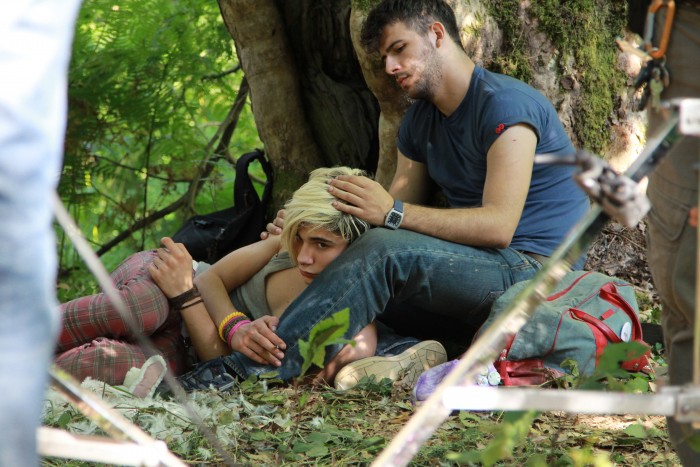 The film contains quite a few references to a wider social and political context, including fascism, prejudice, immigration and the economy. Is this a side of the film that interests you?
Yes, what interested me the most was everything with the second generation immigrants because I am part of that. Until I was fifteen years old, I had those issues. I had to go to the police to take a visa for six months and it was very unpleasant. I believe the worst thing is that children have to run from that situation. I was very happy last year when the film took the award in the Hellenic Academy and Panos said, "I will not take any of awards until you pass the law in government giving Greek citizenship to second generation immigrants." Anyone born in Greece should be considered Greek. That's the thing. And I was very happy because that law's now passed.
If you have a problem, you try hard to speak about it. Panos made the movie to try to change some things in Greek government. These same problems he addressed are why Nikos has issues to this day and why he isn't here right now.
Are you currently working on anything else?
I'm at drama school in the graduate year but I've done some movies since Xenia. Xenia opened doors for me to other projects. I have done another two full length movies and some shorts.
Would you say you learned a lot from your experience in Xenia that you could apply as an actor to these projects?
Yes, I learned from Panos and from Xenia that if you have nice, very open people near you, you have the feeling that you could work with anyone. Panos taught me about relationships with people and how to interact with others. That, I believe, was the most important thing behind Xenia: that we had a very nice bond with everyone.
Watch Xenia on FilmDoo.com. (UK & Ireland only)