By David Pountain
Directed by Ella Manzheeva
Warsaw Film Festival review
Ella Manzheeva's The Gulls is a directorial debut of unusual stylistic confidence. With sparing use of dialogue and low-key performances, the film expresses itself largely through its natural sounds, its ominous, trance-like music and, above all, its carefully composed visuals that never fail to please the eye. From the cold and expansive landscapes that reflect the grim mindset of reticent lead Elza to the shrewd visual arrangements by which social interactions in close quarters are captured, audiences may not always feel especially tuned in to the film's narrative but The Gulls is consistently quite something to look at. It's the kind of film that a viewer can just sink into and suggests a promising future for its director – one consisting of films that are even better and fuller than this one.
The meek and mild-mannered Elza lives a humble life in a quiet seaside town in the Kalmykia region of Russia. Her husband is a boorish and uncommunicative type involved in some shady dealings. Elza seems to live in a constant mental state of isolation, always appearing removed from the people around her though never bold enough to be her own independent person. When her husband fails to return from a dangerous trip, the situation presents an opportunity for Elza to possibly develop some self-possession and an identity of her own.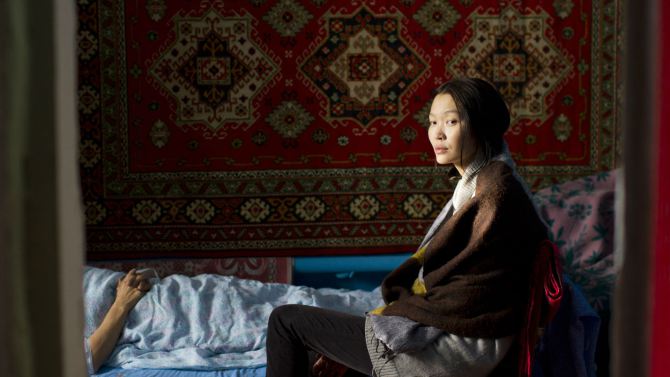 As a character study, The Gulls fails to live up to its potential. The performances can often be too understated and the film as a whole too opaque to truly delve into the experiences of the lead with a satisfying level of psychological depth. There are certainly momentary exceptions to this – a scene of Elza serving drinks at a family gathering cleverly illustrates her lack of emotional integration by consistently showing her on separate visual levels to the rest of the party – but, generally speaking, Ezra is too blank of a canvas to consistently hold our attention.
A more interesting character, however, is Kalmykia itself. The stunning footage of this community thoughtfully captures not just the loneliness and sparse beauty of the environment but also the curious relation between the old and the new as technology lives alongside traditional superstitions and racially-motivated hostilities put a strain on cultural identity. But what really makes The Gulls worth a viewing is the way that this contemporary state is elevated to one of existential menace and mystery.  While Ella Manzheeva's film hardly wants for noteworthy imagery, the pictures most likely to remain in the memory – some shadowy figures in the mist, the dark abyss that is the Caspian Sea, a woman walking face-down through the evening wind – are those that capture concepts of fate, choice and the unknown in almost tangibly vivid forms.
To bring The Gulls to your region, cast your DooVote here!
Recommended Viewing on FilmDoo: