Dir: John Roberts
Glasgow meets Havana (which are, incidentally, twin cities) in this witty romantic drama that is much more than your everyday rom-com.
We are taken on a journey to Cuba, along with the strong-willed sisters, socialist activist Rosa (Eva Birthistle) and diva Ailie (Charity Wakefield), whose parents met on the unique island many years ago, fighting in the revolution. The aim of the trip is to scatter their father's ashes on the eponymous day –when their parents met, but it isn't long before they lose them…
Adventure ensues as the sisters, in their own distinct ways, try to get them back. A couple of locals offer to help, each of them taking a shine to the feisty, independent Rosa, who is convinced that men don't want "women like her" but rather they want "little girlies" like her fashionista sister.  The ballet star Carlos Acosta plays one of these men, Tomas, and he introduces us and the girls to the vibrant world of Cuban dance.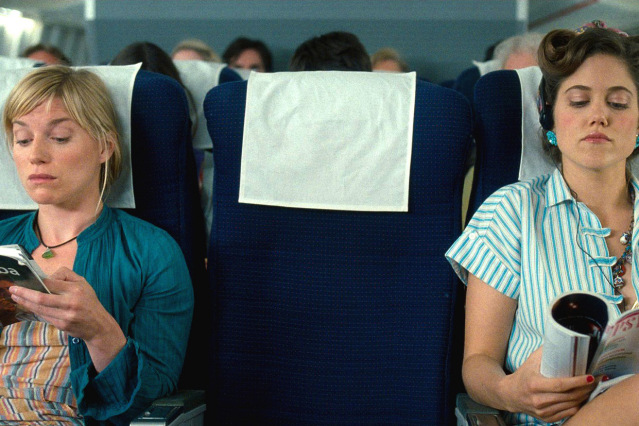 The film has many layers that can be appreciated by different viewers, no matter their gender or nationality. It is refreshing to see women as the lead characters but attention isn't drawn to it. It's natural and their relationship can offer just as much, if not more, engaging content as relations between characters of opposite sexes. The bonding between the sisters and the search into their family's past, set against the-very-different backdrop of Cuba, bring the question of identity to the forefront.
Day of the Flowers is scattered with Cubanisms –cultural references– that can be enjoyed by Cuban audiences but that are also accessible to non-informed viewers who can relate to the bewildered Scottish pair. The script (written by Eirene Houston) provides many light-hearted moments drawing attention to cultural differences, such as a scene at the airport when the customs officers are unimpressed by the powdery substance the tourists are trying to get into their country. "These aren't perishables! He's perished!", tries to explain Ailie, gesturing with her hands around her neck.
The wonderfully rich Cuban culture and landscape captivates the camera as the characters discover the island and its people whilst also discovering themselves.
Eva Birthistle and Charity Wakefield both give convincing performances, perfectly capturing the turbulent relations siblings often have, whilst the Cuban cast and the dialogues in Spanish (subtitled in English) give an authenticity to the adventure.
Bafta award-winning director John Roberts doesn't fail to bring us a film that will entertain, educate and enchant us all at once.
'Day Of The Flowers' screens at the London Latin America Film Festival on November 20th