Only Lovers Left Alive, a vampire-themed movie shot for seven weeks in mid-2012 by Jim Jarmusch, definitely took its time to reach the audience. A £7 mln. production starring Tom Hiddleston and Tilda Swinton as the vampire lovers that had been around for centuries presents the most original cinematic look on vampires in decades.
Let Tom Hiddleston introduce you to the film: "To a great extent, this film is an American film made by a great American author Jim Jarmusch. But it's also a European film, because much of it was shot in Germany. This film is above all else, about love, its unifying power, the eternal force of life". – at London Film Festival.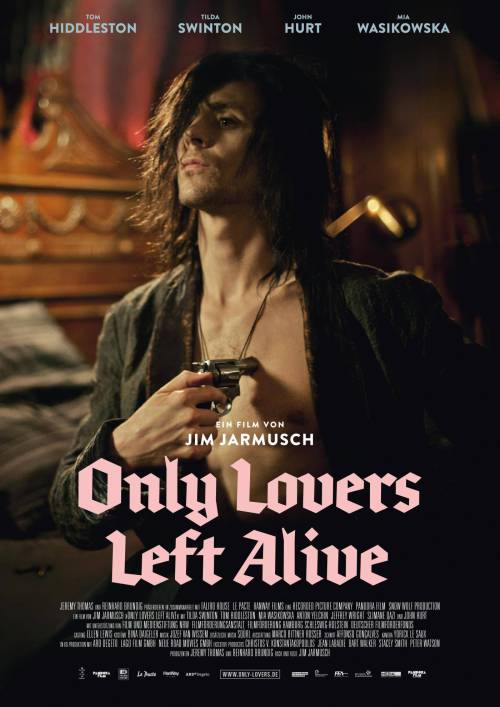 Eva (Swinton) and Adam (Hiddleston) are separated by Atlantic Ocean (he lives near Detroit, she prefers the city of Tangier in Morocco). However, it does nothing to cool their love for each other. When Eva learns that Adam is reduced to depression and even thinks of suicide, she rushes to his side to save the day. Together, they will face many complications, such as exceedingly curious and clingy pal of Adam's Ian (Anton Yeltchin) and wild and careless Eva's younger sister (Mia Wasikowska). Only Lovers Left Alive is an odd mixture of art, music, blood and love, swinging in deeply philosophical moods against the modern urban backgrounds. Jim Jarmusch has its own take on the vampire topic, successfully avoiding dramatization and melodrama that is thought to be integral to the genre thanks to many other vampire flicks. In fact, he shows vampires as close to normal, every-day people as possible, which feels ever so refreshing. The lyrical, picturesque opening scene is supported by equally impressive and ironic closing to the movie.
The film also boasts of a wickedly funny sense of humor, sharp dialogue and a beautiful soundtrack. Occasionally bizarre, but overall well-written film makes it easy for Tom, Tilda and Mia – notorious for playing fictional, mysterious characters – shine in their roles.
Only Lovers Left Alive was produced by seven American and European film companies, and faced a few challenges. The film, initially announced back in August 2010, took two years to begin principal photography (losing Michael Fassbender as male lead in the process). It was very problematic for Jarmusch to secure financing, and if that wasn't enough, a US film distributor abandoned the project. Finally, in 2013, the film was shown at several film festivals, including Cannes and London, and will be available to the UK general public on February 2014. And it's definitely worth seeing.
Watch the trailer here:[youtube http://www.youtube.com/watch?v=ycOKvWrwYFo?rel=0]