By Sarah Jilani
It has always been a firm favourite of the filmmaker to bring pre-existing material like novels, plays and short stories to life on the big screen. Literature undoubtedly feeds into cinema, but adapting writing into screenplay has its own unique advantages and pitfalls. With today's rising deserved recognition of "World Literature", and with the contextual meaning of writing from the non-Western world, these film adaptations have the extra narrative task of bringing stories across social and cultural divides and acquainting new audiences with the wealth of tales outside the bubble of mainstream Hollywood storytelling. These films bring to life texts which set out to recount lives and histories alternative to the Western literary canon, adapting multi-lingual literature published around the world. Here are FilmDoo's top 10 picks in no particular order.

1. Earth (Dir: Deepa Mehta, India/Canada, 1998) – based on Bapsi Sidhwa, Cracking India (1991)
Based on Pakistani author Bapsi Sidhwa's semi-autobiographical novel Cracking India (first published as Ice Candy Man), acclaimed Indo-Canadian director Deepa Mehta's adaptation Earth is the second of her Elements trilogy, which includes "Fire"(1996) and "Water"(2006). Set in 1947 Lahore during the turbulent times of partition, the story is narrated in flashback through the eyes of a young, wealthy Parsee girl with polio, Lenny (Maia Sethna). Enjoying spending her days with her beautiful Hindu 'ayah' or nanny, Shanta (Nandita Das), the dashing Dil Navaz (Aamir Khan), a young Muslim ice-cream vendor in love with Shanta, and their idyllic mixed-faith group of friends, Lenny has to grow up fast as tensions between Sikh, Hindu and Muslim mount, and danger ensues.
2. Black Girl (Dir: Ousmane Sembene, Senegal, 1966) – based on Ousmane Sembene, La Noire De… (1962)
Sometimes dubbed the "African Brecht", Soviet-educated Senegalese writer and director Ousmane Sembene adapted one of his own short stories into his first feature-length film in 1966. La Noire De… meaning "The Black Girl Of…" follows the story of Diouanne (Therese N'Bissine Diop), a young women employed as a governess in a white, bourgeois French household in Dakar. First excited at the prospect of going with the family to the French Riviera for the summer, Diouanne soon finds her employers' attitudes much changed in France, her chores more numerous, domestic and slavish, and her identity dictated by her race. A true classic of African auteur film, Black Girl remains as effective as ever in its psychological exploration of prejudice, belonging and gender.
3. The Reluctant Fundamentalist (Dir: Mira Nair, U.S.A, 2012) – based on Mohsin Hamid, The Reluctant Fundamentalist (2007)
Pakistani author Mohsin Hamid's 2007 novel is a snappy, penetrating and multi-layered read, and Indian director Mira Nair handles it well in her 2012 adaptation of the same name, The Reluctant Fundamentalist. Hamid's novel gets much of its zing from the second-person narration that builds a tension akin to Albert Camus's The Fall (1956), the rich psychological undertones of which are lost in Nair's more sweeping, action-oriented version. Riz Ahmed stars as Changez, the smart young Pakistani emigré, fresh out of Princeton and straight into an elite Wall Street valuation firm. With ambitions for the future and an American upper-class photographer girlfriend Erica (Kate Hudson), Changez relishes his culturally and socially mobile persona in cosmopolitan New York. However, after the World Trade Center attacks, his life and mind undergo a slow-burning transformation. Met with increasing suspicion, prejudice and worrying news of his family's safety in Pakistan, Changez returns to Lahore and becomes embroiled in dense political intrigues.
4. Midnight's Children (Dir: Deepa Mehta, Canada, 2013) – based on Salman Rushdie, Midnight's Children (1980)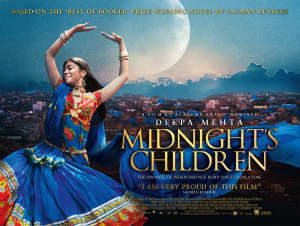 Controversial Indian author Salman Rushdie's most popular novel, Midnight's Children (1980), was recently adapted by Deepa Mehta in collaboration with Rushdie himself. With the long, bombastic and magical realist source material, Mehta must have had her work cut out this time – but the result is an enjoyable film full of poignant moments. The night of India's independence from Britain, two boys are born at the stroke of midnight – Saleem and Shiva, switched at birth by a heartbroken nurse at the hospital. As the newborn nation splits into two, then three, warring countries, we follow Saleem (Satya Bhabha) as he telepathically communicates with other "midnight's children" and crosses paths with Shiva (Siddharth Narayan) over the next three decades, mysteriously always intertwined in their fates yet also always on opposing sides. The film makes the more stylised and convoluted parts of Rushdie's novel much more accessible and brings the story to the foreground, with helpful glimpses into the historical trajectory of India which – in many ways – is mirrored by our hero Saleem's life story.
5. Half of A Yellow Sun (Dir: Biyi Bandele, Nigeria, 2013) – based on Chimamanda Ngozi Adichie, Half of a Yellow Sun (2006)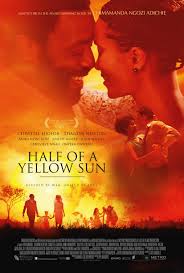 A Nigerian writer who shot to prominence with her novel Purple Hibiscus (2003), Chimamanda Ngozi Adichie's novel Half of a Yellow Sun (2006), set during the Biafran War (1967-1970) in Nigeria. Adapted to the big screen by Biyi Bandele in 2013, it stars BAFTA winners Thandie Newton and Chiwetel Ejiofor as the lead couple – beautiful, Western-educated Olanna, a daughter of the bourgeoius Nigerian elite, and Odenigbo, her idealistic lecturer husband. Ugwu (John Boyega), their houseboy; Kainene (Anika Noni Rose), Olanna's cynical twin sister; and Kainene's English journalist lover Richard (Joseph Mawle) are all richly realised peripheral characters that have significant parts to play in the trying times of historical conflict. Though all have their own grievances towards each other, the civil war looms larger than their differences and they come to rely on one another to survive as the new republic of Biafra attempts to establish and consolidate itself. The film premiered at the 2013 Toronto Film Festival to critical acclaim and had a worldwide release in 2014.
6. Life and Debt (Dir: Stephanie Black, U.S.A, 2011) – based on Jamaica Kincaid, A Small Place (1988)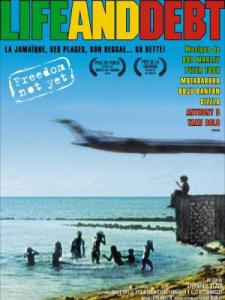 Based on Antiguan-American novelist and essayist Jamaica Kincaid's polemical and effective short novel A Small Place, Stephanie Black's documentary definitely merits a place on this list because of how novelistic its sweeping narrative is. With a voice-over that sticks to Kincaid's original use of the second-person, this film talks right at us, treating us as the tourist arriving in the Caribbean in search of luxury and sunshine. Laying bare the underlying social and environmental problems perpetuated by the globalising thrust of the hospitality industry, it has strikingly contrasting shots of the natural beauties and artificial habitats of the islands. Much of world literature deals with issues of colonial legacy, nationhood and globalisation, so Black's documentary makes a great companion to many of the films on this list, providing a touchstone to these issues in a clear and narratively engaging way.
7. The Namesake (Dir: Mira Nair, India, 2006) – based on Jhumpa Lahiri, The Namesake (2004)
Featuring stars like Irrfan Kahn and Kal Penn, The Namesake was adapted from Jhumpa Lahiri's 2004 novel in 2006 by Mira Nair. Taking us from Kolkata to New York, it follows Ashoke and Ashima Ganguly as they migrate to the States and try to settle into their new lives. Years on, we follow their son Gogol (named in half-seriousness after the famous Russian writer) growing up as a typical American teenager, hostile to his parents at times and fiercely feigning indifference to his cultural roots in India. Eventually changing his name to Nick and leaving for Ohio with his American wife, Gogol experiences doubts when he receives some tragic news from his family. After rediscovering his roots in small personal ways and having a second failed marriage, he decides to travel and narrates the story that makes up the film itself. A tender and intimately-shot film from Nair, it charts two generations, their daily sorrows and triumphs, with an ease that makes this a film worth watching more than once.
8. The English Patient (Dir: Anthony Minghella, U.S.A, 1996) – based on Michael Ondaatje, The English Patient (1992)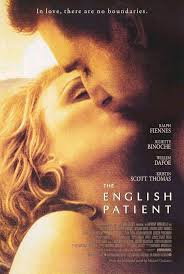 Based on the 1992 Booker Prize-winning novel by Sri Lankan-born Canadian writer Michael Ondaatje, this adapted romantic drama directed by Anthony Minghella stars heavyweights like Ralph Fiennes, Kristin Scott-Thomas and Juliette Binoche. Although starting in World War II-era Italy with a burned victim recounting his story to a French-Canadian nurse in an Italian monastery, the film jumps to the Sahara desert of the 1930s to follow Hungarian cartographer Count László de Almásy (Fiennes) who is on an archaelogical mission in Libya and Egypt, financed by a British couple, the Cliftons. Katherine Clifton (Scott Thomas) and Almasy's secret romance plays out with a background of increasing imperial and racial tensions as World War II approaches and threats to British interests in the region has foreign Almasy under suspicion. The discovery of their affair in the midst of all this leads to a sweeping finale in this epic tale of love and conflicting world views. Considered a classic yet rarely known to be based on a piece of world literature, "The English Patient"collected nine Oscars and many other awards in 1996.
9. Mahanagar (Dir: Satyajit Ray, India, 1963) – based on Narendranath Mitra, Abataranika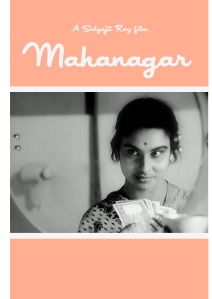 Set in mid-fifties Calcutta, Mahanagar (The Big City) highlights certain taken-for-granted aspects of post-independence cultural and national change in India. Adapted from Narendranath Mitra's short story, it follows protagonist Arati (Madhabi Mukherjee), an intelligent and resourceful housewife who leaves the domestic sphere to supplement the household income. This ends up being neither a descent nor an ascent in morality for Arati: Ray's nuanced direction and narrative pacing gives room for the character herself to demonstrate that, although she thrives in her new job, she wants to share this success with her family. Work has neither "corrupted" nor "liberated" her: the tension for Arati is that the ways in which she can please others – husband, children, and in-laws – and please herself, are largely incompatible. This is a heartfelt and subtle film from Bengali Satyajit Ray, one of the master auteurs of world cinema influenced by the French New Wave.
10. Tsotsi (Dir: Gavin Hood, South Africa, 2005) – based on Athol Fugard, Tsotsi (1980)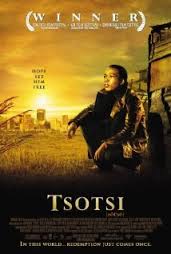 Famous anti-apartheid South African playwright and novelist Athol Fugard's novel Tsotsi was adapted by South African director Gavin Hood in a gritty and powerful film which won the 2005 Oscar for best foreign film. Tsotsi tells the story of the eponymous young street thug (Presley Chweneyagae) living rough in the slums of Johannesburg who one night steals the car of an affluent couple, only to discover their baby in the back seat. His conscience does not allow him to abandon or ransom the child, so he tries to take care of it himself while under increasing pressure from a gang leader, Fela (played by South African musician Zola), to take on other robbery jobs. Also nominated for the Golden Globe for Best Foreign Language Film in 2006, "Tsotsi" offers a fascinating insight into the rough world and harsh conditions of urban criminal living and the young poor, while holding onto the glimmer of hope to be found in the human capacity for mercy. A favourite on the foreign film festival circuit, Tsotsi is one of those films that blends a socially-aware theme with an emotive and character-driven tone.