Dir: Wayne Blair Review by: Hannah McNicholas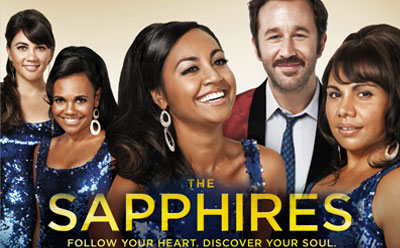 One of the most successful local films in recent years, "˜The Sapphires' is Australia's answer to "˜Dreamgirls'. Set against a turning point in history and packed with sixties soul hits, this musical is bright and bubbly on the surface, but carries a deeper message about family, identity and finding where you belong.
In 1968, four talented Aboriginal women, tired of being shunned from white talent shows, decide to audition as entertainers for American troops stationed in Vietnam. They recruit a washed-up musician (Chris O'Dowd) to manage them and find success in Saigon, where they're a hit with the soldiers, but infighting, personal troubles and the dangers of working in a warzone threaten to end the group for good.
There's a lot to love about this film. The songs are soaring, the costumes sparkly, and there's plenty of laughs along the way. The four female leads are refreshingly well-written, three-dimensional women. Australian favourite Deborah Mailman shines as Gail, the defensive matriarch of the group, while Jessica Mauboy brings her commanding lead vocals to the musical performances as younger sister Julie. Newcomers Shari Sebbens (Kay) and Miranda Tapsell (Cynthia) take a while to find their feet but hit their stride by the second act and offer solid performances. Chris O'Dowd "˜s turn as manager Dave Lovelace is a highlight of the film- when the script gets a little patchy, his charm and commitment to the role carry the movie.
The Sapphires touches on the darker parts of Australian history – The Stolen Generation and the Indigenous rights movement – and tells sides of the story that have often been silenced. More than a sugary musical, the film has moments that can be difficult to watch – seeing the light-skinned Kay struggle with her identity after being stolen from her family as a child, for instance, or seeing dying soldiers reject help from black medics. In a particularly moving scene, the Sapphires sing a traditional Yorta Yorta song while Dr. King's assassination is reported and his final "˜I Have Been to the Mountaintop" speech plays, a reminder that the Civil Rights Movement didn't just affect Americans.
The Sapphires has a lot to say about an important point in Australia's history, which makes its romantic subplot seem largely unnecessary, but as a bop-along musical comedy with heart, they don't come much better. The film premiered out of competition at Cannes 2012, going on to win a slew of awards both in Australia and abroad, and it's all based on a true story. As recent Australian cinema goes, The Sapphires is one of our best.