Part of the FilmDoo women campaign, we interviewed Laura Arten, an inspiring actress and filmmaker with endless talents.
Laura graduated with a first class degree in film from the University of the Arts London. Whilst studying, Laura produced content for people and after graduating, Laura began to work in production which for her was a natural transition. The initial idea for Laura was to work two days a week and spend the rest of her time dedicated to creative projects. However, anyone who has worked in production understands that this is never the case. Laura ended up working six days a week, 12-16 hours long days. "It was great, I lived in Shoreditch and it was a great experience but working on set, it rekindled what I love to do which is acting. My parents were not really supportive about acting so I never pursued it full time but luckily, working in production involved being on set all the time and meeting different people so it came full circle."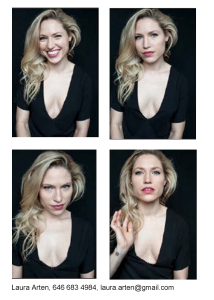 Around that time, Laura got a scholarship for Aerial theatre with the Wac Arts college and on the back of that, Laura's mind-set returned to performing which has always been a huge part of her as she did ballet since a young age. After completing her aerial training and working in production, Laura made a life-changing decision and decided to move to New York to study acting. She studied at NYU and Strasburg and from there; she began performing at a little theatre called The Slipper Room. The owner was supportive and he nudged Laura to explore more of the performing side. From there, Laura ended up at The Box whilst making contacts with directors and producers.
When it came to discussing the difference between theatre and film, Laura explained that "with film, from initial conversation to the project being complete, it can be a long span. It could be several years. The project remains topical and current over the years and as an actor, it can be that long until you get a role because it's so money driven. It's a huge process and with performance, it breaks it down because it's immediate. So it's a nice thing to explore as an actor because you break fears with direct performing. It's direct exposure to an audience."
When speaking to Laura about her being in front and behind the camera, Laura explained that "some people have one amazing calling and they build on that but most creative are mouldable and around the clock. As a director, when I wrote my short film, I couldn't comprehend someone else being in it because I knew exactly what I wanted. It can be hard being close to material but it can also be easy if you know you can deliver what you want from it. If you look into acting, you'll find that more and more people are writing their own material for themselves because of the progress with technology. People can try and pull off their own film. You're no longer held back by the old studio system where cameras are hard to access. So on the back of that, people are becoming more creative. As an actor it is hard to be seen, you need to be insanely lucky. But with technology and the way the industry has developed, it pushes you and if you desire more, you have to try and get where you want to be yourself."
When it came to directing, Laura learned a lot about her experiences, "In terms of learning, I learnt a lot about myself and the way I work. And I learnt that production background was incredibly helpful to put the whole film together. Getting people to do that for you can be very expensive. I think as a director you try to strive for the fulfilment of your vision but as a producer at the same time, you try and keep the cost as low as possible but the creativity and impact to be the highest. You also need to be aware of what you're working with. I learned to move on when the time comes and that there's always a time for letting go and to accept the way things have turned out. For example, there is a scene from The Story of Hers on Albert's bridge and the bridge lights up at night but when it came to shooting, we set up all the cameras and the bridge lights turned off and I didn't realise that they switch off past a certain time. It was hilarious but I said lets shoot it anyway and it looks better than I anticipated and then a taxi arrives which was also a coincidence so you just have to go with the flow and work with life. Just like Wong Kar Wai, he embraces whatever life brings him. In Chungking Express, a neon sign wasn't there went they scouted that location. But because they had it planned, they shot it with it and it works brilliantly. You have to work with what you have. "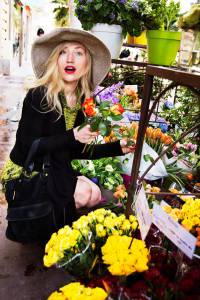 Laura's dream would be to star of Star Trek and Star Wars and she would love to be the next TIffany Case. Laura is incredibly envious of Scarlett Johansson in Lucy. "If Besson or Gondry want to knock on my door at any time, I'd love to work with them. It would be a dream come true. You know what they say, aim for the stars. This is a peculiar industry and anything is possible although it is hard, Hollywood is a birth rate. In LA you're aware of the hierarchy built is which is why you have to be careful who you affiliate yourself with and learn that no one else is going to do it for you. So it's all about faith and being positive."
When it came to the topic of being a woman in the industry, Laura explained that there are many problems faced by women in the industry. "The industry is full of humans. It's full of beautiful and powerful humans but men are normally the powerful and women are the beautiful ones. Something needs to change this to allow women to be in the power positions more. Everybody is reaching for what they want in life but as a starting actress, you just have to work way harder. As a woman you have to make the right decisions for yourself and decide how you're going to get where you want to be and to remember you can always work harder. Women have to prove their worth so much more than men and people feel more comfortable taking chances on men. But if you manage it well, your power is bigger as a woman".
One of Laura's favourite recent independent films is Blue Valentine. "It is a great example of a powerful indie film. The script and idea is so strong and the actors are incredible and that's what the film world needs- more human stories because money alone can't make a good film." Another film that she really liked was Dallas Buyers Club. "It deserved the Oscars and it was mind-blowing. There is a need for more films like that. They shot it on low budget in 25 days and they pulled it off. There are people out there making it happen."
Laura watches a lot of indie films so it was hard for her to choose. However, one director she really admires is Michel Gondry. "You have to hand it to him as he is not scared to go back and forth between blockbusters and independent films and anyone who retains that quality, authenticity and integrity as an actor or director is an amazing quality".
For those of you who are trying to break into the industry, here is some good advice from Laura. "Keep trying, there's no other way. Everyone has to find their route and there is no obvious path. It's personal to everyone's ability and luck but you have to make your own luck and take chances and opportunities that life offers you. So don't give up is the ultimate advice I can give. You have to keep going. It's a journey and although the journey is normally not the purpose, you have to enjoy it and make the most of it."
Laura is currently working on directing and starring in a music video for a Parisian band and then she's going to shoot in New York. Then she's flying to LA in November for screening tests and meetings.
Check out the links below to find out more about Laura's work:
IMDB- http://www.imdb.com/name/nm5628094/
Backstage https://www.backstage.com/lauraarten/