Dir: Fernando Mereillas
By Joel Windle
Based between the late 1960s and early 1980s, City of God is a culturally engaging insight into the ʻslum-world' of Brazil as it embodies the stark reality of criminality clutching the lives of the underclasses. Despite the film itself being multi-narrative as it accounts each significant character; essentially the film's protagonist is ʻRocket', a young photographer who wants to escape. Like most people in western society, Rocket is a highly relatable character, he wants love and wants to earn his money via work not crime. But above all else he desires national recognition for his photography because he knows his hard work ethics will be the cause for his goal.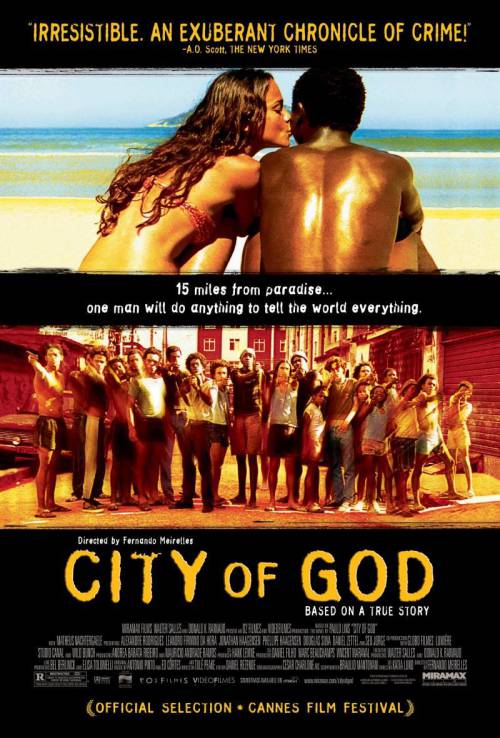 The film approaches real political and social agendas in Brazil; with gang members (named Hoods) stealing from people, robbing resource suppliers and killing anyone who dare stands in their way; City of God becomes a terrifying yet honest look into a world those on the outside would call Hell, but those inside would call home. Amongst this are the contrast of two characters, Rocket an aspiring photographer whose goal is to escape, and Lil Z, the most monstrous Hood in the city. Within this contrast of characters is an ironic connection because it is Rocket's first photos of Lil Z' and his gang members that gets him noticed by the press.
Directed by Fernando Meirelles, the 2002 film's cinematography is truly breathtaking as it engages both the realism of the scenes and the character's emotions using a diverse blend of colour, shade and depth. With an enthralling tempo, City of God allows the audience to connect with the characters in an honest and clear depiction of Brazil's ʻslum-world'. Though there are some unsettling moments in the film, it is both thoroughly entertaining and insightful and is a personal (if not world-wide) candidate for film of the decade.
Watch the trailer here:
[youtube http://www.youtube.com/watch?v=ioUE_5wpg_E?rel=0]