Director: Kamila Tarabura
True to its succinctly evocative title, Into the Night feels less like a complete chapter in the life of the young Krysia (Agnieszka Rajda) than a single point of transition, marking the moment where a teenage introvert takes her first steps in figuring out how to live life on her own terms. Though the 26-minute short consistently evokes a larger world for its teenage protagonist that expands beyond the confines of the narrative, Nina Lewandowska's script and Kamila Tarabura's direction also succeed in cutting through the noise to focus on the emotional core of Krysia's journey, recognising that the epiphanies of adolescence don't always come with a neat sense of closure.
Our first shot of Krysia shows the reticent teen lying lethargically in a bathtub that's overflowing with water, and her presence is so inert that you may wonder for a moment if she's even alive. Such is Krysia's languid state that her insistent mother feels the need to physically pull her onto her feet, before propping her onto her bed and dressing her up in clothes that Krysia didn't even pick out for herself.
This strenuous routine is part of the mother's efforts to give her daughter a social life, as she prepares Krysia for a party that she wasn't technically invited to. As she anxiously approaches the front door of her classmate's house, Krysia quietly rehearses pleasantries to herself, before timidly slipping in without anyone noticing. In the end, Krysia doesn't even get as far as meeting her fellow guests – save, that is, for a girl named Majka (Nel Kaczmarek), who's already in the process of storming out when Krysia arrives but piques her curiosity almost immediately.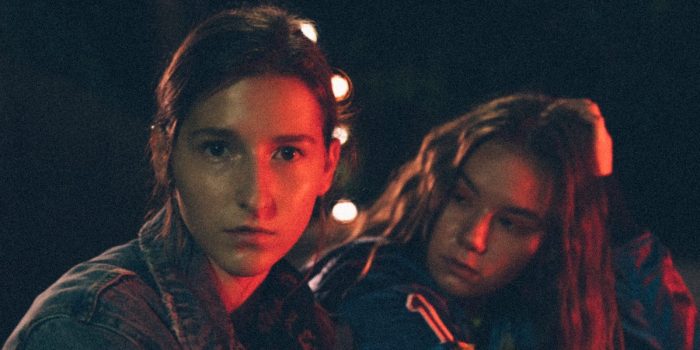 Rejecting the social life that's been foisted upon her, Krysia heads out with her impulsive new friend to find other ways to have fun, which turn out to include shoplifting booze on a whim and following some boys to a local rave. For the emotionally withdrawn Krysia, the evening serves as an opportunity to embrace the stranger and more rebellious sides of herself, though in Majka's sexual encounters, we also see how the pressures of adolescent life can affect and constrain even the more socially adept of teens.
Though the coming-of-age narrative of Into the Night covers some well-worn territory, Tarabura's attentive direction – with the aid of Patryk Kin's cinematography – keeps the journey of self-discovery fresh and persuasive, bringing us from the dim, desaturated interiors of Krysia's home life to the rich and alluring textures of the night. Perhaps the most compelling visual, however, comes in between these two relative extremes, when an intense sequence of Krysia spinning on a play park roundabout vividly channels her social anxiety into physical turbulence.
Compared to her sluggish state in previous scenes, Krysia's twirl on the roundabout feels like a moment of nervous awakening that ushers the young woman into an evening relatively free from the fears and expectations that usually constrict her, even as it brings new sources of worry into her previously cloistered life. By the time the credits roll on Tarabura's endearing short, it's clear that Krysia's night out won't be without its consequences. And yet, for every problem that her choices have brought, we get the sense that she's also found the emotional footing to weather what's coming.